OFFICIAL: Kentucky will face Iowa in 2022 Vrbo Citrus Bowl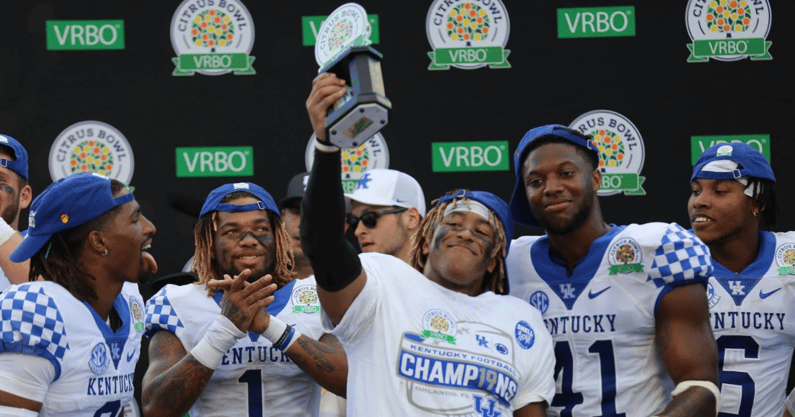 Not long after news first began to leak, the Citrus Bowl soon made it official: Kentucky Football will make its second trip to Orlando in four years.
Florida Citrus Sports chairman Ken Robinson and CEO Steve Hogan confirmed on Sunday afternoon that the No. 22 Wildcats will take on the No. 15 Iowa Hawkeyes in the 2022 Vrbo Citrus Bowl. The game is scheduled for Saturday, Jan. 1 down in Orlando, FL with a kickoff time of 1 p.m. EST on ABC.
This will be Kentucky's second-ever trip to the Citrus Bowl and first since beating Penn State 27-24 in 2019. Iowa hasn't played in the Citrus Bowl since 2005 when the Hawkeyes beat LSU 30-25, taking down the Tigers behind a 56-yard touchdown pass on the game's final play.
Brett McMurphy of The Action Network first reported the news of Kentucky's inclusion before it was later confirmed by Citrus Bowl representatives.
This will be the first-ever meeting between Kentucky and Iowa on the gridiron. The contest will also mark 75 years since the inaugural Citrus Bowl was played all the way back in 1947 at the same site. Iowa is UK head coach Mark Stoops' alma mater.
Prepare your New Year's Day plans accordingly, and make sure you get the appropriate team ticket.