Ole Miss Tempo will keep the Kentucky Defense on its Toes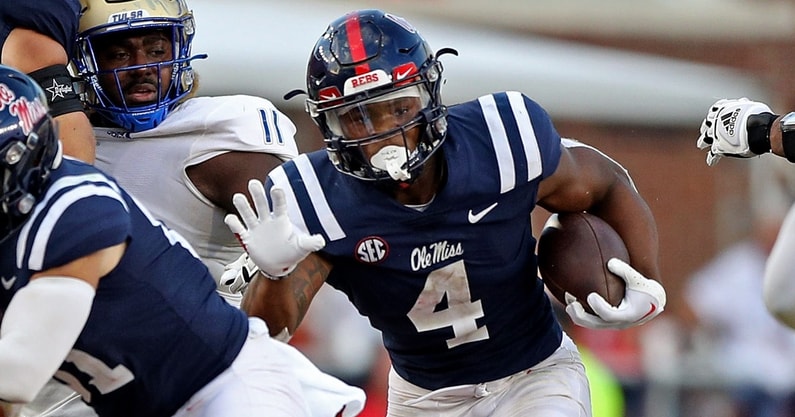 The Ole Miss offense looks a little different this year. Lane Kiffin threw the ball all over the yard with Matt Corral calling the shots. Life after Corral has forced Kiffin to rely on the run game. One thing remains the same: they want to go fast.
Lane Kiffin deploys an offense that thrives on tempo, using speed to force opposing defenses to make mistakes. Once they get rolling, it's hard to slow down. Last week against Tulsa all five Ole Miss scoring drives took less than four minutes, even the two that took 12 plays to reach the end zone.
"Obviously the tempo aspect alone stresses a defense," Brad White said Wednesday night. "The emphasis on the run game — don't get it twisted, they can push the ball down the field as much as they need to. They've just been really successful on the ground. From a defensive perspective, when a team can really run the football as well as they can run it, it can be deflating. You gotta do the best you can to minimize that and when it's time and they take your shots on you, we've got to do a good job trying to defend them."
Slow Down Tempo Before it Starts
The key to slowing down a tempo offense is to prevent it from ever taking flight. Once they get going fast, communication breakdowns and missed assignments are seemingly inevitable.
"It's going to be super fast. You gotta get em behind the sticks in the beginning," said linebacker Jacquez Jones. "If you give up a first down, kind of like Tennessee, once they get the first down, once they get rolling, it's hard to slow em down. You really gotta get em behind the sticks, get the call and get set up. There's really not much to it, you just gotta be ready to play."
The last time the Wildcats faced a tempo offense, they struggled mightily. Tennessee scored two touchdowns in its first four offensive plays last fall against Kentucky. Even though it was a different offense, there are lessons to be learned from the shootout loss.
"Anytime you face an offense with a similar style, you try to draw from the lessons previous, you start dwelling on certain things and you're living in the past," said White. "All we do is we preach to our guys about living in the moment. Listen, if you don't talk about things you did wrong in the past, you're bound to repeat them, but at the same time we're not just going to sit there and dwell on them."
Long Drives Gas Defenses
Keidron Smith watched the uptempo Ole Miss offense each week last fall. He's seen the consequences when an opponent gives Lane Kiffin an inch.
"You don't want to be in a long drive situation with 11, 12-play drives. Then you'll start to wear down as a defense," said Smith. "Just having eye discipline, staying focused on your keys, that's the main part. Don't get caught slacking with your eyes in the backfield."
Lane Kiffin has prepared a script for his offense. Even though it's important to slow down the Rebels' tempo before it starts, the game will not be won or lost in the first ten minutes.
"You can come out hot as a skillet, but if you don't stay focused throughout the whole game, nobody's talking about how well you started. They're going to talk about how poor you finished," said White.