Omari Kelly commits to Auburn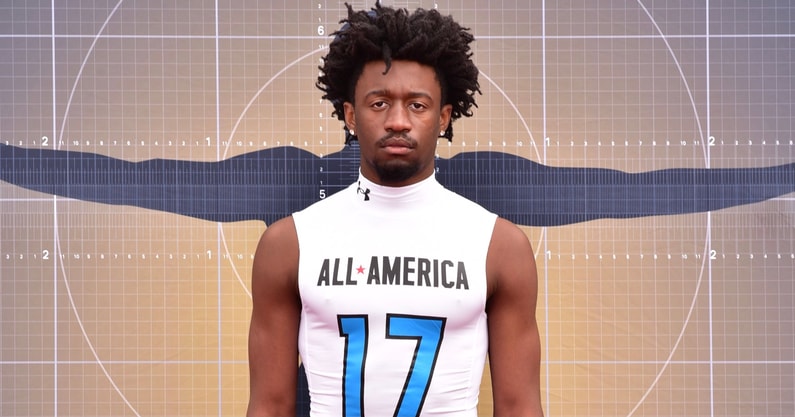 Kentucky and Auburn have had some head-to-head battles on the recruiting trail recently. Four-star Omari Kelly was another one.
After visiting Kentucky in July, Omari Kelly decided to end his recruitment on Thursday. The Trussville (Ala.) Hewitt-Trussville wideout received official written offers from Alabama, Auburn, Georgia, Kentucky, and UCF. In the end, Kelly decided to join Bryan Harsin's program on the Plains.
Ranked No. 192 in the 2022 class by On3 Recruits, Omari Kelly becomes the top-ranked pledge in Auburn's class. The Tigers currently have three four-star prospects in the fold and 11 verbal commitments overall. This comes just a few weeks after Fairfield (Ala.) Preparatory School's Kobi Albert committed to the Tigers. Kentucky had Albert in Lexington for a camp and unofficial visit in June before the high three-star prospect eliminated Kentucky when announcing a top three.
Outlook at wide receiver after Omari Kelly's announcement
Since adding Jon Sumrall to the coaching staff before the 2019 season, the Wildcats have built solid relationships in Alabama. Sumrall was a key recruiter in getting wide receiver Chris Lewis and defensive tackle Kahlil Saunders out of the state last recruiting cycle. However, facing off head-to-head with Auburn for in-state players will always be a difficult mountain to climb.
Kentucky now has another receiver on their recruiting board committed to another school joining the likes of Jeremiah Dillon (Ole Miss), Dakota Twitty (Virginia), and Tay'shawn Trent (Michigan). However, the biggest fish is still out there.
The Wildcats currently have slot receiver Jordan Anthony in the fold joining Corbin (Ky.) High four-star athlete Treyveon Longmire. The two-way prospect is expected to play wideout in Lexington. This is a duo with good speed and potential, but Dane Key remains the top target on the board.
The Lexington (Ky.) Frederick Douglass senior begins his season on Friday but after visiting the Kentucky campus multiple times over the summer, the Wildcats should feel good about where this blue-chip recruitment stands. Michigan has started to gain buzz, but Kentucky appears to be the favorite with Vince Marrow running point.
Land Key and Kentucky will have met their wideout recruiting needs in the class of 2022.