On being a Kentucky Football fan
[caption id="" align="alignnone" width="531"]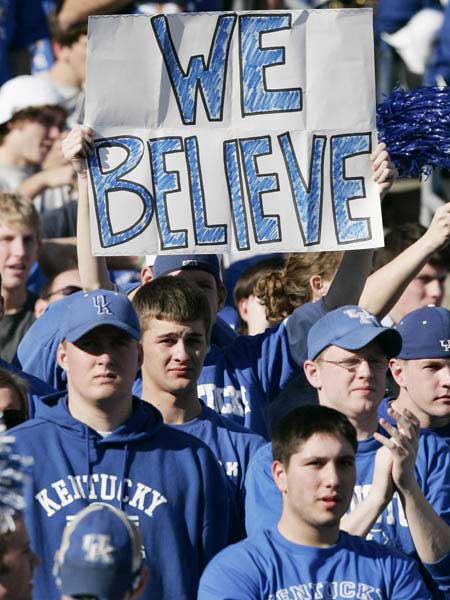 photo via UKAthletics[/caption]
Preface: I definitely don't speak for everyone. My fan experience is different from yours, and I'm just sharing a slice of mine.
When I talk about my most beloved sports fandom, sympathizers and fellow Kentuckians will often retort with, "Well, I'm a UK basketball fan, but I like (Ohio State, Auburn, Michigan State, Notre Dame, [insert successful/prestigious football school here])."
While I know many can't stand those kind of half-baked school fans, I don't mind them much at all.
Their existence only strengthens the camaraderie shared by the faithful.
As UK Football fans, we've signed onto following something that most of us acknowledge will never (or at least in the foreseeable future) reach the highest highs of competition. Let's face it: it would take more than a few miracles to see the Blue and White playing in the College Football Championships, and a flat-out "Angels in the Endzone" scenario for them to win it all. We've all signed onto this reality. [caption id="attachment_204819" align="alignnone" width="419"]
To be clear, I'm aware that this is not a good movie[/caption]
Because we acknowledge that (almost) fact, UK football fans find themselves in a unique position in terms of expectation–one that I would argue allows for more moments of pure joy, albeit with a plentiful side serving of disappointment.
What I'm trying to say is that as a fan UK Football, while obviously less prodigious than our basketball program, provides more highs than basketball–even when we kinda suck, as we have for the past 6ish years.
With UK Football it's all about the journey, while in basketball what seems to matter most to everyone is the destination. Championship or bust. Final Four or bust. Those expectations are par for the course, regardless of whether or not they're fair. The same could be said of "bowl or bust," but I'd argue that even if football doesn't meet its end goal, fans can still feel on top of the world, if just for a moment (ie, the Tennessee Roark game, beating Spurrier). For those of us deeply invested in UK Football,  winning one unexpected game can be more gratifying than any regular season or SEC tournament basketball victory–barring maybe a win at Louisville.
Basketball goes into virtually every game favored to win. The only surprises we get are like biting into a chocolate chip cookie only to realize that it's oatmeal raisin. In football, they can devastate and elate. Losing to Western for coach Stoops' first game was terrible, but beating LSU in 2007 might be the best UK memory I have.
In basketball, if we're not playing in April or against Louisville, the two outcomes from a fan standpoint are an expected, measured joy and embarrassment. The Southern Miss game will result in one of those two results, but no consistent dichotomy exists in the same way that it does for basketball. For example, when we play Florida this year, we'll have a legitimate chance to ghostbust an ugly, 5th worst ever, 29 year-old history, which would unequivocally be the best moment in 2016 UK athletics. If we lose, it's just another disappointment, something we've been hardwired to handle.
Almost every game matters, and the same can't be said for basketball, especially when it's before March.
That's not to take anything away from winning a title, or even an NCAA regional championship. Nothing can beat the cathartic orgasm that is winning a national championship, and that possibility is good enough reason for the thousands of fair weathered fans to hop on the bandwagon.
While we can compare last season's 5-7 record to basketball's 27-9 and objectively say that we fared "worse" than the basketball team, we were equally dissatisfied with both team's results. We fell short of both goals. Because the games matter more in football, happiness (and sadness/disappointment) is more incremental–it wavers from week to week.
Though honestly, not much in life is ever really about the end goal–it's what happens as we strive for that goal. In our case, getting to a bowl is the clear goal, but even if we don't get there, I'm sure we'll go through hell and have a hell of a time equally.
That–and, of course, my place of birth–is why I love UK football. It's a (Grove Street) party, and everyone (even the fan who usually just likes basketball) is invited.