On3 unveils class of 2023 basketball recruiting rankings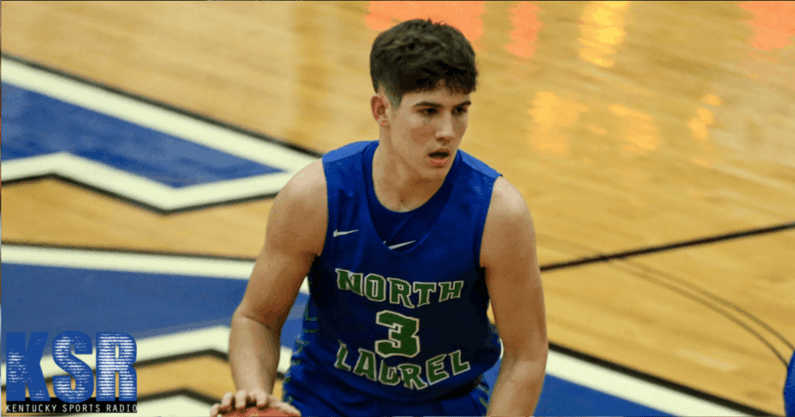 Kentucky Men's Basketball is still working hard to round out the class of 2022, but it's never too early to look ahead.
On Wednesday afternoon, On3 unveiled its first class of 2023 top 50 basketball player rankings, and several Kentucky targets made the cut. Of the top 10, eight of them have at least some sort of relationship with UK and the coaching staff. 6-foot-10 center Baye Fall takes over the top spot while SF Mackenzie Mgbako (No. 2), CG Dajuan Wagner Jr. (No. 3), SF Kwame Evans Jr. (No. 4), and SF Marquis "Mookie" Cook (No. 5) round out the top five.
Below is the entire class of 2023 top 15. Players highlighted in blue are receiving some level of interest from Kentucky. Only the top 10 prospects are classified as five stars by On3.
C Baye Fall (99)
Denver Denver Prep Academy 
SF Mackenzie Mgbako (99)
Gladstone (N.J.) Gill St. Bernard's School
CG Dajuan Wagner Jr. (99)
Camden (N.J.) High
SF Kwame Evans (99)
Baltimore (Md.) Montverde Academy
SF Mookie Cook (98) 
Portland (Ore.) Compass Prep
SF Justin Edwards (98) 
Philadelphia Imohtep Charter
SF J.J. Taylor (98)
Chicago Kentwood Academy
PG Caleb Foster (98)
Mouth of Wilson (Va.) Oak Hill Academy – Duke commitment
PF Omaha Biliew (98) 
Wake (Iowa) Link Year Prep
PF G.G. Jackson (98)
Ridge View (S.C.) High
CG Kanaan Carlyle (97)
Milton (Ga.) High
PF Matas Buzelis (97)
Hinsdale (Ill.) Brewster Academy
CG Simeon Wilcher (97)
Roselle (N.J.) Roselle Catholic 
SG Marvel Allen (97) 
Fort Lauderdale (Fla.) Calvary Christian 
SG Elijah Fisher (97)
Toronto (Canada) Crestwood Prep
Beyond the top 15, however, are a handful of need-to-know prospects. Most notably, North Laurel County's Reed Sheppard comes in ranked No. 21 overall with four-star status. Another Kentucky-based hooper, George Washington III out of CAL (Christian Academy of Louisville), is ranked No. 50 and also considered a four-star.
Other names to keep an eye on from the list of 50 players are C Aaron Bradshaw (No. 19), SG K.J. Lewis (No. 27), CG Bronny James (No. 34), SG Taison Chatman (No. 44), and C Isaiah Miranda (No. 48).