One-on-One Matchups: Drew Barker vs. Nick Mullens
[caption id="" align="alignnone" width="670"]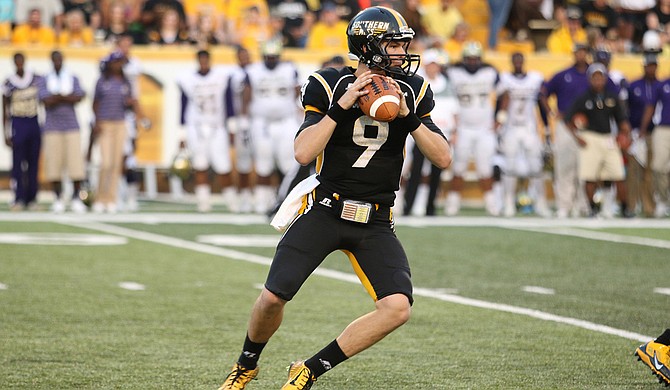 USM Athletics
[/caption] In two previous posts we've analyzed specific one-on-one matchups that specifically focused on line-of-scrimmage players. This piece will be different as the two players we're examining will never be on the field at the same time. Quarterbacks Drew Barker and Nick Mullens are a tale of two distinct paths to September 3rd.
Nick Mullens
Overview-
Nick Mullens was rated as
a 2-star prospect
out of Spain Park High School in Hoover, Alabama. Mullens' story adds even more fuel to the fire for my occasional disagreement with recruiting service evaluations.
Mullens was the Gatorade Player of the Year in the state of Alabama
following his senior high school season. A 2-star;
I guess actual game film really doesn't factor in assessments
. Fast forward to 2016 and the senior quarterback has demolished USM record books. His 4,478 yards, 63% completion rate, 38 touchdown passes were monstrous 2015 numbers. He's listed as a top 10 quarterback for the 2017 NFL Draft. The Southern Miss offense racked up over 7,000 yards a year ago. Several key components of that unit have since moved on to the NFL. Saturday will be interesting for many reasons, they include: Shannon Dawson's influence on the USM offense, Mullens' 1
st
game without his former high school coach turned college offensive coordinator Chip Lindsey, and how he matches up against an upper-level SEC secondary.
Tale of the Tape
: 6'1" 196 Senior
Accolades
: Conference USA Academic Honor Roll, Conference USA Commissioner's Academic Medal, All Conference USA, Conference USA Player of the Year, Preseason Conference USA Player of the Year. He's also been named to a plethora of award watch lists that include the Manning, Davey O'Brian, Walter Camp, and Maxwell.
Drew Barker
[caption id="attachment_198172" align="alignnone" width="600"]
UK Athletics
[/caption]
Overview
: Drew Barker was a 4-star prospect while playing for Coach David Trosper at Conner High School. He was selected to play in the US Army All American Bowl following his senior season. Barker chose Kentucky over Tennessee and South Carolina while acting as an unofficial recruiting coordinator for the highly touted Class of 2014. His early times at Kentucky were rocky as he was involved in two off-the-field incidents. His career stats at UK are: 35-70 for 364 yards, one TD, and 2 interceptions. The Drew Barker narrative is that of a projective nature. New offensive coordinator Eddie Gran and QB coach Darin Hinshaw have raved about the signal caller's advancement in mechanics, technique, leadership, and character. I have also noticed the positive attitudinal evolution of a young man that came to Lexington with unrealistic expectations. This is Drew Barker's team going into the 2016 season.
Tale of the Tape
: 6'3" 225 Sophomore
Accolades
: None as of yet
What does all this mean?
Nick Mullens was a 2-star prospect that has developed into a proven and highly productive college quarterback. Drew Barker was a 4-star recruit that has a great deal to prove on the college football field. One commonality is that teammates gravitate towards both. Mullens is a proven performer; Barker is hungry to be described as such. Saturday could lead to confirmation for Nick Mullens and all his accolades. I could also validate Drew Barker's expectation.
Read the previous two highlighted matchups, Elam vs. Tom, Miggins vs. Freeman.