Only Good Things in Today's Wakeup
[caption id="" align="alignnone" width="805"]
UK Athletics
[/caption] There's no better time to be in Lexington, Kentucky.  The first Saturday in October gives us Keeneland and Kentucky football on a sunny, 60-degree day.  I can't think of anything in the world better than starting a day by winning money before watching the Wildcats reap sweet revenge. To make things even better -- Tiger's back.  "OH MY GOODNESS!!!" https://www.youtube.com/watch?v=vRCjJi_uDp8 Here's how things are going down today.
11:00 - The Hill tailgate lot opens at Keeneland and the $1 shuttle to the racetrack begins on campus at University and Cooper. The last shuttle leaves Keeneland at 6:40.
Noon - The KSR Pregame Show begins at the Bluegrass RV Lot near Nicholasville Rd.
1:05 - First Post at Keeneland
1:45 - The team arrives to the Cat Walk.
2:00 - The start of Countdown 2 Kickoff with Freddie Maggard and Christi Thomas.
2:05 - The Lauren Mink Band, a Winchester native and American Idol contestant, takes the stage.
4:00 - Kickoff on the SEC Network with Dave Neal and Matt Stinchcomb.
Judgment Day
There is so much at stake in today's game I don't really know where to begin.  The series is tied 42-42-4.  Vandy has won four of the last five, but they've split the last 10 with five wins apiece.  Each team's 2016 record is 2-3.  The only way to describe today's game for each team and coach is "must win."  In fact, that's exactly
how Freddie Maggard titled his Vanderbilt scouting report
.
Don't Turn it Over
If there's a "key to the game," it's hold on to the damn ball.  Stephen Johnson has not been bad through the air, but he cannot cough up the ball like he did against Bama.  Kentucky has an SEC-worse -7 turnover margin, compared to Vandy's +3 which is top three in the league.  In an evenly matched game, turnovers will dictate today's fate.
The League's Top Tacklers and Rushers Collide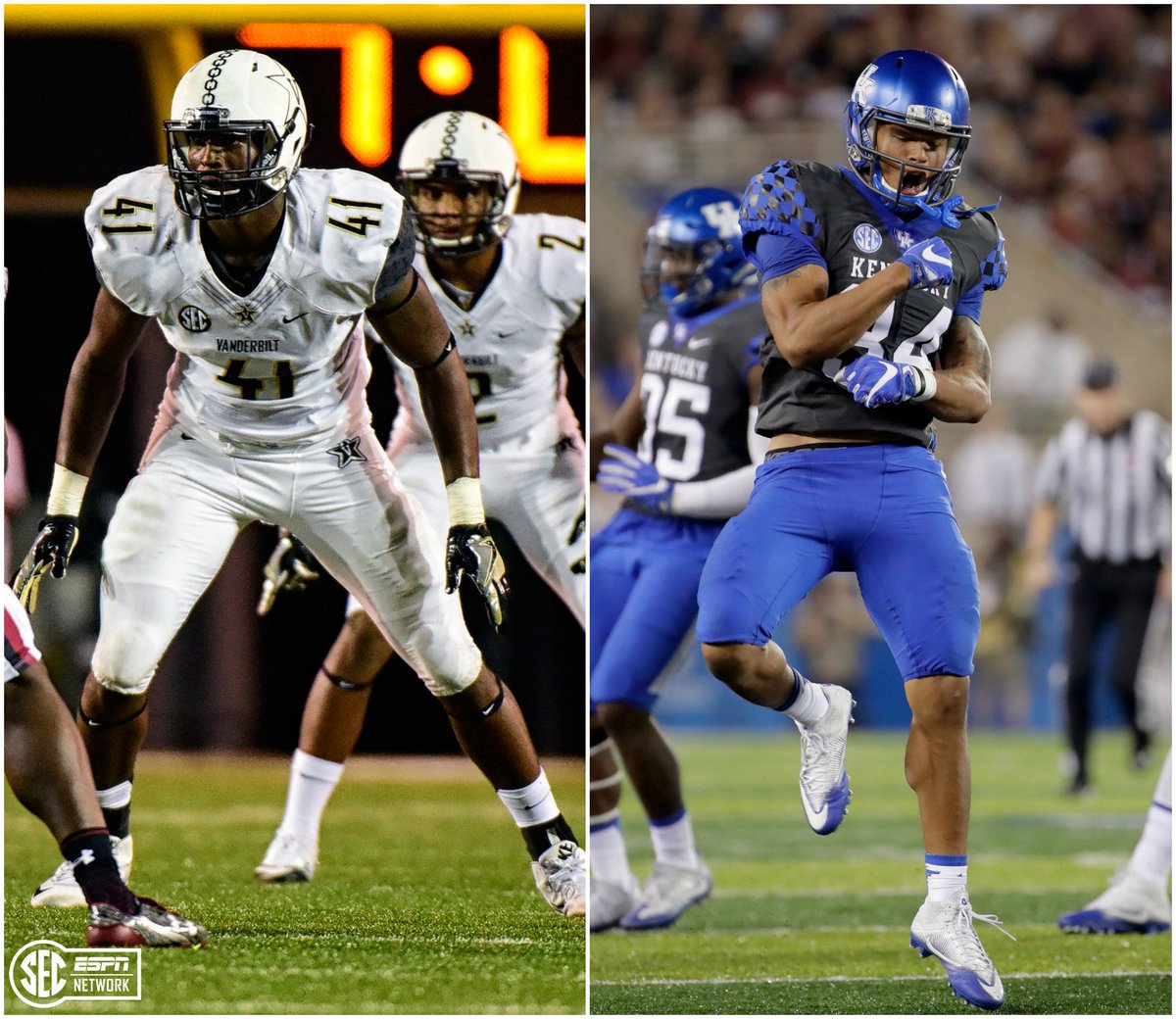 As you'll see in a post later today, the only statistical difference between the two is in the turnover category.  Each defense features the best linebackers in the conference.  Zach Cunningham leads the conference in tackles, but only has one more than Jordan Jones.  On offense, Ralph Webb is at the top of the SEC in rushing yards, but Boom Williams has more yards per carry and Benny Snell has more touchdowns.
The KSR Football Podcast Tells You How UK Wins
If you haven't listened to this weekend's KSR Football Podcast with Jeremy Jarmon, start now before the pregame show begins.  Jeremy believes Kentucky's wide receivers are exponentially better than Vandy's DBs, and he shares how Kentucky can create turnovers.  Freddie does more than bring stats, he explains how UK's strengths on offense matchup perfectly with the weaknesses of Vandy's defense. If you don't want X's and O's, Jeremy's Aaron Hernandez story is one you MUST hear.  
LISTEN HERE
BFM
A solo homerun in the bottom of the 8th is one hell of a way to win.  The Cubs couldn't let that man down.
It's Homecoming
I don't quite know what that means, but I think it means there are tons of tailgates welcoming visitors to town.  It also means we get to see a new Homecoming King and Queen crowned at halftime.
Danny Clark is 'Stoked' to be On Campus
The left-handed pocket passer and former Ohio State commit is taking an official visit to today's game for his first trip to Lexington.  Now with the facilities to bring the 'wow,' Clark can leave Lexington just as stoked if the Cats back it up on the field.
Playoffs for Lou City
If you can't make it to Lexington, after Kentucky defeats Vanderbilt you can watch Louisville City FC take on the Charleston Battery in the USL playoffs beginning at 7:30 at Louisville Slugger Field.  A win will send City to the Conference Finals. I attended last Sunday's playoff game and the environment is unbelievably insane in the supporter's section.  Go, sing the songs, and talk plenty of crash.  One of my good friends is a goalie for the Battery.  If you attend the game, do me a favor and heckle Kevin Corby relentlessly on my behalf.
High School Scores
My Colts couldn't come away with a win over CAL.  We like to lose to our district rival in the regular season, only to eliminate them later in the playoffs.  I guess we have em right where we want em.
CAL 12, DeSales 7
Franklin County 48, Spencer County 35
St. X 28, Manual 12
Leslie County 41, Prestonsburg 22
Williamsburg 30, Harlan 8
Scott County 56, Henry Clay 7
South Warren 34, Warren East 7
Scoreboard and Schedule