Oscar Tshiebwe on Auburn: "We respect them but we have no fear"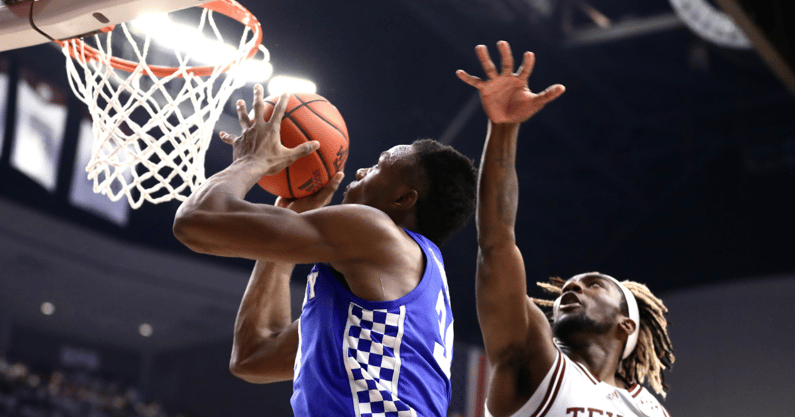 With a gritty win in College Station under their belts, the Kentucky Wildcats now turn their eyes to the biggest challenge yet: No. 2 Auburn at Auburn. Bruce Pearl's Tigers are 17-1 and an undefeated 6-0 in conference play, their best start in 63 years. They came up just shy of the program's first No. 1 ranking in the AP Poll this week; Auburn actually had more first-place votes than Gonzaga, but because one voter put them ninth, the Bulldogs took the top spot. As you can imagine, that did not go over well on The Plains.
Auburn Arena, already one of the league's most raucous atmospheres, will be absolutely wild on Saturday. The game is already sold out, with standing-room-only tickets available on secondary markets starting at $250 each. The Tigers are calling for all fans to wear orange and the nation will be watching on CBS leading into the Bengals vs. Titans playoff game. First place in the SEC is on the line, along with bragging rights. Bruce Pearl is already buttering the Cats up with praise.
After Kentucky's come-from-behind win over Texas A&M, Oscar Tshiebwe said the Cats are ready to carry that fight to Auburn.
"We respect them but we've got to go fight," Oscar told Mike Pratt of the No. 2 Tigers. "We respect them but we have no fear for them, we have no fear. We know we're going to go fight. We're going to find out in the end who fights the most." 
For the second game in a row, Tshiebwe failed to log a double-double, finishing with 8 points, 14 rebounds, 3 blocks, and 3 steals. He admitted that Texas A&M took him out of his game, especially early on. Even though the Aggies didn't have a player over 6'8″, they finished with 42 points in the paint to Kentucky's 26.
"They did a great job on me, defending me," Oscar said. "This time with a lot of pressure on us, they got us confused a little bit."
Winning the final four minutes
Kentucky came back to take the lead with nine minutes to go, but Texas A&M refused to go away, tying it up with 6:32 remaining. Instead of crumbling, the Cats banded together down the stretch. A Jacob Toppin dunk, back-to-back jumpers by TyTy Washington, and free throws by Davion Mintz and Tshiebwe sealed the 64-58 victory.
"We've been struggling the last four minutes but today we ended really good," Oscar said. "We've been practicing how we finish a game. Now you see TyTy [Washington], Coach used him in the end. He is getting better every single time."
"We've been talking a lot about the last four minutes of games, and we've been working on how we finish," Calipari said. "But this game was different. So some of the stuff we wanted to do to finish we could not do because of how they played. It ended up being an iso-game. And now, guys got to make plays. We have good players who can and did."
At the midpoint of the season, this team's weaknesses were winning on the road and finishing games. Last night, they cleared those hurdles ahead of their biggest test yet.
"I respect everybody I'm going against but I don't fear them," Oscar said. "I've just got to go fight. I knew it was going to be a dog fight. I told all my teammates, don't expect something easy when you go attack people on their own court because they're ready. They don't want to give up on their home court. I'm happy to beat people like this. You've got to fight until the end."