Oscar Tshiebwe on how many rebounds he needs to average to be a "machine"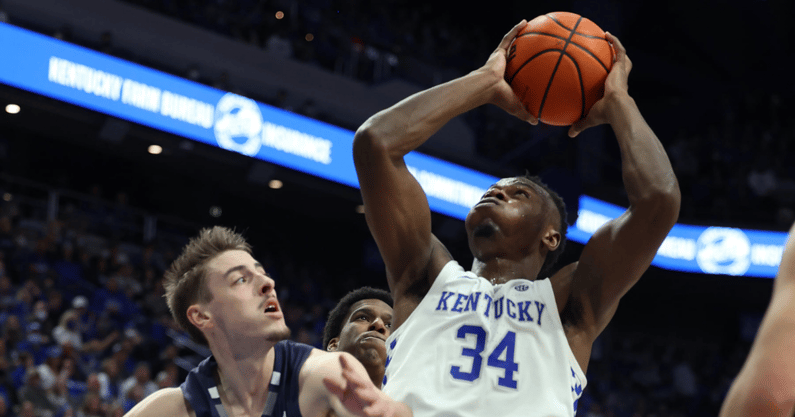 Another day, another double-digit rebounding performance by Oscar Tshiebwe. The Kentucky big man had 16 boards tonight, along with 12 points, 2 blocks, 2 steals, and 2 assists. That makes it six games in a row Oscar has gotten ten or more rebounds, inching him closer to Julius Randle's record of ten straight games in the 2013-14 season. Still, John Calipari wanted to see more from his big man tonight.
"Oscar did okay," Calipari said afterward. "I didn't think he played — he tried to grab balls with one hand. How many of those did he bring in? Zero. So, he would have had five more rebounds. Why are you doing that? When did you start doing that?"
"He's right," Oscar said when asked about Cal's comments. "There was a couple of rebounds, a little bit trying to be lazy, go with one hand instead of just going up with two hands. I think I should probably have 22 because I'm turning 22 tomorrow but that means six more boards but I'm going to work on it next game."
Through six games, Oscar is averaging 16.0 rebounds. How many more until we can call him a machine?
"Probably, I would say 22," he told me. "I'm turning 22 tomorrow, like tonight at midnight. Probably 22. If I average 22 rebounds, then there's no way — I have to be a machine to do that."
What are Oscar's big plans for his big day? Aside from a small celebration with his host family, focusing on improving his game. Specifically the rebounding.
"There's not a lot I can do because I cannot lose my focus. I'll just celebrate and enjoy."
Happy birthday, machine–err, I mean Big O.