Oscar Tshiebwe begs Kentucky teammates to play with more fight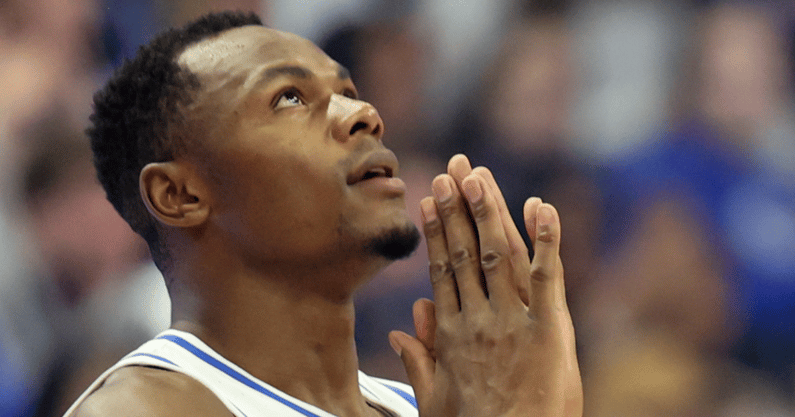 If there was one thing — above all else — that Kentucky men's basketball lacked on Tuesday night, it was their fight. And the program's best player made sure everyone knew it.
The Wildcats came out lifeless in a humiliating 71-68 loss to a dreary South Carolina squad, which entered the contest considered the worst team in the Southeastern Conference, a title that might be moving to Lexington now. It was apparent from the opening tip that Kentucky didn't match the energy of the now 8-8 Gamecocks, and that continued throughout the entire evening. There was no fight from the 'Cats and it resulted in another "worst game of the season" performance.
All of this boiled over into the postgame press conference, where reigning national player of the year Oscar Tshiebwe repeated over and over (and over) again how his team needed to show more fight during games. The 6-foot-9 senior forward didn't mince words, calling out an unnamed group of teammates and practically begging them to put forth more effort.
"Some of us are taking things for granted," Tshiebwe told reporters following the loss. "I give credit to the coaches, they've done a great job. I've told (my teammates), the coaches they cannot do it for us. They just come up with the gameplan and everything, how we're gonna play, how we're gonna defend, how we're gonna run offense, they can't do it for us. We gotta go out there and fight.
"Some of us, we come in — some of us we're not willing to fight, some of my teammates, we just got to be able to fight. I told them you put on (the) Kentucky (jersey) for a good reason. Kentucky in front of you means a lot, you come here to chase greatness. If you're not willing to fight in this place, it's gonna be tough."
Throughout his entire interview, Tshiebwe continued to harp on the lack of fight from his teammates. That word in particular — fight — was mentioned dozens of times by Tshiebwe. It's not necessarily something he believes is causing issues on the offensive end, but he sure does see it showing up on defense, an area that Kentucky was expected to (and still is, to a degree) excel at. South Carolina, a 31 percent outside shooting team this season, went 11-20 from 3-point range against UK while winning the second-chance points battle 21-12.
To put it as lightly as possible, there was no fight from the 'Cats in Saturday's embarrassing road loss to Alabama, and somehow even less of it on Tuesday night against a no-good Gamecocks team. Heads were hanging low and the dismal mood was noticeable from outside the huddle. Sophomore forward Daimion Collins said the locker room was "dead silent" after the loss to South Carolina.
"This is probably the worse loss in the history of Kentucky, in my opinion," Tshiebwe added. "We cannot come in and just lose to South Carolina. It gets me so mad when you see some teammates, some of them are not willing to fight. You gotta fight, you come here for a very good reason. We cannot do it if some people are not willing to commit to it."
Tshiebwe wouldn't go as far as to name individual teammates that aren't bringing the level of fight he's expecting. However, he was adamant that he would rather lose by fighting hard with teammates willing to work than play alongside guys who aren't matching his energy — even if that means suiting up the walk-ons.
"We just gotta get better, we gotta get better," Tshiebwe added. "One thing I'm asking is we just gotta fight, we gotta fight. I was telling Coach (John Calipari), you put somebody in who is not willing to fight, put some walk-on in, I'll fight with them, somebody who is willing to fight.
"If somebody is not willing to fight to give what we need, I'm gonna ask Coach to put him on the bench. If we're gonna lose with the people who are fighting, even the walk-ons, we're gonna lose with them but at least we're fighting."
Tshiebwe didn't exclude himself from the conversation either, adding that he needs to show more consistent fight at all times, too. He admitted he didn't bring enough of it during the loss to Alabama. That changed on a personal level for him against South Carolina as he finished with 19 points, 12 rebounds, and a wild coast-to-coast fastbreak dunk.
But Tshiebwe can't do it all (which has become a painful fact for Kentucky fans to accept of their star player). The Wildcats still shot 51 percent from the floor and turned the ball over just six times against Carolina, yet looked outclassed from the opening tip.
"(The coaches) cannot do it for us," Tshiebwe said. "They give us the gameplan we just gotta go fight. We don't have fight. The coaches, they can't do nothing if we don't fight. I don't know. I just told Coach, you gotta choose some people who are willing to fight."
Tshiebwe still has faith that this team can turn the season around, but it won't happen without a total group effort. Team chemistry is not the issue, he says, but something happens when the opposing team gets out to an early lead that causes an all-systems failure from every Wildcat on the court.
"I'm just praying that my teammates, some of us, they can step up."