Oscar Tshiebwe says communication is key to Kentucky's success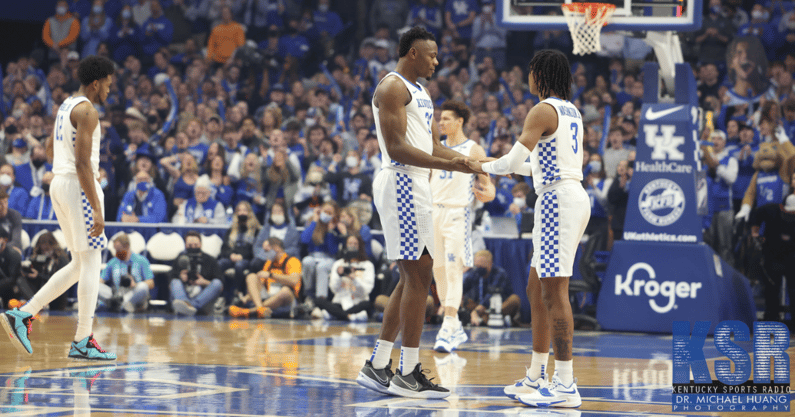 This Kentucky Basketball team is the most experienced in school history, by far the most experienced in the John Calipari Era. Between transfers and key returners, the Cats have a wealth of knowledge that's proving useful both on and off the court. We've seen plenty of the former, but today, we got a glimpse into some of the latter. While previewing tomorrow's game vs. No. 2 Auburn, Oscar Tshiebwe pulled the curtain back on how this group is holding each other accountable as the season progresses.
"We communicate. We talk a lot. Spending time together, we just talk, communicate how we're going to fight, how we're going to be a good team, how we're going to help each other. We do a lot of different things not a lot of teams do. That's one thing I love about this team: we communicate."
That communication sometimes leads to action. Oscar said if he notices a teammate is struggling or not contributing to the greater good, he'll step in to help.
"If I see you're not doing good, if I see you're not making shots, I'm going to come knock on your door and say, 'Go get in the gym because we need you to make shots.' If I see you do something that is not helping us, I'm telling you now, you've got to stop and if you don't stop, I'm going to get the coaches involved. So, we communicate in a lot of different ways. To help this team, we've got to fix the mistakes every time you see them."
Oscar's advice to Kentucky's freshmen: "Don't rush things"
Oscar knows what it's like to be a five-star freshman with sky-high expectations. A former McDonald's All-American, Tshiebwe averaged 11.2 points and 9.3 rebounds in 31 starts as a freshman at West Virginia. He returned to WVU for a sophomore year but transferred to Kentucky midway through because it wasn't the right fit. Now a junior, Oscar is thriving in Lexington and firmly in the conversation for National Player of the Year. He hopes to pass that knowledge and wisdom on to Kentucky's freshmen. So far, he's been impressed by how TyTy Washington is handling the spotlight.
"TyTy's had a lot of pressure on him, a lot of weight on his shoulders. Like, if he's not doing good, he seems worried a little bit, I tell him, everything is a part of the process. You have to learn, you've got to keep climbing. You should never let anything affect you and how you want to enjoy and live your life, how you want to play basketball. Just play. You play good, that is your day. You play not good, just get back in a gym and forget about what people say. That's how it's gonna get you better for us."
As for the Wildcats who don't see as many minutes, Oscar preaches patience, especially to his frontcourt brothers Bryce Hopkins and Daimion Collins.
"For us, we got a lot of people who joined the team. They worry from probably not playing a lot. Coach, he wants to train them. They gotta be strong. They've got to know this game is not easy. Especially some freshmen, I'd probably say Bryce and Daimion, like they are struggling a little bit, but I always tell them, you guys are good. This is your freshman year. You have 4-5 years in college to get better. Look at me, like I'm a junior. I went through a lot my freshman year, sophomore year, but look at me now. I've got experience now. I understand those things.
"Don't rush things. You just gotta go slow, slow, slow, slow, and everything is gonna be good. It's gonna be okay. That's what I always tell them."