Oscar Tshiebwe continues to trend toward staying in the 2023 NBA Draft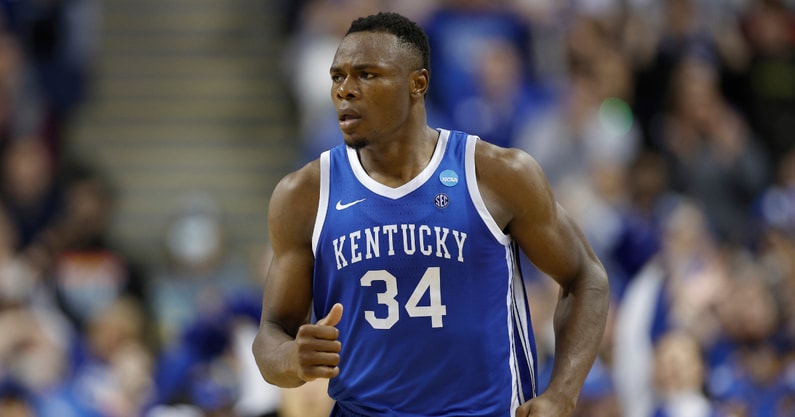 Oscar Tshiebwe is expected to make his stay/go announcement at 5:00 p.m. EST later today, but word is already leaking out about the Kentucky big man's decision.
According to Travis Branham of 247Sports, Tshiebwe is expected to keep his name in the 2023 NBA Draft ahead of tonight's 11:59 p.m. EST withdrawal deadline. Smoke has been building all throughout Wednesday indicating that Tshiebwe would forgo his remaining college eligibility and not return to Lexington. While he's yet to officially make the final announcement, he appears to be trending away from another season at Kentucky, where he was a two-time All-American in 2022 and 2023.
"Tshiebwe has been undergoing the 2023 NBA Draft process and although he is not projected to be selected in the first or second round, his time at Kentucky is, as of this moment, expected to be coming to an end," Branham wrote.
Tshiebwe worked out with the Charlotte Hornets earlier on Wednesday, where he informed Hornets beat writer Rod Boone of his intentions to make a final call later in the afternoon.
"Just trust the process," he told Boone of the Charlotte Observer. "But it's going to be a good decision tonight."
On Wednesday, Tshiebwe worked out alongside the likes of Marcus Bagley (Arizona State), Arthur Kaluma (Creighton), Elijah McCadden (Memphis), Filip Rebraca (Iowa), and David Singleton (UCLA) prior to the withdrawal deadline. He also visited with the Atlanta Hawks this week, along with previous workouts with the Boston Celtics, Milwaukee Bucks, Houston Rockets, and Sacramento Kings.
The standout center is currently projected to go undrafted in ESPN's latest mock draft released this week. He's rated as the No. 75 overall player in the outlet's list of best available draft prospects.
Tshiebwe's intention going into the final day was to keep his name in the NBA Draft, multiple sources tell KSR's Jack Pilgrim. The staff continues to push for a return hoping for a change of heart, but the ongoing expectation is that his heart is set on turning pro.
Discuss This Article
Comments have moved.
Join the conversation and talk about this article and all things Kentucky Sports in the new KSR Message Board.
KSBoard