Oscar Tshiebwe dominates the paint in Blue-White Game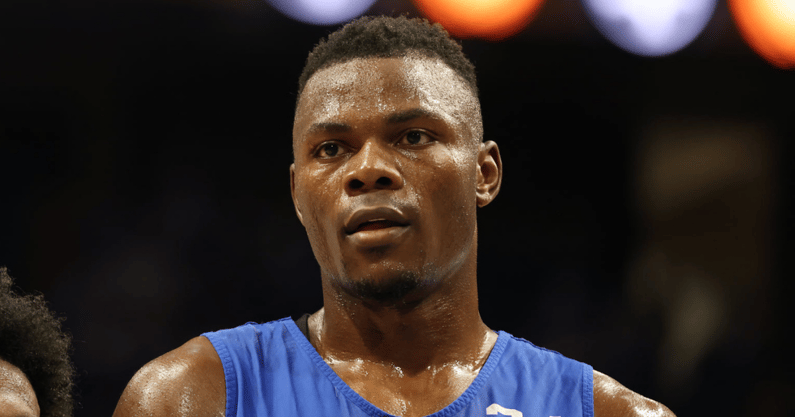 Oscar Tshiebwe showed the Big Blue Nation exactly what they wanted to see out of Kentucky's new 6-foot-9, 255-pound behemoth in the paint. The former West Virginia transfer, who played all 40 minutes for the Blue Team, bullied his Wildcat teammates all night long on Friday. Tshiebwe posted an eye-popping 25 points (on 12-15 shooting) to go along with a team-high 21 rebounds, 14 of them coming on the offensive glass.
A scrimmage is still a scrimmage (and the Blue team won handily), but Tshiebwe did precisely what was expected of him–dominate the glass and run the floor. Not a single one of his teammates could outrebound him as he gobbled up every loose ball around the rim. Tshiebwe did this while not exerting his top-level of energy, knowing that staying healthy is the top priority with a little over two weeks until the regular-season tips off.
"I told Coach (John Calipari) I'm going for 20 and 20 (points and rebounds)," Tshiebwe said after the scrimmage. "As you can see tonight I tried. I was playing basketball but not going to say I was going 100 percent. We told each other let's go 75 (percent), we don't want to get hurt against each other."
The actualized version of Oscar Tshiebwe was not on the court Friday night. There is still plenty more to showcase, and he gave the BBN a small taste of what's to come.
"I'm so excited. Tonight was great, I had fun out there, and I cannot wait until we start."
For the majority of the scrimmage, Tshiebwe was matched up against sophomore forward Lance Ware, who more than held his own despite being undersized in comparison. Ware managed 20 points and 10 rebounds himself as he and Tshiebwe duked it out nearly all night long.
"I love Lance, his defense is great," Tshiebwe said. "In practice we go against each other. As you see in the game it's not easy. We're helping each other, we're getting better. I'm proud of him."
Ware could end up being a much more important player than we currently realize, especially if foul trouble becomes an issue. Battling Tshiebwe each and every practice will ideally prepare him to fill in those unexpected minutes. If there is one glaring hole on this roster, it's the backup center position.
Ware showcased his potential as Tshiebwe's replacement on Friday, and he should only get better. The best way to improve one's game is to go against someone with more talent.
"We make each other better," Tshiebwe said about Ware.
But Lance Ware, and even freshman center Daimion Collins, won't be the players matching up against Tshiebwe once Kentucky plays Duke in November. The Blue Devils feature a heavy dose of bigs in the frontcourt, including five-star freshman Paolo Banchero. The battle down low could decide the outcome.
But even if Tshiebwe brings half of the production against Duke that he did in the Blue-White scrimmage, Kentucky will be in good shape.