Oscar Tshiebwe has brought the smiles back to Kentucky MBB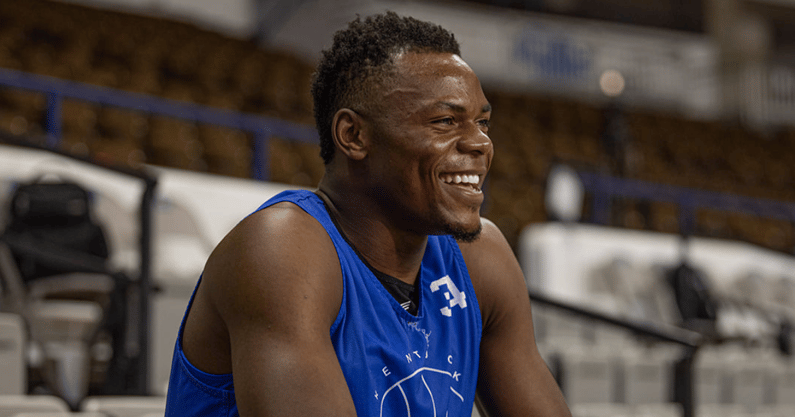 Oscar Tshiebwe is incredibly confident in his ability to battle for loose balls and absorb contact around the rim. If you ask him, there isn't a single person in the universe who can prevent him from hauling in a 50/50 ball.
Well, except for one individual.
"I don't know. Probably God?" Tshiebwe said during Wednesday's Media Day.
After transferring from West Virginia to Kentucky during the middle of the 2020-21 season, the 6-foot-9, 255-pound Tshiebwe has been immersed in the program he's continually called his "dream school". He wasn't eligible to play in the second half of last season–although he did give it his best shot–but established himself as the Wildcats starting center for 2021-22 before practice even began.
"Back then, I tried," Tshiebwe said about wanting to play last season. "I told coach (John Calipari), I said, do some makeup on me so you can sneak me in the game for somebody. Put some makeup on me, change my hair, sneak me in the game… Coach said 'Oscar, I wish I could do that. I wish I could do that. Now I can.'"
Calipari sure would have liked to have Tshiebwe last season, when the 'Cats infamously finished with a 9-16 losing record. The life of the program had been steadily leached away and smiles were hard to come by. The offseason was needed in the worst way, and Kentucky has been revamped across the board ever since.
Tshiebwe can play now, and he won't have to dress up to do so.
"It was good for us to go through the season we went through," Tshiebwe said. "Now we're angry, so we want something."
Beast Mode mindset
Tshiebwe is a rebounding warrior, leading the entire country in offensive rebounding rate (19.0 percent) as a freshman with the Mountaineers in 2019-20. In the 10 games he played as a sophomore at WVU before entering the transfer portal, his offensive rebounding rate was even higher: 20.4 percent. He's not a traditional scoring, back-to-the-basket center, rather one with an I'm going to outwork you mentality.
"When I go for the loose ball, I just go with the beast mode," Tshiebwe said. "Cause that ball is going for a lot of people. I just create my own space in that group of people and I go up and grab the ball. I used to bring the ball down all the time, but coach, we've been practicing, he says keep it up here."
The Democratic Republic of the Congo native holds just seven percent body fat, can run as fast as any guard on the roster, and shuffles his feet like a Fred Flinstone car chase. He's the ideal mold of the rim-running center that has thrived year after year in John Calipari's system.
Tshiebwe can't wait to put those skills on display in front of 20,000-plus members of the Big Blue Nation all season long.
"I'm big, I'm 255 (pounds). I can run, I can move," Tshiebwe said. "People think 'You're big, Oscar can't move'. No. I can stop the perimeter defense, I can stay in front and guard, I can do a lot of things. So I cannot wait to show that to the people this coming year."
Tshiebwe is extremely confident in his abilities. But he's the furthest thing from cocky. The pearly white, perfect smile he's always sporting is immediately infectious. From his coaches and teammates, to the UK Athletics employees that work with him, to the media who got an in-person look on Wednesday, Tshiebwe leaves every person that comes in contact with him smiling ear to ear.
Part of his joy comes from the team environment that he's now a part of. He has plenty of reasons to keep a positive attitude. Tshiebwe's smile was still there last season, but this time around, it feels more natural.
"This team is probably the best program I have been to," Tshiebwe said. "We understand each other. We don't have somebody who thinks they are better than somebody else. I've been at some programs where some players think 'I'm better than them, I don't even want to hang out with them.' But this team is different. We hang out, you feel free to hang out with anybody on the team."
Tshiebwe is finally where he always wanted to be. Last season is behind everyone at this point. The focus has turned to revenge, and he's ready for battle.
"I am not nervous," Tshiebwe said. "I'm just sending the message out there: I'm coming."