Oscar Tshiebwe wins Kentucky's new "Most Impactful Player" Belt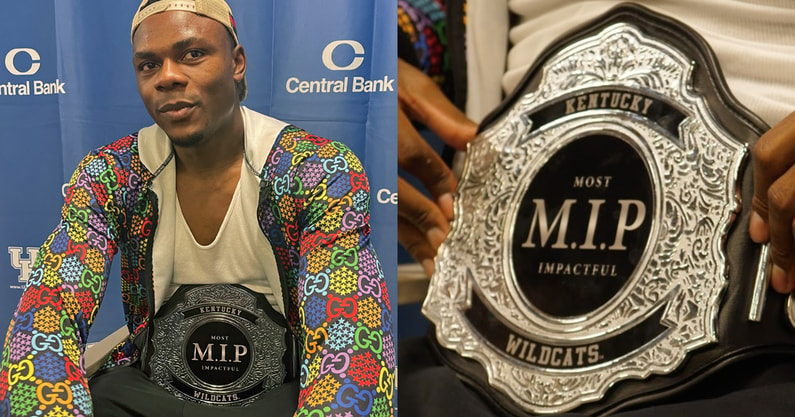 Kentucky cruised past North Florida 96-56 today at Rupp Arena, and for his part in the win, Oscar Tshiebwe got to take home a new piece of hardware. Oscar won the "Most Impactful Player" (MIP) belt, a new award that Kentucky is giving out after every victory this season. Oscar had 16 points (8-11 FG), 15 rebounds, 5 assists, 3 steals, and 2 blocks in just 22 minutes. He was only one rebound shy of a double-double at halftime and led the team in plus/minus efficiency at +40.
"This is what we do now," Oscar said, gesturing to the belt during his postgame radio appearance with Goose Givens. "The most impactful player, tonight was me. So they give me the belt."
"We have a belt that we give out after wins," John Calipari said in his postgame presser. "The most impactful players. Who impacted the game? The staff gets it and it's a big shiny belt. Maybe they'll show you. He got it today. He's the most impactful. Not because of points and rebounds but because of what you said. He had five assists, three steals, and two blocks. That's impacting the game. He'll have the belt until the next win. No belts on a loss."
Oscar's five assists were a career-high. As Drew Franklin joked, the MIP award also stands for Most Improved Passer tonight.
"I've got to be a good passer if I want my team to win," Oscar told reporters. "Today I was the one [to win the belt] because I got five assists, three steals, and two blocks."
"He's gotten better," Calipari said of Oscar's passing. "If you remember, he wasn't a real good passer a year ago, especially early in the year. But to have five assists and one turnover and three steals, that's a big game."
Given the lopsided result, it's hard to take much from this game; however, Oscar said simply winning will help this group gel.
"We just need to win. We gotta win. It doesn't matter what [stats] I got. We just gotta win. I'm trying to help my youngest, everybody, come together so we can learn how to win. It's better to lose now than in March. So right now we just pick things up, so we're good."
Ball movement, rebounding an improvement over the Gonzaga game
Everyone is talking about how bad Kentucky's offense looked vs. Michigan State and Gonzaga. Against a much inferior opponent, the Cats found their groove, shooting 47.9% from the floor, 53.7% in the first half. Kentucky had 23 assists to only 7 turnovers and nine threes. Oscar said ball movement was much better than it was on Sunday night in Spokane.
"It is nice because when we move the ball a lot, we make it so easy to get a layup instead of holding the ball. So tonight, it was good. We moved the ball a lot. They couldn't stop that. That's why if we're gonna win, we gotta move the ball. Attack the rim and shoot. Miss some, I grab some. I tell them, 'Make sure whatever you shoot, you gotta miss a couple so I grab the rebounds.'"
It wasn't just Oscar grabbing rebounds. Kentucky won the battle of the boards 50-35 with Jacob Toppin and Ugonna Onyenso grabbing ten rebounds each. Adou Thiero even battled Oscar for a board, which drew a chuckle from the big man.
"I looked at them, they were challenging me! So, they came out tonight and said, 'Oscar, we're coming after your rebounds.' I said, 'Listen, even if you're coming at me, I'll make sure I get my 15.' I got my 15 [rebounds] and I'm proud because if everybody can rebound, everybody goes for the ball, it will be easy for us because — for example, last game we played against Gonzaga, they outrebounded us so if everybody now is coming for a rebound, if there are any we miss, we grab again. Don't give us another chance."
As fans, it may not feel like there's much to get out of 40-point routs. For Kentucky, it's a chance to experiment. For Oscar, it's a chance to improve his conditioning after missing a month of practice due to the minor knee procedure he underwent in October. Tonight was his fourth game back. He admitted to Givens that he was worn out during the Gonzaga game on Sunday.
"Absolutely right. So I was running, running, running. I was really tired at one moment because I didn't really get time to do conditioning. But I'm coming back. In like a game like this, that's conditioning for me."
This was Oscar's first postgame radio appearance of the season and, as you might expect, the crowd was very happy to hear from him. The love was mutual.
"I'm feeling good," Oscar said. "I'm ready to turn things around. The BBN, we've got to make them happy, you know? It's so nice. It's so nice to be back and to be in front of my people."
As for the belt, the staff will vote on who gets it after each win; however, Oscar won't give it up without a fight.
"Next time, by example, if Lance gets it next time, I'm gonna have to give it to Lance. So I guess I'm not going to let him take from me. So, I'll be the most impactful player. I'm going to try to be the most impactful player all the time."