Oscar Tshiebwe looking for No. 9 -- not individual accolades -- in return to Kentucky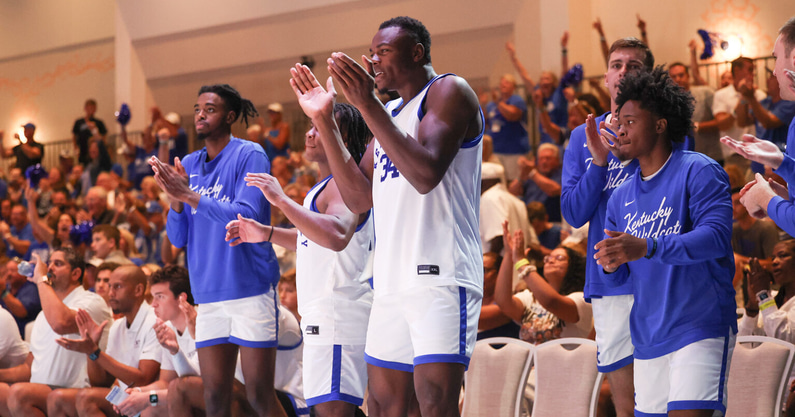 Individually, Kentucky superstar Oscar Tshiebwe had little — if anything — to gain by returning for his senior season in Lexington. Averaging 17.4 points, 15.1 rebounds, 2.0 steals and 1.4 blocks per contest his first year as a Wildcat, the 6-foot-9, 260-pound center earned consensus National Player of the Year honors while also being named First-Team All-America, First-Team All-SEC, SEC Player of the Year, All-SEC Defense and — well, he brought home essentially every trophy college basketball had to offer.
Between the stats, in-game impact and overall accolades, it was sheer dominance in every sense of the word. Historic both locally and nationally — he's the first major-conference player to average at least 16.0 points and 15.0 rebounds in a season since Bill Walton at UCLA in 1972-73 and the first Wildcat to hit those marks since Bob Burrow in 1954-55.
How do you improve on that?
He's working to expand his range and knock down the occasional 3-pointer — "I'm not going for like five (per game), no, I just need one or two," Tshiebwe said in July. John Calipari also raved about the star center's improvements with mobility and lateral quickness in the Bahamas, working to become a more well-rounded and versatile player.
"I'm going to tell you too, Oscar, I was really proud because you're moving and guarding guards better than you did a year ago," Calipari said during a private team film session in the Bahamas. "You made passes that made you look like a basketball player. … You look better."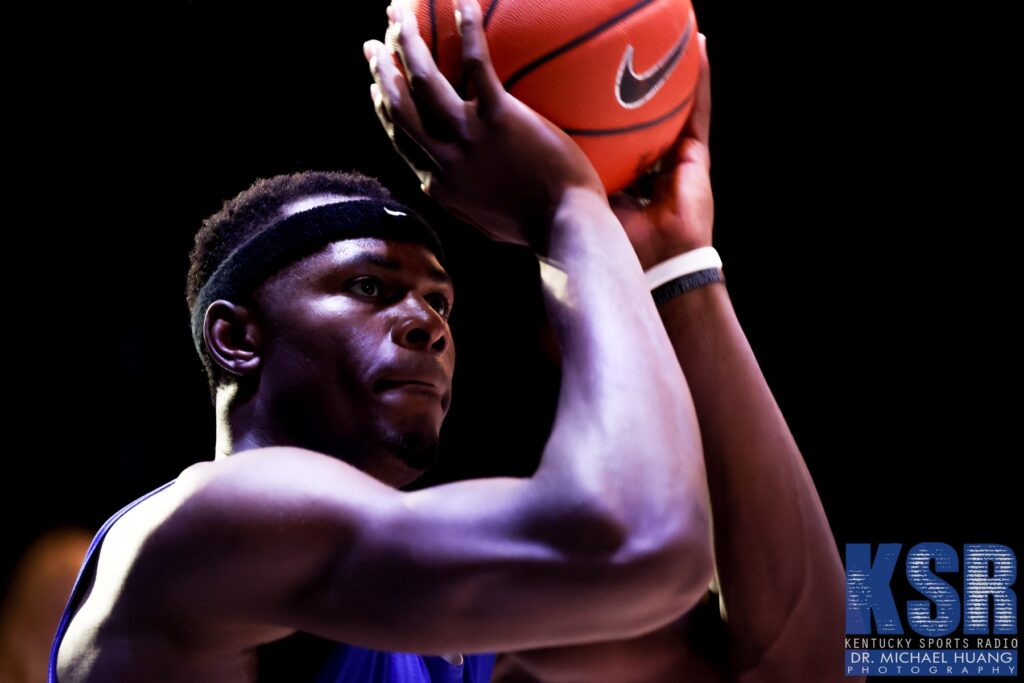 Tshiebwe has dreams of becoming a lottery pick, and he's taking the necessary steps to get there.
But that's not why he returned to Kentucky — not the sole reason, at least. It's not even his top reason.
His historic individual season in Lexington resulted in zero team accolades. No SEC regular season title, no SEC Tournament championship, no run to the Final Four. The Wildcats didn't even make it out of the opening weekend, losing to 15-seed St. Peter's in the first round, arguably the biggest postseason upset in program history.
Tshiebwe's individual legacy is untouchable, with a jersey-hanging ceremony almost certainly in his future. His focus, though, is on hanging a different kind of banner in the rafters of Rupp Arena.
A championship banner.
All about No. 9
"Number nine — I have a dream for number nine," Tshiebwe told KSR in an exclusive interview in the Bahamas. "I've already collected so many trophies, I have no more room for trophies. So right now, I just want something for my school, number nine. If we get number nine, it'll make my dream come true. I cannot let anything mess that up."
The Kentucky superstar has become nothing short of obsessed with the number since his team's disappointing loss to St. Peter's back in March. He's begun writing No. 9 everywhere — on his shoes, in his room, everywhere — as a constant reminder of his ultimate goal this season.
"It's in my head," Tshiebwe told KSR. "Even on my shoes, I put number nine because I love the number. If we get number nine, I will accomplish my dream playing basketball. That's the reason I decided to come back. … If you go to my room, I put number nine everywhere. It's so every time I look at the number, I can say, 'I cannot skip a day for this number. I've got to go work for this number.'"
Tshiebwe even tried changing his jersey number from 34 to 9, but the NCAA wouldn't allow it (Rule 1, Section 22, Article 7, Clause b. 2 of the official rulebook prevents players from using 6, 7, 8 or 9). When that idea fell through, he considered a change to 45 or 54 — five plus four equals nine.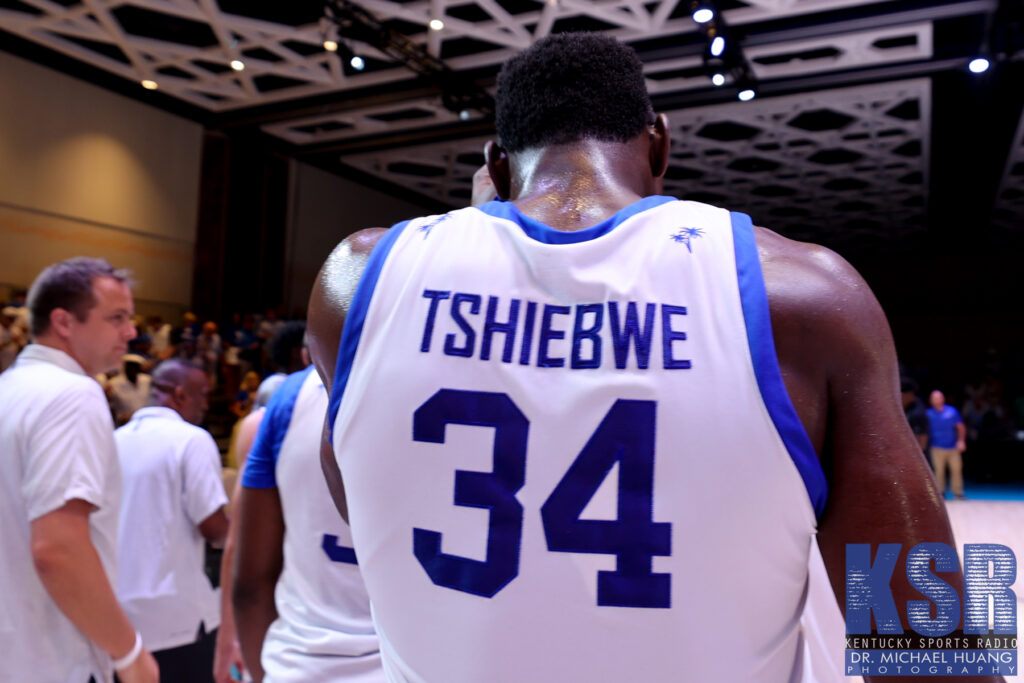 "We did not go against the rules, we all wanted to follow the rules," Tshiebwe said. "I wanted to get four and five, five and four, something like that. I decided not to because 34 is my number, it's the number of God — three and four is seven, the number of God. 34 is my favorite NBA player of all time, Hakeem Olajuwon, so I just kept it. But number nine is going to be on my shoes everywhere, so every time I see, I'm going to remember."
Using St. Peter's loss as fuel
Calipari said at the Players First Fantasy Experience this past weekend that his players were using the St. Peter's loss as "fuel" going into the season. "Took us all some time to get over that," he said. " I've not had a team lose that kind of game in, well, that was the first time. I was stunned. … This team is using that as fuel, and I'm loving it."
Tshiebwe's obsession with number nine drives that point home even further. And he's gone out of his way to ensure everyone is on the same page, holding his teammates accountable when necessary. This season isn't about individual accolades or awards, it's about the team.
"If my teammates aren't doing what they're supposed to do, I'll meet with Coach and say, 'I don't like what I'm seeing from my teammates. You've got to talk to them, I don't like what I'm seeing from him. Talk to them.' If you're not doing right, don't play, we need to go forward. We don't need anybody holding us back. That's what number nine is about," he said.
Luckily for Tshiebwe, those conversations have been limited, as his teammates have bought in. Everyone is competing to be the first one in the gym and the last one to leave. The work ethic is there to match the elite talent.
It's enough.
Kentucky has the pieces to make a run
"This roster, I'm really surprised — well, not really surprised because I see in practice, we work," Tshiebwe told KSR. "The way we came out with confidence, especially the freshmen, everybody, I feel good because it's enough now. I can keep doing what I do, motivating them and keeping them together, pushing them to work harder. We're going to accomplish so many things. The freshmen, all of the guys, everybody, I'm loving it."
Expectations are inevitably high for someone who set sky-high benchmarks for himself in year one — he pledged to average 20 rebounds per contest on the season before he ever played a game — and somehow came pretty darn close (15.1 RPG). Coming back when no one would blame him for leaving after a historic individual season in Lexington, of course he's going to dream big. Unlike his absurd rebounding goal set last year, though, he can't turn this dream into a reality alone.
This time, he needs help. And after seeing his team win by an average of 50 points per contest in the Bahamas, Tshiebwe believes he has plenty of it.
"Daimion Collins, phew. That boy is crazy," Tshiebwe told KSR. "… We see it in practice, that boy is working. He's Superman, he flies. Every time I see him in the air, I just say, 'Go ahead man, I'm not going up there. You're too high.' I love what he's doing, he puts on a show.
"Chris (Livingston) has looked good, Cason (Wallace) looks good. They're coming in ready to go. They have no fear because in practice, they're going against us. They said, 'Oscar, you're the Player of the Year. If I go against you, I don't think anyone will be able to bully me out there.' I'm loving it, I'm so happy for everyone. Lance (Ware) has done well. Even the walk-ons are doing great, so I'm loving it."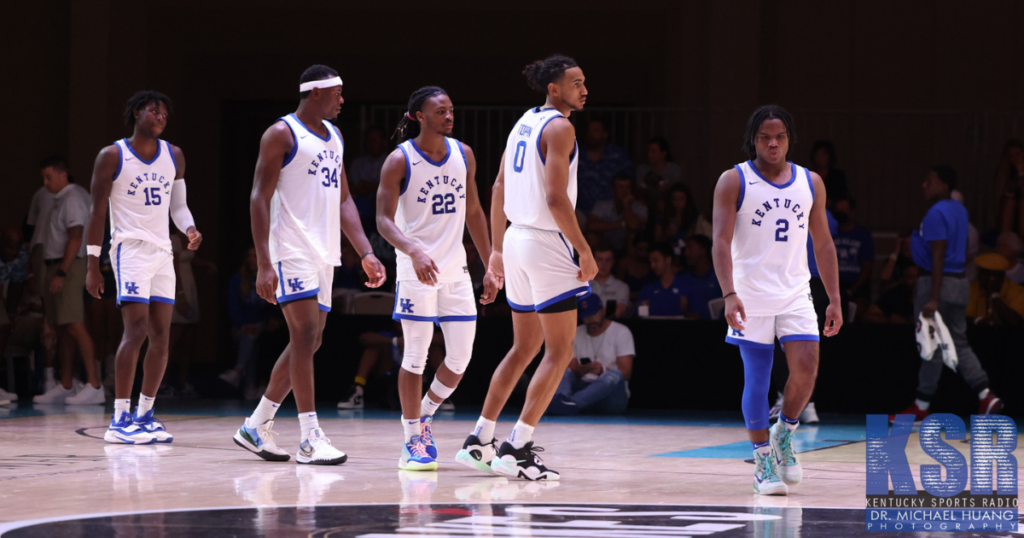 Beyond Tshiebwe, the Wildcats returned a Bob Cousy Award finalist in Sahvir Wheeler, two pogo-stick athletes with unlimited ceilings in Jacob Toppin and Daimion Collins, a coin-flip sharpshooter in CJ Fredrick and an enforcer off the bench in Lance Ware. They also added three college-ready freshmen and a 20-point-per-game scorer from Illinois State in Antonio Reeves.
It's a roster that includes scoring, shooting, rebounding, defense, versatility and depth. No one player is forced to carry the bulk of the weight on their shoulders; it can be evenly distributed. We saw that in the Bahamas with Tshiebwe, who averaged 11.5 points, 11.3 rebounds, 2.0 assists and 1.5 steals in 23.5 minutes in four exhibition games. College basketball's reigning National Player of the Year was efficient as a scorer and free-throw shooter (55.6% FG, 75.0% FT), rebounded well and fought defensively.
The spotlight, though, shined brightest on his teammates. Tshiebwe still averaged a double-double and contributed to winning, but his on-court play was hardly discussed. That's the beauty of this roster and why the superstar's title dreams are within reach.
"That's what's going to make us hard to deal with," Wheeler told KSR in the Bahamas. "You watch film and you're thinking, 'Man, Jacob (Toppin),' 'Man, Chris (Livingston), Cason (Wallace), others.' But you've got the National Player of the Year back. How are you going to guard him? Are you going to double him and let CJ (Fredrick) and everybody shoot? Or are you going to play him one-on-one? Come on, we saw that last year.
"It's crazy — and he's getting better."
Sharing the spotlight
It's the perfect position for Tshiebwe, one he's quite content with. He watched the thrashings unfold during extended stretches on the bench in the Bahamas, smiling ear to ear. As much pride the 6-foot-9 superstar takes in dominating the competition on the floor, he takes just as much pride in supporting his teammates and serving as a mentor away from it.
It's not about the gaudy numbers, it's about winning games and making a run in March.
"I was just laughing on the bench, having fun," Tshiebwe told KSR. "I said, 'Coach, let them play — I want them to play.' Really, I just want everybody to succeed. For me, I just want to keep helping them and motivating them."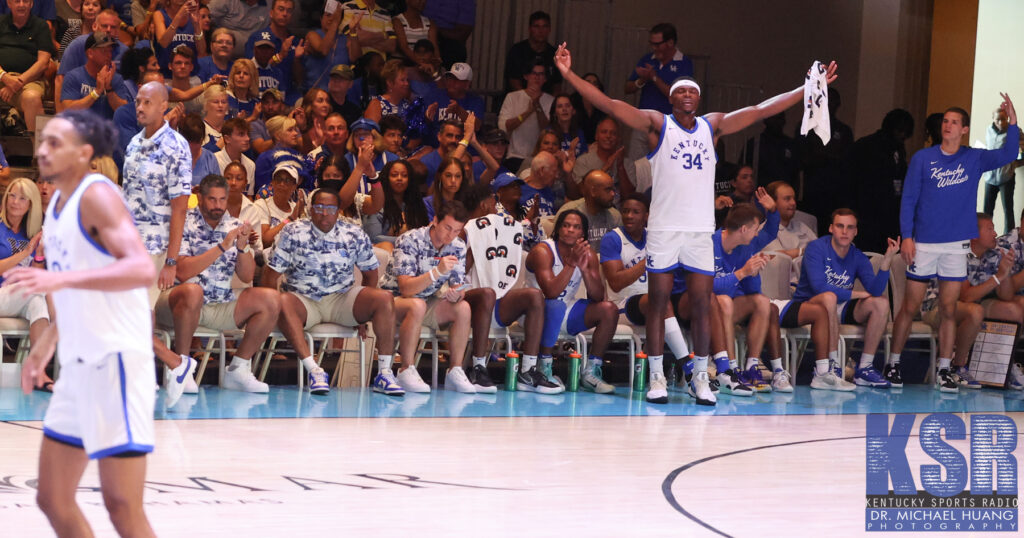 He shared a story of Adou Thiero coming to his room before the team's first game in the Bahamas. The freshman guard was a nervous wreck about making his debut, caught up in wanting to look the part on the big stage.
Tshiebwe the superstar became Tshiebwe the mentor and experienced vet.
"'Oscar, I'm very nervous. I don't know what to do. What can I do?'" Thiero told Tshiebwe, the latter told KSR. "I said, 'Don't worry about doing good. When you worry about doing good too much, that's when you mess up. The only thing you should worry about and keep in your mind is going out there and playing as hard as you can. Hard work always brings something good.
"When you play hard, you're going to come back in the end and say, 'Oscar, you were right.'"
Thiero went on to average 6.3 points on 58.8% shooting and 50% from three to go with 3.0 rebounds, 1.75 assists, 1.75 steals and 1.25 blocks in 14.3 minutes per game, easily one of the team's most pleasant surprises in paradise. Initially seen as a long-term project piece for the Wildcats, the 6-foot-6 guard looked the part as a day-one contributor.
"That kid, he came back and said, 'Oscar, you were right.' I love that."
Tshiebwe's story is still being written
Tshiebwe's return to Kentucky allows for a part two in his story as a Wildcat, one that doesn't end with tears streaming down his cheeks walking off the floor following a historic opening-round loss in the NCAA Tournament. He now has the opportunity to write a second half, one with an alternate ending.
It's also an opportunity to fill those chapters with new moments of using his platform to do good and help others.
"It's very important. To do community service, to serve, that's what God wants us to do," Tshiebwe told KSR. "It's important to bring glory to God — when we're serving others, we're serving God. That's one thing I love doing in my life. We're working with Samaritan's Feet, washing feet, I love doing things like that. When you do the will of God — do what is pleasing God, I'll say — it's a great thing."
Tshiebwe's purpose is bigger than basketball. Basketball, though, gives him the platform to make an impact, especially at Kentucky. If he can take those bright lights placed on him and shine them on those around him, he's done his job.
"God didn't bring me this far just to shine and do good by myself," he said. "God has put me in a place to help. This is what God wants us to do — you are a light. God placed you somewhere to shine so everyone around you can shine. Coach (Cal) says to use my platform to do good and help others. The best thing you can do is help."
It's why he stays after games to sign autographs and take photos with an endless supply of fans until a staff member comes to drag him back to the locker room. "It takes you five seconds to make somebody feel good," Calipari — the newest recipient of the Jefferson Award for Outstanding Public Service in Sports — said in a private team meeting down in the Bahamas. "… You're blessed. Think about where you came from, what's happened for you, the great opportunities you have. Now you're sitting here, use it for good. Help somebody, make somebody feel good."
"That's why I love staying for pictures, I'll do anything for people," Tshiebwe said. "I love people a lot, especially younger kids. I would do anything for them. I'm just very grateful to be able to serve."
Making money with NIL
Tshiebwe remembers exactly where he came from and the doors that have opened for him since. The native of the Democratic Republic of the Congo grew up poor, sharing a bed with three to four siblings at any given time. "We didn't have anything," he told KSR.
By taking care of business on the court and effortlessly embracing life as a fan favorite during his time in Lexington, a path to life-changing financial help has followed through name, image and likeness. Even with restrictions due to his F1 student visa, he's still managed to rack up a few million dollars through licensing deals and paid video messages in the United States, along with a chaotic week in the Bahamas that included television commercials, ad photoshoots and autograph signings, among other lucrative opportunities.
Tshiebwe is working to receive a celebrity visa that would minimize earning restrictions and open the NIL floodgates for the standout center. Until then, he's grateful for his current opportunities, making the most of each one that comes his way.
"I'm loving it. Just being on the island, going different places to sign autographs, do commercials, I'm just enjoying it," Tshiebwe told KSR. "… Doing some commercials, some are pretty funny. You've got to tell jokes for some of the things I'm doing, some crazy, stupid little videos [laughs]. I just really enjoy it, enjoy every moment of life. You only live one time. … These opportunities don't come twice, they only come once. When they do come, you have to make sure you enjoy it, so that's what I'm doing.
"Some people, their mind is living in the future. The Bible says to stop living in the future. Today's job is for today. So I'm going to enjoy it. If you see me, I always have joy. That joy comes from God."
"Think about where you came from"
His money-making efforts have come with his family and community in mind, specifically his mother. After seeing her poor living conditions on a recent trip to the Congo, Tshiebwe made it his mission to buy her a safe and comfortable home. Using some of the money he earned through NIL, he did just that, moving her into a five-bedroom house where she's "happier than ever before."
"I love my mom to death. Our relationship is great. I just do everything I can to help her," Tshiebwe told KSR. "I told her, 'Don't ever try to work again in your life. You have done enough. I'm going to help you.' I haven't been able to build her a house yet, but I'm going to get it. I put her in a nice place to live, she's in a great place. She's so happy there, happier than ever before. That's the best thing you can do for your family."
Hard work led to production, which led to popularity, which led to NIL, which led to new living conditions for his family — all made possible through God, Tshiebwe says. Life hasn't always been easy, but it's always been on God's time.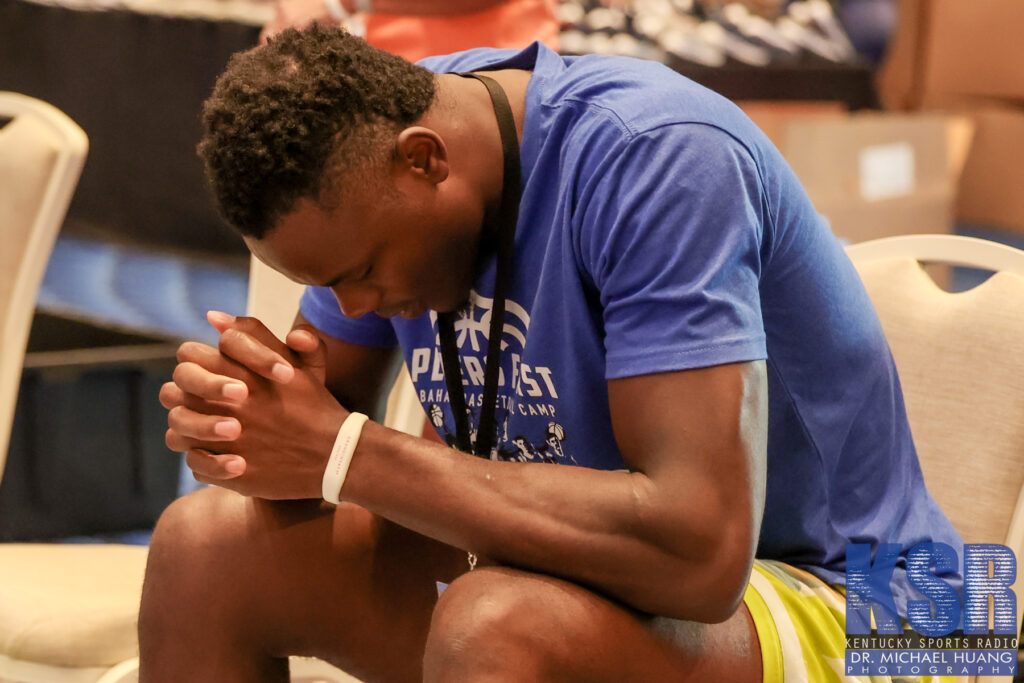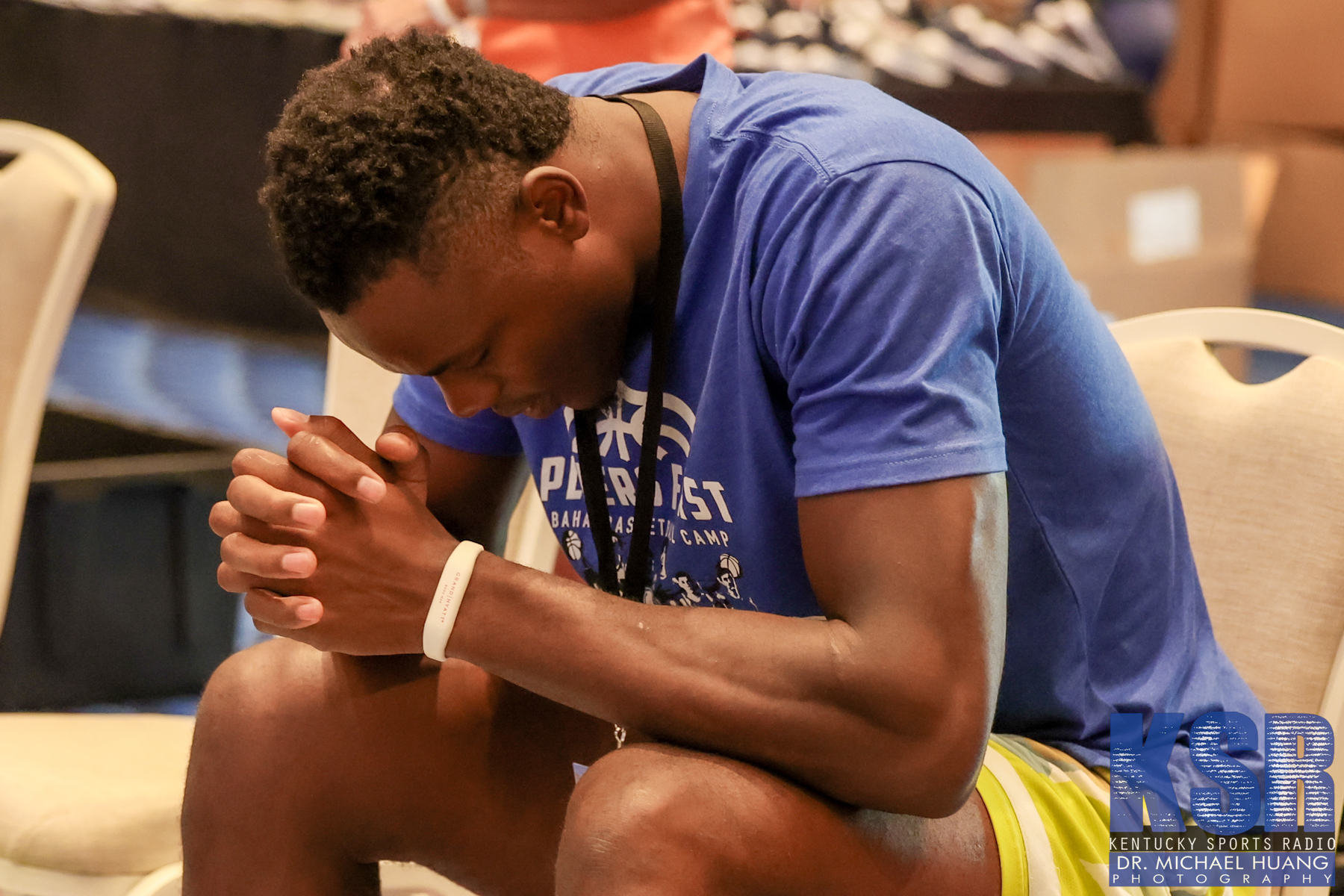 Now, the timing is right for Kentucky's superstar center.
"To be able to do all of these things, be able to take care of my mom, brothers and sisters, it's a blessing," Tshiebwe told KSR. "Everything God creates is on His time. I just thank God. … When God feels the time is right, he's going to do something for me. And the timing is right — I'm doing some NIL, making some money. All of it is part of God's plan."
Tshiebwe for President?
What else could be part of God's plan down the road? Tshiebwe wouldn't mind becoming President of the Congo one day, using his growing platform and kind heart to help his entire home country. If that's where God leads him, he'd welcome the opportunity.
"That would be one of the best things in life," Tshiebwe told KSR. "We have so many people back home that need help. It's up to God, if He wants me to help one day. It is one of my bigger dreams, it would be great. I really think I'd be able to take care of my people. I just want to go wherever God leads me, but I think I could lead one day. Not today, not tomorrow, but one day. I'll just pray for it."
Until then, his focus remains on bringing banner No. 9 to Kentucky.
"You're going to hear about a W. W is the holy letter that will take us to number nine," Tshiebwe told KSR. "I'm loving what I'm seeing from my teammates, and I'm going to enjoy it. You guys pray for us so we can stay focused, stay away from injury. We're going to accomplish our mission. I already got my trophies, now I need a big (championship) trophy to give to the school.
"I'm loving what I'm seeing from my teammates and I can't wait for the season to start. Be ready for the season, BBN."