John Calipari still trying to figure out Oscar Tshiebwe's offense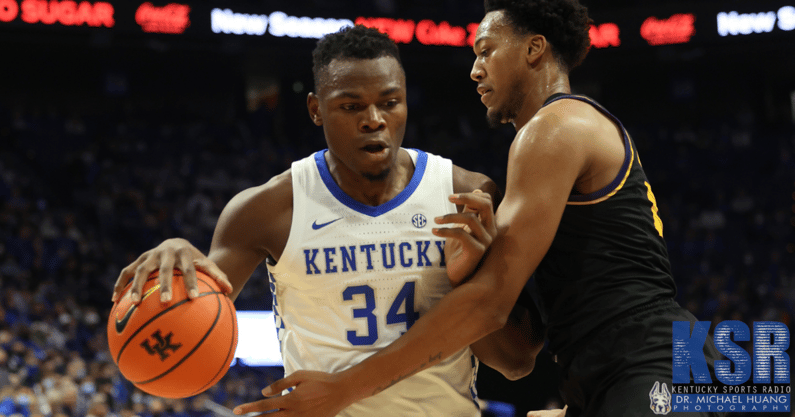 Through seven games, Oscar Tshiebwe has more than proven his worth to this Kentucky team. The junior big man leads the country in rebounding, with 16.0 boards per game. He's so good at cleaning the glass the Rupp Arena crowd hangs Rs on the wall and UK made a parody video about it. Watching him rebound is often more entertaining than watching other players score.
But according to John Calipari, big Oscar's offense is still a work in progress, which is an odd thing to say considering he's second on the team in scoring at 14.1 points per game. We've seen glimpses of a gorgeous jumper, which Calipari has given Oscar the green light to take. However, Calipari is still grappling with how to play him in the post. Cal has brought up the topic several times over the past few weeks, most recently yesterday when asked what questions about this group keep him up at night.
"Still got to work on Oscar. I'm watching some of these teams post the ball that all they do is jam it in. That isn't who he is. But, you got to get a couple of those. So, it's not on him; that's on me. I got to figure it out."
Rediscovering his groove in the post
Throughout his career, Oscar has typically played with his back to the basket, bruising down low, even if that meant picking up a foul. At West Virginia, he had a tight leash with his jump shot. Now at Kentucky with encouragement from Calipari, Oscar is showing off his jumper but seems hesitant in the post. What gives?
"It's funny because Oscar was and has always had a low-post presence," Orlando Antigua said last week. "With us wanting to expand his game a little bit, he's been able to show that 17-foot jump shot. But we still don't want it to negate his strength, which was being able to score around the basket. So, it's just a matter of getting him back comfortable with playing with his back to the basket again and then looking for opportunities for him to get touches around the basket because he is a presence in there and can cause a lot of problems. It also allows him to draw some fouls and put people in foul trouble and get to the free-throw line where he's a good free-throw shooter as well."
Maybe Oscar's offense is keeping Calipari up at night because the big man is doing everything else so well. Why obsess and tinker with one part of arguably the most important part of this Kentucky team? As always, Calipari has his players' future in mind.
"Here was my statement to the team yesterday: 'How is Oscar playing for us? For the team? Unbelievable.' I mean, really. So, if I'm only worried about what he does for us, I leave it like it is. Go get 16 points and 16 rebounds, we'll be fine. But if I care about him, I got to let him shoot some jump shots, I got to teach him better in the post so he gets some easy baskets. We've got to work on him defensively because, if you can't guard in the pick-and-roll or guard a guard and just leave your feet and go, I'm not helping you."
"Their front line is one of the most dominant the country starting with Oscar," Former Kentucky assistant and current Central Michigan head coach Tony Barbee said after his team's loss to the Cats Monday night. "I mean, he's a guy that impacts a game – he's a coach's dream. He impacts the game without ever needing the ball. What he does on the backboard hadn't been seen in college basketball in years if not decades."
Figuring out what to do when Oscar's out
If Oscar's return to the post leads to more fouls, Kentucky needs an alternative look in the frontcourt, another topic that has flummoxed Calipari as of late
"How about this one: Oscar's out. All right, how do we play now? Now how do we play?"
Jacob Toppin (shoulder) and Lance Ware (ankle) are slowly working their way back into the lineup. Today, both told reporters Calipari has been experimenting with new lineups in practice, specifically working Toppin and Bryce Hopkins at the three to use their size vs. smaller defenders.
"We tried that yesterday and I liked it, Bryce liked it," Toppin added. "I think Coach and everyone else liked it. So that's what we're going to begin to do and see how it works."
Guess we'll see on Tuesday night.