WATCH: How Kentucky is making Oscar Tshiebwe an even bigger beast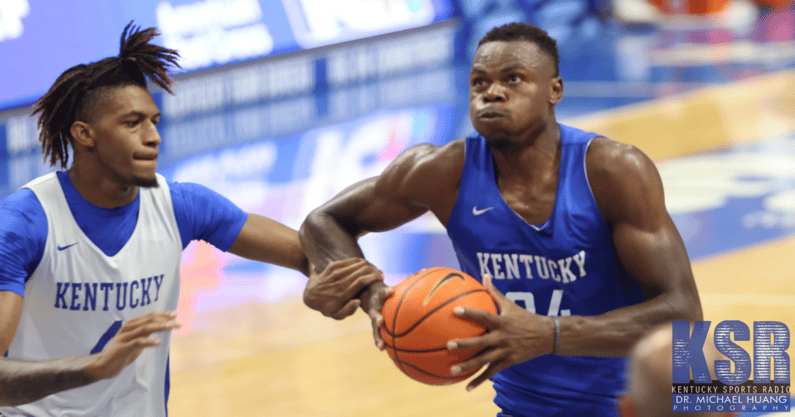 How do you make Oscar Tshiebwe, national player of the year, even more of a beast? That's the task Brady Welsh, Kentucky's new strength and conditioning coach, faces this offseason. In a new video feature, Welsh describes his plan for Oscar, who already has a leg up on a lot of his teammates in the weight room.
"Big O is a little bit different," Welsh said. "Strength-wise, power-wise, force-wise, leverage, wise, he's the strongest player on the team, easily. He's the best on the team. Probably the best I've ever worked with."
That said, there are areas for improvement. Welsh said he's focusing on helping Oscar become more fluid. Part of that process is teaching Oscar to use all parts of his feet, which he didn't have the luxury of growing up because he often wore shoes that were too small for him. To help, Welsh is having Oscar do a lot of exercises barefoot.
"A lot of basketball players, especially if they're big and strong, a lot of them are just really heavy-footed. If you hear those heavy feet, it's because they're not actually using those toes. They're not actually using their gait the way they need to. The last thing to hit the ground, whether you run, jump, cut, anything, is your big toe. And the rest of your toes are there to help you balance. So I'm trying to get him to understand that. Stretch those toes back out. Get him to relearn how to interact with the ground."
With the footwork comes improved balance, which will give Oscar even more opportunities to tap into his strength, which is already off the charts.
"The goal is, if we work on this every day, he can start to realize some more of his power. As compared to just running through people all the time, more of a situation where he's moving around people and being able actually to be an athlete."
Impressive stuff. Watch Oscar work below.