Oscar Tshiebwe to stay in NBA Draft, forgo remaining eligibility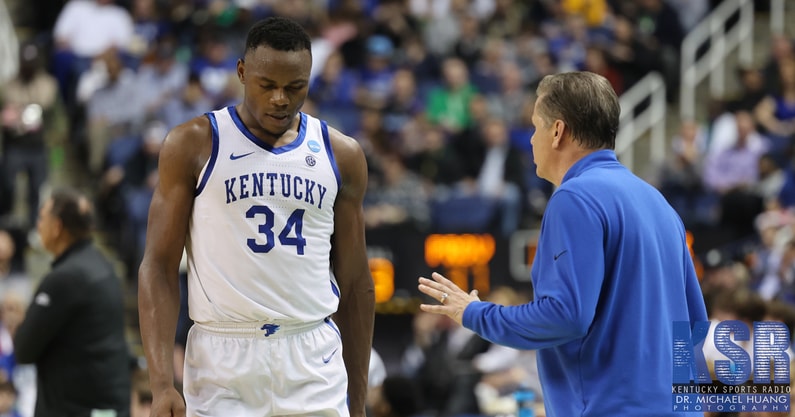 Kentucky center Oscar Tshiebwe has decided to keep his name in the NBA Draft, officially ending his historic two-year run in Lexington. The former consensus national player of the year made his announcement ahead of the withdrawal deadline scheduled for 11:59 p.m. ET.
Tshiebwe originally decided to test the draft waters back on April 7 and worked out for the likes of the Charlotte Hornets, Atlanta Hawks, Boston Celtics, Milwaukee Bucks, Houston Rockets and Sacramento Kings before ultimately forgoing the remainder of his eligibility.
"First, I would like to thank God for the many blessings he has shown me," he announced Wednesday. "I know I wouldn't be here without him guiding me through this journey of life. Second, I would like to thank my family and closest friends for everything they have sacrificed in getting to this point in my life. I would like to thank Coach Cal and his staff for their support and belief in me during my life at UK. Lastly, I would like to thank BBN for the love, support, and loyalty you have given me and my teammates over the years. I wouldn't want to play for anyone or anywhere else.
"During this time, I have decided to remain in the 2023 NBA Draft and begin my professional career. I hope as I continue to fight for my dream of playing in the NBA you will continue to support me. Thank you BBN for everything and I am so lucky to always call Kentucky home."
The 6-foot-9 center averaged 16.5 points, 13.7 rebounds, 1.6 assists and 1.6 steals in his second year in Lexington and fourth season overall at the collegiate level. His first year at Kentucky was one of the most dominant in recent memory, averaging 17.4 points, 15.1 rebounds, 1.8 steals and 1.6 blocks per contest, shattering nearly every record the school had to offer.
The former NPOY also earned the Kareem Abdul-Jabbar Award for the nation's best center while bringing home SEC Player of the Year and First-Team All-SEC honors. He closed out his senior campaign with unanimous Second-Team All-America honors (Associated Press, USBWA, NABC and The Sporting News) to become just the ninth player in Kentucky history to earn unanimous All-America accolades in two seasons.
Tshiebwe finishes his time in Lexington tied for second in career double-doubles (48), sixth in all-time career rebounds (952) and 48th in scoring (1,117).
John Calipari saluted Tshiebwe for his contributions to the Kentucky basketball program.
"Oscar achieved things that no other player has in decades, and I wish we could have won more but he gave everything he had to Kentucky. He also became the first member of his family to receive a college diploma and I know how much that means to him and more importantly, his mother.
"Oscar had a great opportunity to return and break more records and set the national bar for NIL again, but he is ready to fully chase his dreams and he has our support. He is ready for the next level because he has a skill that is elite and will translate to that league. I'm excited to watch his journey unfold, but I know Lexington and the BBN will always be home to him."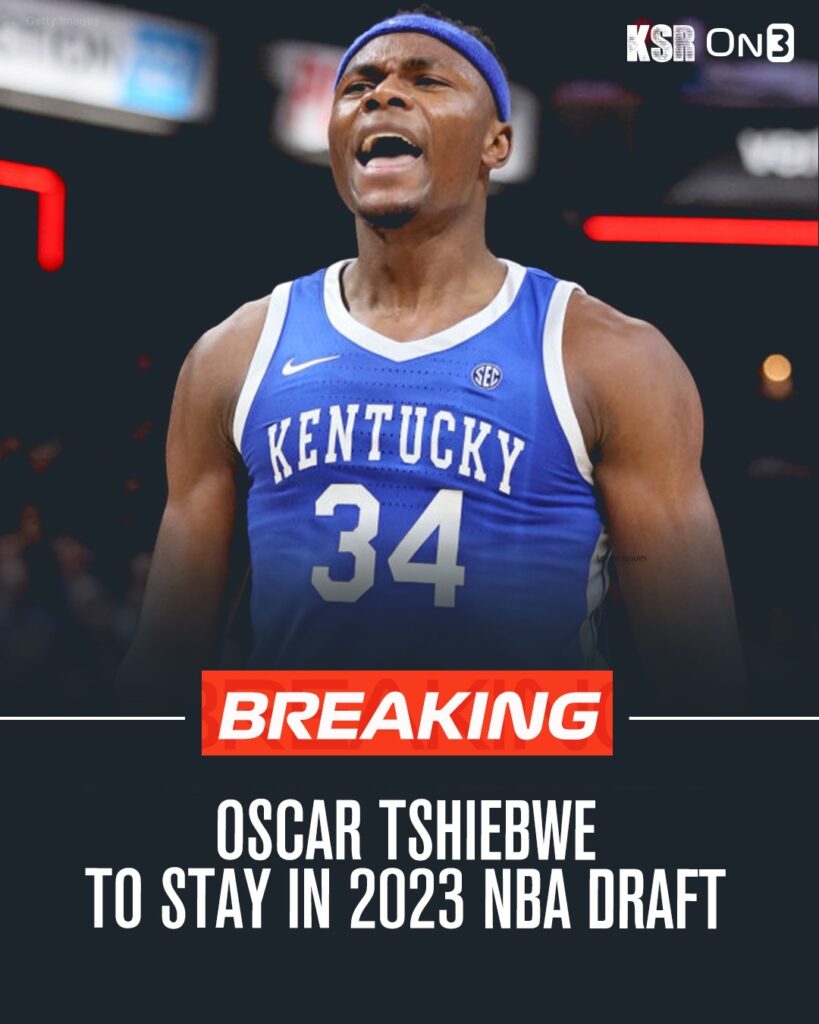 The standout center is currently projected to go undrafted in ESPN's latest mock draft released Wednesday morning. He's rated as the No. 75 overall player in the outlet's list of best available draft prospects.
Tshiebwe's departure leaves the program with just seven scholarship pieces: five freshmen in DJ Wagner, Rob Dillingham, Justin Edwards, Aaron Bradshaw and Reed Sheppard, along with two returning sophomores in Ugonna Onyenso and Adou Thiero.
A Wildcat legend moves on.
Discuss This Article
Comments have moved.
Join the conversation and talk about this article and all things Kentucky Sports in the new KSR Message Board.
KSBoard