Oscar Tshiebwe took over No. 1 in KenPom's Player of the Year rankings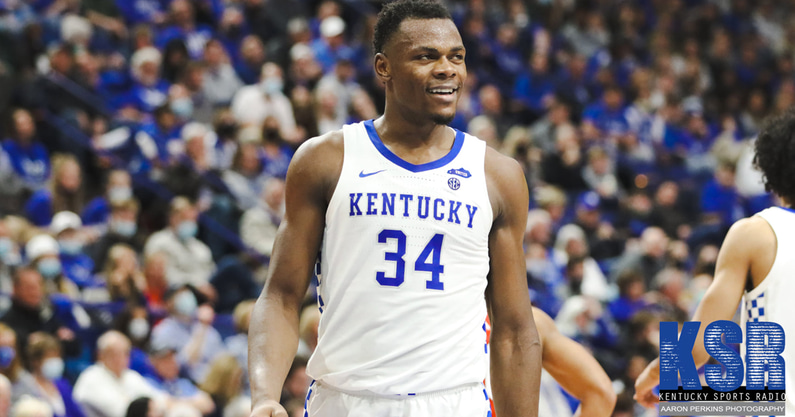 Kentucky's Oscar Tshiebwe currently leads the 2022 National Player of the Year race and he has the numbers to prove it.
According to the KenPom player ratings (kPOY), Tshiebwe is the No. 1 player in college basketball heading into Saturday's slate of games. Tshiebwe moved ahead of Ohio State star E.J. Liddell in the midweek update following Tshiebwe's 30-point, 15-rebound performance at Vanderbilt. Liddell averages 20 and 8 for the Buckeyes (10-4).
Behind Tshiebwe and Liddell, Illinois' Kofi Cockburn, Fresno State's Orlando Robinson, and Trayce Jackson-Davis at Indiana round out the top five, in that order.
Ken Pomeroy's kPOY ratings take into account each player's usage, efficiency, and their team's success, then throws those numbers in the KenPom metric blender to determine the most valuable player in the game. You can read Pomeroy's detailed explanation of the kPOY from its introduction in 2010, coincidentally with Kentucky's Terrence Jones in the top spot.
"The kPOY is not meant to predict who will win the Naismith or Wooden awards," Pomeroy notes. "This is a standalone honor designed to identify the most valuable player in the game, free of reputation, future potential, or amount of times the player appears on Big Monday."
So maybe it's not a predictor of the actual awards, but if the season ended today, Twshiebwe would likely take P.O.Y. honors. ESPN's Jay Bilas, who was in attendance for Tshiebwe's abuse of Vanderbilt earlier in the week, named Kentucky's big man the leader on his ballot.
"The Wooden Award race is far from over, but if it ended today, Kentucky's Oscar Tsheibwe would take it," Bilas tweeted the morning after watching Tshiebwe in Nashville.
Many others agree. Tennessee head coach Rick Barns may be among them.
Barnes: "There's not enough you can say about Tshiebwe"
Prior to his team's drive up I-75, Rick Barnes spoke about Tennesse's game against Kentucky and the challenge Oscar Tshiebwe presents inside.
"You're a transparent with your team, you show what he does," Barnes replied to a question about preparing for Tshiebwe. "Rebounding, we talk about it all the time. We try to get our guys to go at it like that. Is there a talent to it? Absolutely. The biggest thing, I think, is a tremendous want to do that because it's hard."
Barnes called Tshiebwe's play "phenomenal," especially when you consider that teams are making a conscious effort to slow him down.
"Oscar's got a tremendous passion and a drive to go get it," Barnes said. "You admire it. You want that from people. I think he understands the importance of it anyway. What he's doing, he's got to. I'd like to get some of our guys with that mindset to do it night in and night out like he's done it."
Hear more from Barnes as we count down to tip-off in Lexington.