Oscar Tshiebwe turns the other cheek in response to Bob Huggins' gripes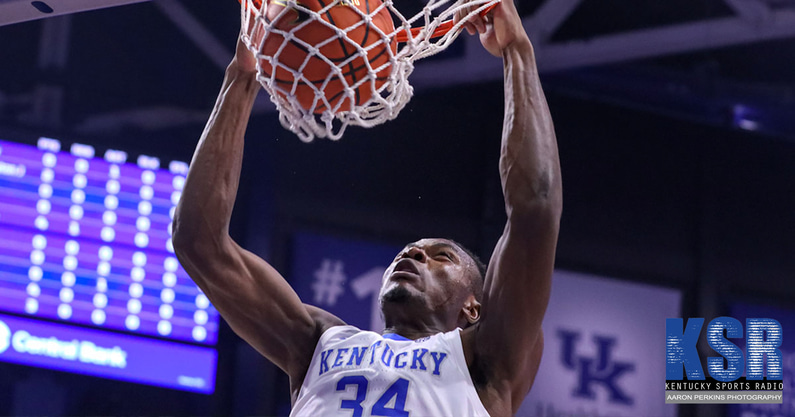 Bob Huggins may like to air out dirty laundry, but that isn't Oscar Tshiebwe's style. The West Virginia head coach is going to have to work harder for a reaction — pun intended.
Last week, Huggins was critical of Tshiebwe's work ethic and fight during his time in Morgantown, saying the former five-star recruit didn't take hard coaching well.
"We lost an alleged McDonald's All-American because he didn't like the fact that we were making him do things that were hard," Huggins said. "So, we're fine."
Huggins added that his current players can "go ahead and transfer" if they don't want to fight for playing time.
"When I was growing up in the United States of America, you had to work for what you got. That's kind of gone now," Huggins said. "That's the way it used to be and that's the way it's going to be as long as I am head ball coach here."
John Calipari was taken aback by the comments, while Keion Brooks Jr. and Davion Mintz scoffed at the idea Tshiebwe didn't fight or work hard.
When asked about Huggins' comments for the first time Wednesday, Tshiebwe had nothing but positive things to say about his former coach. Rather than throwing jabs, he expressed gratitude for Huggins' coaching in Morgantown while acknowledging he's proud of the work he puts in as a player.
"For me, I have no comment I can say about that. Coach, he's a great coach," Tshiebwe said Wednesday. "I know I always work harder and I'm always trying to get better. Just because things don't go right doesn't mean you quit. God has plans for every human being. We always have great plans for ourselves, but we forget what God has for us.
"… I cannot say anything about Bob Huggins. He was a good coach. He coached me, did everything for me, tried to help me, but I have no comment I can say about that."
Through five games, West Virginia's entire frontcourt — five forwards — is averaging a combined 18.4 rebounds. Of those pieces, only four average more than ten minutes per contest, combining for 15.6 rebounds per contest.
Meanwhile, Tshiebwe is averaging 16.0 rebounds in 26.8 minutes per contest, good for an absurd 23.9 rebounds per 40 minutes.
"It's hard to say he doesn't work hard," Calipari said following Kentucky's win over Ohio on Friday. "[Whispers] He's averaging 20 rebounds per game. He works hard."
"The Oscar that you get every day is genuinely the person that he is, and that's what's so special about him," Brooks told KSR. "I don't know Bob Huggins or what he got from Oscar, but the Oscar that I get is an exceptional human being."
"If (Huggins) is mad, he can just say that," Mintz added. "We love Oscar here, and we're going to keep loving him. I'm happy he found a new home. That's all it's about. That's pretty funny, honestly. That's the furthest from the truth."
For Tshiebwe, it's as simple as watching how he practices and plays in the games. It's why his coach and teammates were so quick to defend him; they see how hard he works, just like fans watching the games can, too.
"You can see. When you say someone is not working hard, that can carry with you everywhere you go," Tshiebwe told KSR. "If my teammates say, 'Oscar, he's working hard,' coaches say, 'We love Oscar; Oscar is working hard,' that means — it's not like people are just saying it. You can see it in the games, too,
"I don't give up. I just fight, I go out there and fight."
Those that know Tshiebwe — the real Tshiebwe — understand his intentions. He wants to make it clear he's not a selfish player, he only cares about his team.
"It is so hard to say somebody is not working hard by seeing the stuff I'm doing on the basketball court trying to help my team win," Tshiebwe told KSR. "I don't care about myself. If there's a game I'm in foul trouble, you see me on the sidelines over on the bench screaming when my teammates do something good, screaming at defense, bringing a lot of different energy.
"I'm not a selfish person. … I don't do things for myself, it's all about the team for me."