Oscar Tshiebwe wants to be "remembered like Anthony Davis" after UK career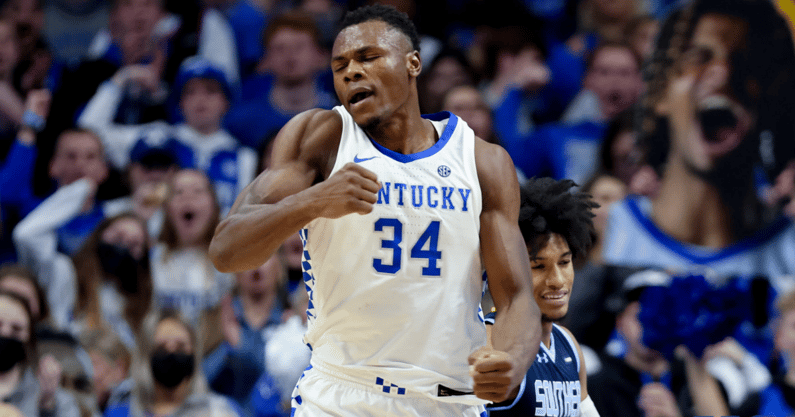 Oscar Tshiebwe is on pace to join elite company.
The 6-foot-9, 255-pound center is the most dominating rebounder in the country–on either side of the floor. He currently averages 15.3 points and 15.4 rebounds per game through Kentucky's first eight outings of the season. Tshiebwe has registered double-digit rebounds in all of them, setting a Wildcat record with 40 total boards through the first two games of the season.
If he maintains his average of at least 15 rebounds per game, he'll be the first Division I college basketball player since 1980 to pull off such a feat.
In an interview with Matt Norlander of CBS Sports, conducted shortly after Kentucky's 76-64 win over Southern on Tuesday night, Tshiebwe spoke about that possibility.
"I'm guaranteeing again I can do it," Tshiebwe told Norlander. "My goal is to go for 20 every time. I fight all the time for 20. When I don't get it, it's good we won, but I feel like I didn't [fulfill] my purpose."
He says "again" because Tshiebwe has made this claim before. Averaging 20 rebounds every single game was his self-appointed goal heading into the season. Granted, he has some ground to make up, but grabbing 15 boards per game is still an insane feat to accomplish in the modern basketball world.
If the season were to end today, Tshiebwe would easily be the most efficient rebounder that John Calipari has coached during his tenure with Kentucky. Only two other Wildcats have averaged at least 10 rebounds per game since 2010: Anthony Davis at 10.4 in 2012 and Julius Randle at 10.4 in 2014. Tshiebwe figures to be next, but with a new record that might not be broken for a long time.
While possessing different skillsets as big men, Tshiebwe and Davis have comparable traits. Both sacrificed scoring in favor of doing what was best for the team. For Davis, it resulted in Kentucky's eighth national championship. For Tshiebwe, he hopes his sacrifices on the floor will lead to title number nine and being referenced in the same breath as Davis.
"I don't care about scoring," Tshiebwe said. "I want to bring something special. I want my name one day to be remembered like Anthony Davis."
Winning a national title would certainly put Tshiebwe in the same company as Davis; especially if he can do so while hauling in 15-plus boards on a game-by-game basis.
Breaking Bob Burrow's UK program record of averaging 17.7 rebounds per game (which he did back in 1954-55) will be a mighty uphill battle for Tshiebwe; players don't rebound nowadays to the effect they did in basketball's infancy. For Tshiebwe to even average 12 boards over the course of an entire season in 2021 would still be wildly impressive.
But Tshiebwe is A Machine that doesn't figure to slow down as the season progresses and the competition heats up. Remember, his first-ever game as a Wildcat saw him snag 20 boards against Duke. If he stays out of foul trouble and bumps his minutes per game up from 26.9 to around the 30-minute mark, averaging 15 rebounds each game is a real possibility–and maybe even the likely outcome–no matter which team is in front of him.
Make sure to read the entire conversation between Tshiebwe and Norlander here.