Oscar Tshiebwe working out for Atlanta Hawks on Tuesday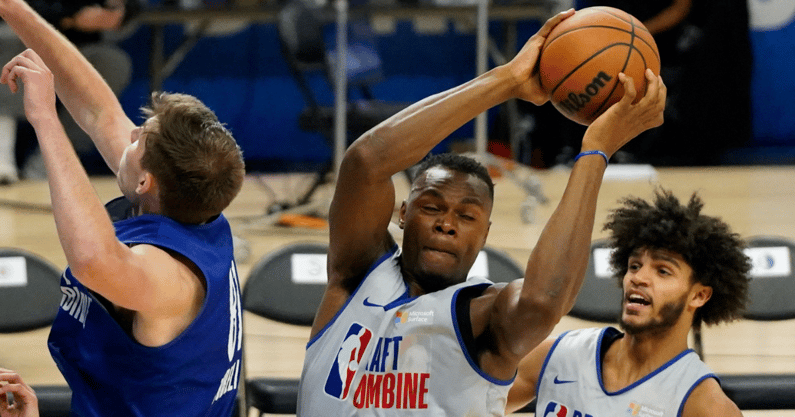 With 54 hours until the NBA Draft withdrawal deadline, Oscar Tshiebwe is still gathering feedback for his decision. According to Kevin Chouinard, Oscar will work out for the Atlanta Hawks on Tuesday, along with Leaky Black (North Carolina), Jazian Gortman (Overtime Elite), Trey Jemison (UAB), Emanuel Miller (TCU), and Sir' Jabari Rice (Texas). The Hawks hold the Nos. 15 and 46 picks in next month's NBA Draft.
So far, Oscar has worked out for the Boston Celtics (No. 35), the Houston Rockets (No. 4, No. 20), the Milwaukee Bucks (No. 58), and the Sacramento Kings (No. 24, No. 38, No. 54). He's ranked No. 75 on ESPN's list of the best available prospects and considered a late second-round pick at best in mock drafts. At the NBA Draft Combine a few weeks ago, Oscar told Ben Roberts of the Herald-Leader that returning to Kentucky for a final season isn't off the table, but he's still hoping a team will take a chance on him in the draft.
"Right now, it's still (a possibility)," Tshiebwe said of a potential return to Lexington. "I just want to continue and see. I'm praying everything can go well. I'm praying that a team can get me. … This is my dream. My dream is to play in the NBA."
Oscar averaged 16.5 points, 13.7 rebounds, 1.6 assists, and 1.6 steals in his second year in Lexington and fourth overall at the collegiate level. His first year at Kentucky was one of the most dominant in recent memory both at the school and in the sport overall, averaging 17.4 points, 15.1 rebounds, 1.8 steals, and 1.6 blocks per contest before sweeping player of the year honors — along with every other major award the sport had to offer.
Oscar, Chris Livingston, and Antonio Reeves all have until 11:59 p.m. on Wednesday to decide whether or not to stay in the draft or return to school. Here's a list of the teams each has worked out for so far.
Oscar Tshiebwe
Boston Celtics (No. 35)
Houston Rockets (No. 4, No. 20)
Milwaukee Bucks (No. 58)
Sacramento Kings (No. 24, No. 38, No. 54)
Atlanta Hawks (No. 15, No. 46)
Chris Livingston
Boston Celtics (No. 35)
Los Angeles Lakers (No. 17, No. 47)
Antonio Reeves
Atlanta Hawks (No. 15, No. 46)
Utah Jazz (No. 9, No. 16, No. 28)
Find out the news as it happens. Text KSR to 41372 to have Breaking News Alerts sent directly to your phone.
Discuss This Article
Comments have moved.
Join the conversation and talk about this article and all things Kentucky Sports in the new KSR Message Board.
KSBoard