Oscar Tshiebwe's Offense is UK's Pleasant Surprise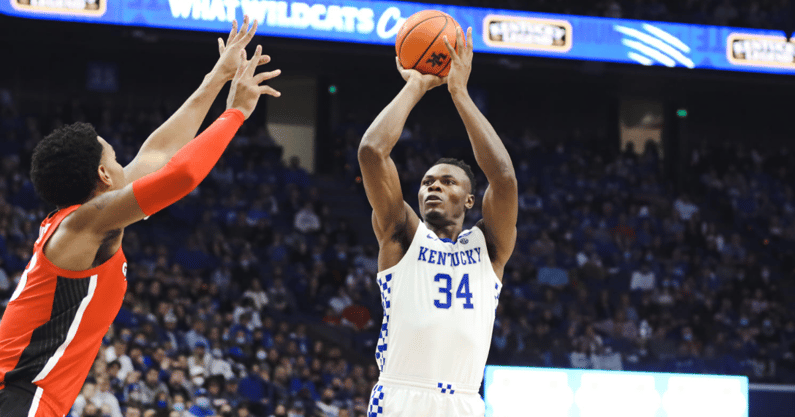 Oscar Tshiebwe currently has the Big Blue Nation eating out of the palm of his hand. The 6'9 junior has made a name for himself with his effort and rebounding, but his offense has taken a leap that deserves more recognition.
Through 16 games for Kentucky, Tshiebwe is averaging a career-high 17 points per game. That's a near six-point increase from his best at West Virginia, which was during his freshman season at 11.2. His career-high during his first two seasons was 21 points, which he broke in his third game as a Wildcat. Since then, he's broken it three more times with scoring outputs of 25, 29, and then 30 on Tuesday night against Vanderbilt.
A scoring jump like his isn't out of the ordinary, but the efficiency and volume make it significant.
For reference, Oscar has played 15 fewer games this season than he did during his freshman season at West Virginia, which is what most of these statistics are based on since he played only 10 games in 2020-2021. All stats are per Sports Reference CBB and ESPN.
Higher Volume Shooting
In his first college season, Tshiebwe took 223 shots for an average of 7.2 per game. This season, Oscar has already taken 173 shots so far for an average of 10.8 per game. He's far more aggressive now, as he had just six games with double-digit shots during his career in Morgantown and now has 10 such games just this season in Lexington.
John Calipari and his staff have helped Tshiebwe unlock his offensive potential. He is getting more looks from post-ups and actual touches instead of getting his own strictly off second chances, which has led to an uptick in his usage percentage to 23.9%.
Oscar's Improved Efficiency
Even with the extra shots, he has become even more efficient. During 2019-2020, Tshiebwe shot a respectable 55.2%. Now, he's shooting 62.4% from the field. While at West Virginia, he shot 75% or better in a game seven times. He's done it six times already this season.
The 7.2% jump is already impressive, but it's even more so considering he's getting more post touches, added a midrange jumper that he didn't have before, and is generally more involved in the offense. Efficiency is impressive, but it's even more so when you do a little of everything like Tshiebwe can now do.
Other Advanced Stats
A player's offensive rating is an estimate of points scored or produced per 100 possessions. His previous best was 119.2 but his uptick in scoring, offensive rebounds and assists now has it at 134.8. His true shooting percentage has jumped up and his Player Efficiency Rating is an absurd 36.5. For comparison, that would be the fourth-best PER since 2009-2010. That puts him ahead of former college stars such as Anthony Davis, Luka Garza, Frank Kaminsky and DeMarcus Cousins.
Kentucky is just four games into conference play and Tshiebwe has improved–or is on pace to improve on–just about every statistic a player can be measured by. He has become a name to watch for National Player of the Year as well as an NBA prospect because of strides like these. It was hard to imagine Tshiebwe having an impact like this before the season, but it's our reality now. It has taken the Wildcats' potential to another level and made them an even bigger threat on the national stage.