Outside Linebacker Jamar "Boogie" Watson Adds Inside Linebacker to his Résumé
[caption id="" align="alignnone" width="1200"]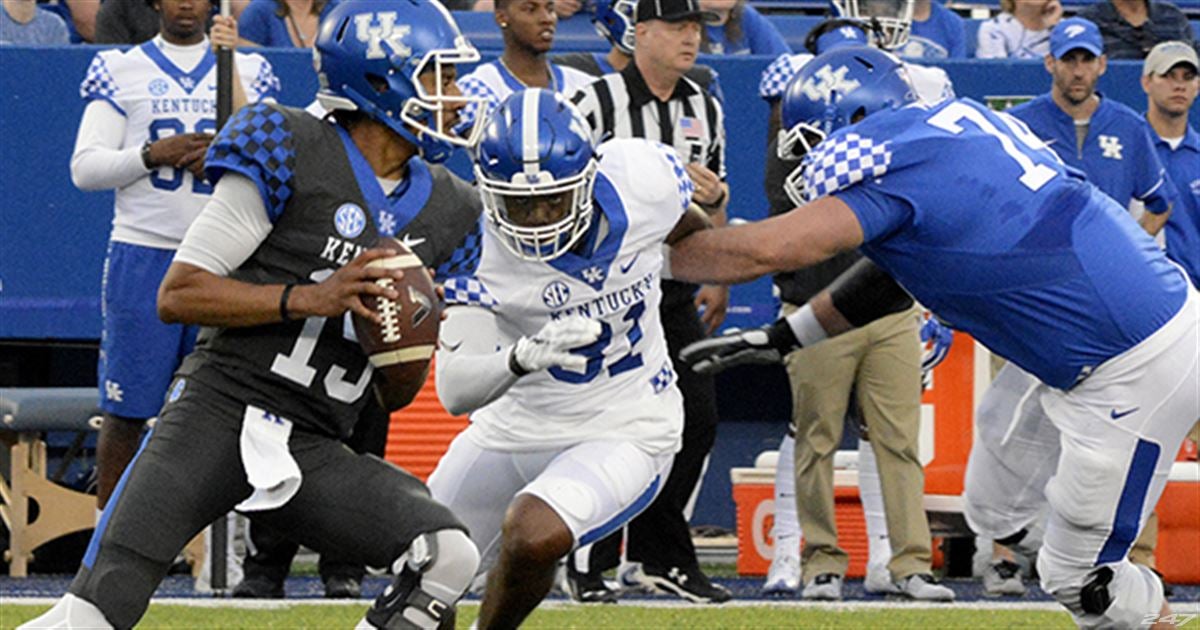 247
[/caption] Kentucky fans learned Jamar "Boogie" Watson's name after the 2017 spring game.  The redshirt freshman was excellent in the pass rush, credited with three sacks. Playing behind all-SEC outside linebacker Denzil Ware, finding reps this fall will be difficult.  That's why the coaches teaching him to play inside linebacker.  Even though their names only slightly differ, it's an extremely difficult adjustment. "
It's way different, about like speaking Chinese and speaking Japanese
.  They sound really similar but there's a whole lot of differences.  It's the same thing," said outside linebackers coach Dean Hood. It is not easy, but defensive coordinator Matt House knows Watson is physically and mentally capable to handle both positions. "He's an athletic guy that can move," House said.  "
Boogie's a smart guy
.  It's hard.  It takes reps.  He's definitely grown and improved in there.  He's a really intelligent football player and a loose football player, which is good." As difficult as it may be, Watson's experience is easing the transition.  In high school he played "Sam" linebacker in a 4/3 defense, which required him to line up on the line of scrimmage and five yards off the ball. "I think I have a good foundation," said Watson. "It's definitely different.  In high school I was a tweener.  I did a little bit of both.  I think coming from there, and coming here and having to do the same thing made it a little bit easier." The move to "Mike" linebacker, the same position as Courtney Love and Kash Daniel, is not permanent.  Hood said they still want to use Boogie as a pass rusher, but they want to give him every opportunity to see the field on Saturdays. "He has natural pass-rush ability, so we're not going to say he's full tilt inside because we need outside pass rushers.  You can never have enough of those guys, so it's good that he can still come rush the passer.  But it's helpful inside because we're thin in there." Even though he might not get as many opportunities to rush the passer if he's at middle linebacker, he doesn't care where he's playing.  He just wants to play. "I just want to make plays," Boogie said.
 "I just love football."