Patrick Towles opens up about his decision to transfer on KSR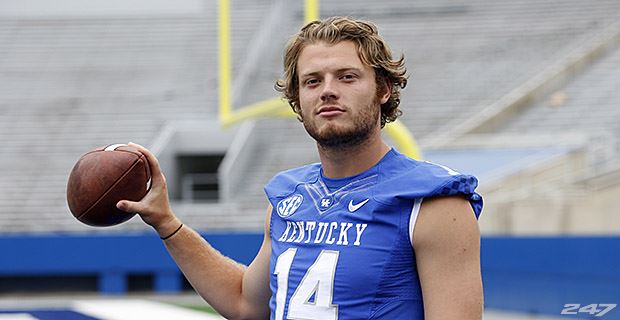 Patrick Towles just wrapped up his appearance on Kentucky Sports Radio
and gave us a thoughtful look into his decision to transfer from UK, the program he grew up loving. "No doubt about it, and I will be for the rest of my life," Towles said of his fandom. "I grew up a huge Kentucky fan, I'm going to be a huge football fan, basketball fan, and Kentucky sports fan." Listening to Patrick, it's obvious that his decision to transfer wasn't an easy one. Towles said that he had every opportunity to succeed at Kentucky, but at the end of his junior year, he knew it was time to go. "
I felt like my time here was maybe up.
I was kind of ready for a new start and a new beginning," Towles said. "I feel like I got every single opportunity to succeed. I feel like Coach Stoops and Coach Dawson did a wonderful job of putting me in a position to succeed and I don't feel like we did. I felt like we left some plays out there and didn't necessarily execute." Patrick admitted that he didn't want to transfer, but "at the end of the day, you've gotta make a decision for yourself." "I thought maybe a situation would be better for me somewhere else. I think the university and the football team is in great hands with Drew and Coach Dawson and Coach Stoops and they're going to be fine, but as far as for me, at the end of the day, like you said, I love Kentucky and I love my teammates and I love everything about it.
You know, I don't want to. I didn't want to transfer.
I wanted to stay and finish up here at UK, but at the end of the day, you've gotta make a decision for yourself and do something for you and I felt like that was the best decision for me." We had heard that Patrick made the decision to leave after the Charlotte game, although he maintains that the decision wasn't final until after the Louisville game. "All good things have to come to an end eventually and after the Louisville game, I kind of felt like it was my time. I'm not too fired up about it because I love this university and
 I've given everything I have to the program and the college
and I felt like somewhere else would be a better fit for me for next year." Matt asked Patrick about the rumored divide in the locker room, which some have speculated came down to Patrick vs. Drew, but Patrick downplayed it, citing UK's slide at the end of the season as a failure to execute. "That wasn't really a thing," Towles said of the divide. "I love my teammates and everyone has issues. All families have problems. Families have to deal with those problems. Not everybody loves each other, but that's the case everywhere. You're not going to find a football team where everybody is everybody's best friend. Is that the reason for our slide at the year? No. We just failed to execute." Now that he's leaving the program, does Towles have faith in Mark Stoops? Despite everything that's happened, yes, he does. "I think so. It's hard, I'm not going to say it's easy to be positive, but you have to be.
I think Drew is going to do a wonderful job, he's a terrific player.
Coach Stoops is getting the pieces in place and Coach Dawson, I think, is a really good coach." Going forward as a fan, Patrick closed by encouraging the Big Blue Nation to keep the faith. "I think we have to be optimistic. I'm going to be optimistic. Wherever I do end up, I'm going to be watching every football game that Kentucky plays and I'm going to be a fan from this day forward.
 I'm excited as a fan and a former player because they have the pieces to get it done.
If they go execute like I know they can, they'll be fine." We'll be rooting for you too, Patrick.