Perfect Blocking Paved the way for Tyrell Ajian's Pick Six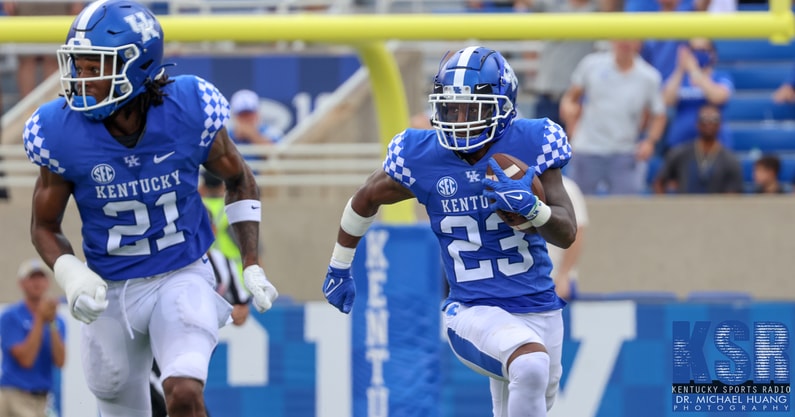 Tyrell Ajian will receive all the glory for making the play that saved the day for UK against Chattanooga. After the game Ajian was quick to point out that it could not have been possible without the help of his teammates.
"Once I got the pick, the rest of the defense — it couldn't have been any better blocking. I didn't get touched the whole way," said Tyrell Ajian.
"Shout out to the defense. Shout out to the D-line rushing the quarterback. I'm pretty sure he got hit on the throw. Then just everybody blocking after. A bunch of guys ran down to the end zone with me, just blocking the whole way. Appreciate those guys. Wouldn't have been able to do it without them."
The 95-yard interception return for a touchdown is the third-longest in school history. It's the senior's fourth career interception. He's picked off a pass every year he's played for UK.
"Everybody's always described me as a ball-hawk, just being able to track the ball really well as it's in the air. Our entire secondary is able to do that well, but I just get a lot of opportunities to showcase that."
The Moment Ajian Knew he was going to the House
While the Kentucky offense committed turnovers, Kentucky's defense struggled to force them. A year after the Cats picked off 16 passes, the Wildcats needed a big play to happen in the second half. The UK defense knew it was only a matter of time.
"As everybody had seen, they were just kind of throwing short routes the whole game, a bunch of small routes. We knew that when they did go vertical, it would more than likely be four-verts. We had been practicing that all week, waiting on it."
Once Ajian pounced, he knew he had a chance to take it to the house when Davonte Robinson started waving at him, directing Ajian to the far sideline. As you watch the replay, it's hard not to laugh.
Once the play was over, Ajian did not have much time to catch his breath.
"I was really gassed. And then everybody was hitting my helmet really hard too," he said with a deadpan delivery, trying to hold back a laugh. "I couldn't breathe for awhile. It was hard to catch my breath after."
Even though he couldn't catch his breath, he was able to make the most important catch of the day.