PFF Postgame Report: Top Performers, Snap Counts from Kentucky Football Win over Miami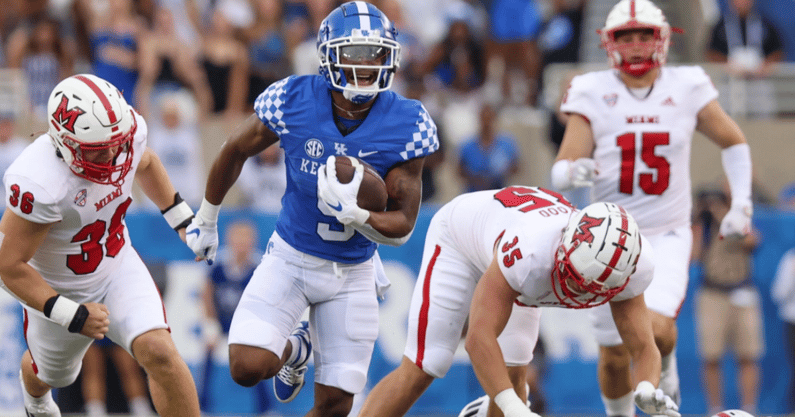 Before the Big Blue Nation completely turns its attention to the Wildcats' Saturday night showdown in Gainesville against the Florida Gators, let's take a closer look at the first Kentucky football win of the 2022 season.
Each week Pro Football Focus grades the tape for every single football and tracks snap counts. The ratings system is far from perfect, but it does shine a light on some players who do not always pop in the box score.
Top Offensive Performers
Tayvion Robinson: 75.8
Robinson exceeded his career high before halftime. The Virginia Tech transfer caught six passes for 136 yards.
Kavosiey Smoke: 74
Even though Smoke did not pile up a ton of yards (7 carries, 32 yards), Mark Stoops loved what he saw from Smoke. "I think the running back play in particular, Kavosiey (Smoke), was very, very good, I was very pleased with the way he played, and we all were… But I was really pleased with the way he played. He played tough, he played physical, and there's things that you don't always see that showed up. He stepped up and made some very physical blocks where he needed to in protection, and so just caught the ball well."
Dane Key: 71.9
In his first game as a Wildcat, Key caught all four passes thrown his way for 53 yards and a touchdown.
Jager Burton and Tashawn Manning: 65.7
Jager Burton was the highest-graded run blocker on the Big Blue Wall, while Tashawn Manning posted an 85.6 pass-blocking grade, allowing zero pressures all night.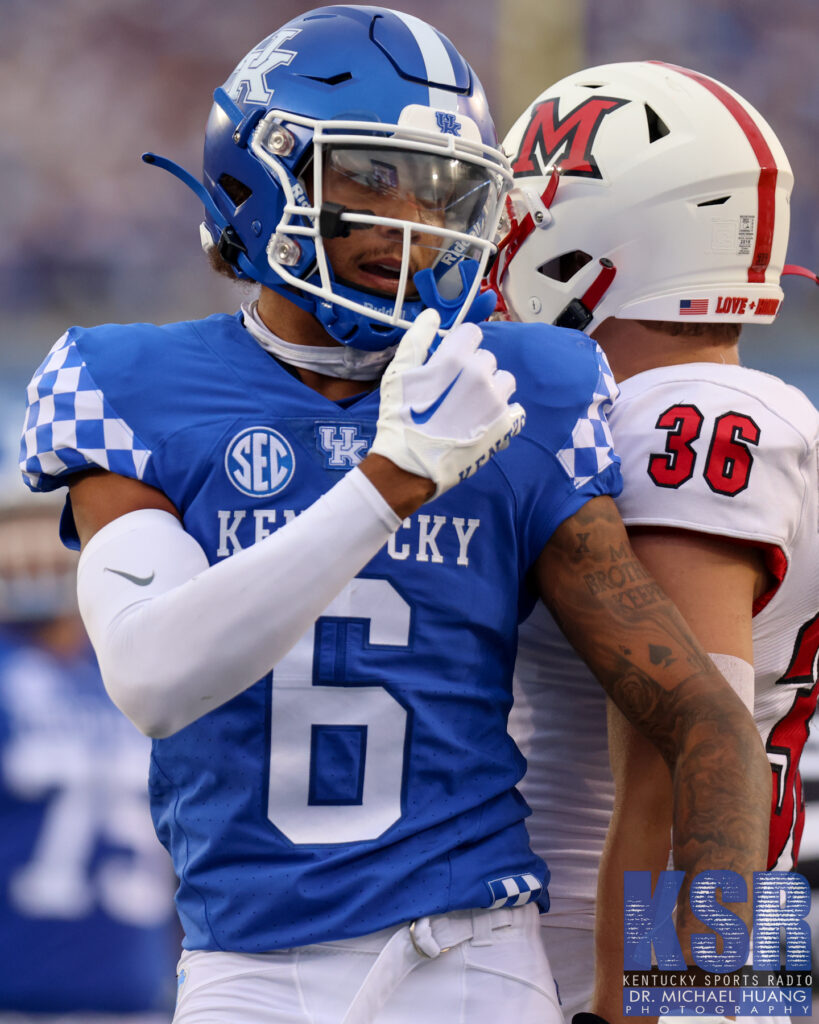 Top Defensive Performers
Jacquez Jones: 73.6
He only had three tackles, but he played a solid all-around game, tallying a sack and 1.5 TFLs.
Kahlil Saunders: 73.1
The redshirt freshman came off the bench and had two hurries, good enough for the third-best pass rushing grade by the Kentucky football defense.
DeAndre Square: 71.5
The three-time team captain led the Wildcats with 7 tackles. He's the first player to start in four straight seasons since Trevard Lindley.
Keidron Smith: 70.4
The Ole Miss transfer allowed only 3 receptions for 25 yards and made four tackles.
One other noteworthy item from the defense: true freshman Alex Afari graded first in the pass rush and run defense for the Wildcats. Not too shabby for his first college football game.
Kentucky Football Freshman Snap Counts
Underclassmen stole the show Saturday night. Dane Key scored a touchdown, Alex Afari was second on the team in tackles and Barion Brown was named SEC Special Teams Player of the Week. Here's how the snaps shook out for the true and redshirt freshman on the Wildcats' roster.
Dane Key — 46
Jager Burton — 46
La'Vell Wright — 10
Barion Brown — 25
Jordan Dingle — 19
Kiyaunta Goodwin — 1
Chris Lewis — 2
David Wohlabaugh — 60
Kahlil Saunders — 30
Alex Afari — 43
Martez Thrower — 6
Keaten Wade — 19
Deone Walker — 36
Tyreese Fearbry — 5
Noah Matthews — 4
Jamarius Dinkins — 3
Tomiwa Durojaiye — 2