Pickle Ball's Saturday News and Views
Why am I writing about Pickle Ball you might ask? Well, mainly because no one I find interesting has a May 10th or May 11th birthday. Sorry, Cory Monteith (the 30 year old who plays a 17-year old on Glee), Cam Newton, Ace Hood, Pam Ferris (Ms. Trunchbull from Matilda) and Matt Leinart. None of you made the cut. Instead, I'm going to share my new found love and hobby with all of you: Pickle Ball. Definition: Pickleball is a fun game that is played on a badminton court with the net lowered to 34 inches at the center. It is played with a perforated plastic baseball (similar to a whiffle ball) and wood or composite paddles. It is easy for beginners to learn, but can develop into a quick, fast-paced, competitive game for experienced players. I played Pickle Ball for 2 weeks in my Lifetime Sports gym class in high school. Until one month ago, I had never played or even thought about the game since gym class. A friend's Dad (KSR writer Kristen Geil= friend, Jack Geil= Dad) invited me to play with him and a group on Monday nights. Not knowing what to expect, I put on my Walmart Custom Elite socks and rolled into the gym. When I walked in, I quickly realized that I was a good 30 years younger, 50 years younger in most cases, than every single person on the court. The age range was generally between 40 and 80. Yes, 80. I felt pretty good about my chances as the young whipper snapper, only a few years removed from playing a sport in college. I thought I would run circles around the older men and women. It took me all of 3 seconds to realize that I was wrong. I was dead wrong. When I lost 3 straight games to a combination of a man the age of my grandpa wearing a sweatband, a woman in floral print khaki capri pants and Shape-Ups, and a man wearing jeans and a polo shirt...I knew that I had grossly miscalculated my place among the group. It turns out Pickle Ball is wildly popular in retirement communities, hence the older crowd. Most of the people I play with play multiple times a week and they all have their own custom paddles. The game is addicting and fun, one I would recommend anyone trying if you find the opportunity. It's hard to explain, but try to imagine if tennis, racquetball and ping pong somehow had a baby. That baby would be very confused about who the father was but it would also be Pickle Ball. Don't knock it 'til you try it folks. And don't assume that you will beat the oldest guy there named Bob. You won't. And he won't smile. Ever.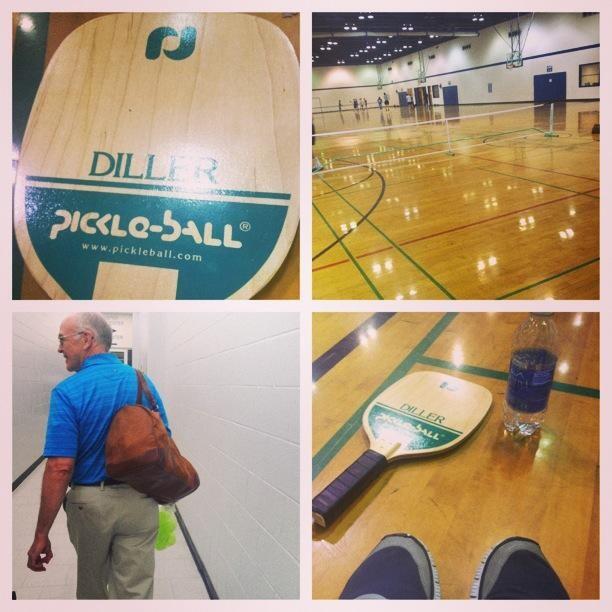 And now on to the news and views from a big day in the life of Big Blue Nation...
-----
 Mark Stoops' tweet does a nice job summing up May 10th, 2013 in Commonwealth. All eyes were on Conner High School this afternoon as one of the state's top prospects in the class of 2014 announced his college decision.
Drew Barker, the 6th best quarterback in the 2014 class, picked Kentucky over South Carolina and Tennessee this afternoon.
Barker's relationship with Kentucky had been heating up since the spring game, but Kentucky was fighting an uphill battle against the Gamecocks for Barker's services.
-----
The times have certainly changed around the Kentucky football program. Watching Mark Stoops and his staff operate in every facet (in large part because the program is much more transparent and open now) of the program over the past few months has shown just how much of a difference there is between the current staff and the former staff. Joker Phillips didn't even know who Drew Barker was after he attended a UK camp last year.
Barker said that "six months ago, I couldn't imagine putting on a UK cap today." Barker went on to say that new coach Mark Stoops has turned things around. 
-----
One of the interesting things to note in regards to Barker's announcement today was the national media vs. the local media. Almost all of the national football recruiting folks and media members hedged their bets with South Carolina. On the contrary, the only people seriously picking Kentucky were the local media members. I can't remember who said it, but someone put it best when they said (and I paraphrase):
"When a decision used to come down to 50/50 between 1 school and Kentucky, you almost had to make the smart bet and go with the other school. With Stoops though? I think now you go Kentucky."
-----
 Tyler Thompson did a great job this morning of outlining why getting Drew Barker WOULD BE huge for Kentucky. Now that Barker has pledged his allegiance with the Wildcats, here are just a few of the reasons that getting Drew Barker IS huge for Kentucky:
1) Drew Barker is good
We've talked about it here on KSR for a while now, but Drew Barker is one of the best quarterback prospects to come out of the state of Kentucky in quite a while. Although the Kentucky high school football competition is not always the best gauge of talent, Barker has made a splash nationally and has the potential to be a big-time player in Kentucky's future with the Neal Brown offense. Barker is UK's highest ranked QB commit in the Rivals era (h/t Kyle Tucker)
2) The momentum just keeps building...
Sometimes when a school hires a new coach, the school and the coach must endure some hiccups or growing pains. Leftover matters, or new issues can arise that cause slight momentum stoppers here and there. Every time a crucial moment has come up for Stoops and his staff since his arrival in Lexington, they have come out on the right side of things. They haven't taken a wrong step yet. The momentum from the press conference grew with the staff's recruiting prowess. The crowd and excitement surrounding the spring game led to even more good things-- while also helping to catch the attention of a big time recruit like Barker.
3) Kentucky's 2014 class is starting to take shape nicely...
Although it's very, very early... Kentucky currently has the 18th ranked recruiting class in 2014 according to Scout.com. Kentucky is currently ahead of Auburn, Virginia Tech, Clemson, South Carolina (sorry, again) and Oklahoma (sorry, bro). Drew Barker has even higher expectations though...
4) There's probably more to come...
When a program can sign a top notch quarterback early on in a class, the dominos are bound to fall shortly thereafter. Kentucky already has the #6 QB, #22 RB and #24 WR for the entire class of 2014 on board. Neal Brown is starting to piece together the kind of tools he needs to fire off the Air Ride sirens in Commonwealth Stadium. Barker admitted that he's already working the rest of the guys he knows from the recruiting class as well.
5) The battle of Kentucky is off to a great start
The coaching staff has clearly set out a few priorities when it comes to recruiting. Kentucky wants to keep the top in-state talent. So far, Stoops is off to a great start. Between the 2013 and 2014 classes, Kentucky has managed to keep some of the best in-state talent (Ryan Timmons, Jason Hatcher, Drew Barker).
6) This coaching staff isn't familiar with the term "can't"
The list of things we used to think a coach couldn't accomplish at a place like Kentucky continues to dwindle every day. Kentucky was completely out of the picture for Drew Barker when Joker Phillips was still in the picture. A few months later...
Andrew Wiggins Watch:
-----
 There was a tiny sliver of hope that Andrew Wiggins MIGHT announce his college decision tonight, but most felt that the timing was a little premature. Wiggins' mother is supposed to be coming in town, so the potential for news to break at any moment is certainly possible.
The next most likely date now seems to be sometime on Monday, though nothing has been confirmed or announced to set that in stone.
-----
The moral of the story? Today was a rather quiet day in the land of Andrew Wiggins' decision.
The decision still hasn't been made.
You can still find someone who firmly believes he will choose Florida State. You can still find someone who firmly believes he will choose Kentucky. You can still find someone who firmly believes he will choose North Carolina. You can still find someone who firmly believes he will choose Kansas. And you can also find someone who firmly believes in a thing called love. Just listen to the rhythm of the heart.  
-----
Nazr Mohammed fouled LeBron James.
Hard.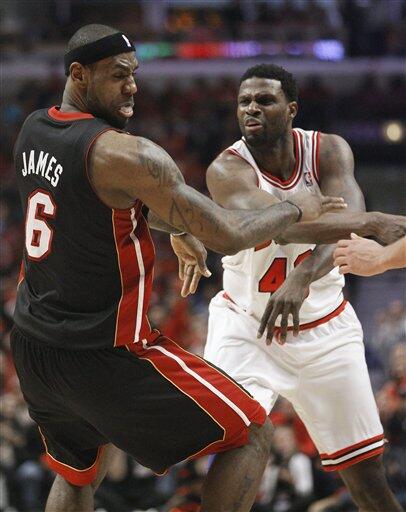 (AP Photo)