Pikeville claims state title over Russellville 30-27 — Presented by Kroger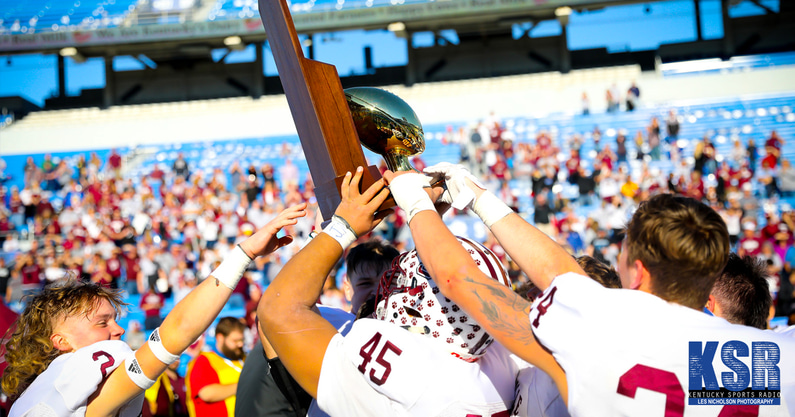 For the sixth time in program history and third under head coach Chris McNamee—the Pikeville Panthers have claimed the title of state champions.
"Just thrilled to death to be able to come out of here with a win," McNamee said postgame. "We knew Russellville coming in was a great football team, loaded with big-play capability and they came out and did that. Just really proud of our team and their effort."
First Quarter: Pikeville 20, Russellville 13
Russellville received a healthy dose of Pikeville running back Blake Birchfield Friday afternoon. He rushed for 50 yards on Pikeville's first scoring drive of the game, including a 24-yard rush on 4th & 3 that took Pikeville inside the five-yard line before Birchfield punched it in to break the ice.
Russellville didn't take long to respond—on the second play of the ensuing drive, Jaquis Todd took a carry 63 yards to the house for the equalizer.
Moments later on Pikeville's next possession, Birchfield broke free up the middle for a 47-yard gain before being knocked out inside the 10. Two plays later, he found the end zone for his second score of the day.
The first quarter fireworks weren't done yet. Russellville quarterback Lennon Ries found his favorite target Anthony Woodard for a 44-yard score to tie the ball game at 13.
Pikeville proved they can do more than just hand the ball off to Birchfield when Murray State commit Isaac McNamee hit Wade Hensley for a 52-yard score to end a quarter that saw five combined drives score touchdowns consecutively.
Half: Pikeville 30, Russellville 20
After a wild opening quarter, Pikeville put some distance between them and Russellville on the scoreboard. Pikeville spent over three minutes in the red zone before McNamee took a quarterback keeper into the end zone for a touchdown.
The rest of the quarter was quiet until an Aaron Chang field goal with 23 seconds remaining in the first half gave Pikeville a 30-13 lead.
Pikeville elected to squib kick their next kick, where Chevis Elliott scooped up the ball and took it 72 yards to the four-yard line. On the final play of the half, running back Jovari Gamble lined up under center and found Woodard in the end zone.
Pikeville's Birchfield was the highlight of the first half with 19 carries for 147 yards and two touchdowns. He out-rushed the Russellville running back room 147-101 through two quarters and averaged over seven yards per carry.
Third Quarter: Pikeville 30, Russellville 27
The decision to gamble on the final play of the half was validated when Todd blew past Pikeville's defense for a 46-yard score to open the third quarter. All of a sudden, a 17-point lead was cut down to just three.
"Given that big play on kickoff return and then obviously the touchdown, it kind of gave them the momentum going into the locker room and then got the ball coming out," McNamee said. "They've done it all year—they've been a second-half football team."
Aside from Todd's score, neither team could find the rhythm they had in the first half.
FINAL: Pikeville 30, Russellville 27
Russellville converted a huge fourth-down that eventually took Russellville inside the red zone. Pikeville's Devin Derrosett stripped the ball from Russellville on third down, where Pikeville forced the turnover on downs on the next play.
After Birchfield picked up the final first down of the game, two McNamee kneel-downs later and Pikeville etched their name as the 2021 KHSAA 1A State Champions.
Birchfield was named MVP of the day, rushing for 179 yards on 30 carries of two touchdowns. McNamee finished his high school career with a 7-17, 74-yard passing performance and one touchdown—66 of which went to Hensley.
McNamee, the son of head coach Chris McNamee, grew up around the Pikeville football program, and to end his career as a champion means the world to him and his father.
"It's just special just to be with him for four years," Chris McNamee said. "And to be down here three years of the four—just really proud of him and his teammates. I'll miss him out here in maroon and white, that's for sure."
A Message from Kroger:
We're excited to tell you about something new from our friends at Kroger. Did you know Kroger is America's largest grocery chain that started over 135 years ago? They are doing something they've never done before: bringing fresh groceries right to you with a new service called Hometown Pickup. 
That's right, for those of you in Cynthiana, Midway, Eminence, Bedford, McKee, Dry Ridge, Carlisle, Eubank, Georgetown, Mt. Vernon, Jackson, Frenchburg, Irvine, Mt. Olivet, and Paris, Kentucky you can now order all your groceries online and pick them up at a central location in your hometown. No more long drives into the city to get fresh food for you and your family. Now THAT is truly Fresh for Everyone. Thanks, Kroger. 
Learn more and place your first order at Kroger.com/hometown.