Pilgrim's Insider Notes: Kentucky's 2023 recruiting update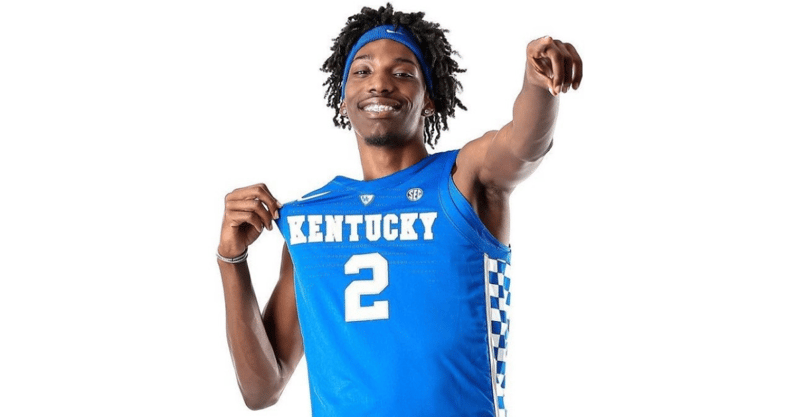 Kentucky basketball now has two commitments in 2023, with five-star guard Rob Dillingham recently joining four-star guard Reed Sheppard in the rising senior class. Where do the Wildcats go from there? KSR has been on the road throughout the summer to find those answers, highlighted by trips to the NBPA Top 100 Camp in Orlando, Pangos All-American Camp in Las Vegas and stops at various Nike EYBL and adidas 3SSB sessions.
The consensus? Kentucky is just getting started on the recruiting trail.
Five-star center Aaron Bradshaw has made his college decision — that happened "a minute ago," he said at the NBPA Top 100 Camp — with an announcement coming "real soon." He gave a timeline of "before Peach Jam," which begins July 17 in North Augusta, but sources tell KSR that a commitment is imminent. Friday was discussed as a potential option, but he wanted to return home from camp before finalizing the details of his announcement plans. With Kentucky the overwhelming favorite, his commitment could become official early next week.
The G-League could emerge as an option down the road, the only long-term threat in Bradshaw's recruitment at this point. No offer has been extended and there's no guarantee one ever does, but the program will continue to track his development to close out the summer and into his senior year. The expectation, though, is that Bradshaw makes it to campus in Lexington.
Earning a commitment from Bradshaw won't wrap things up for Kentucky in the frontcourt, either, sources tell KSR. The Wildcats have their eyes on other targets, namely five-star center Ugonna Kingsley, a player the school is extremely high on. The standout shot-blocker is in the process of scheduling and taking official visits this summer, with a decision expected to come shortly after. UK remains in a strong position to land the 6-foot-11 center, multiple sources tell KSR. He said himself he's wanted to go to Kentucky "all my life, even before coming to the (United) States" back in June.
Five-star wing Justin Edwards made headlines at Top 100 Camp by saying he was planning a visit to Auburn, leading to some buzz in basketball recruiting circles that the Tigers were making up ground on Tennessee and Kentucky, long seen as the favorites. Sources close to the Philadelphia native, though, tell KSR that the Volunteers and Wildcats should still be seen as options 1A and 1B in his recruitment, visit or not. Tennessee has done a better job prioritizing Edwards in a deep wing class while also making his role in Knoxville clear. Kentucky, however, has chipped away at Tennessee's lead by ramping up contact in recent months, with John Calipari leading the charge. The five-star wing has long favored the Wildcats personally, but felt he was one of many options for the program while the Volunteers made it clear he was the cornerstone of their class. Since April, though, Kentucky has done what it takes to get back in real contention.
A decision is expected as early as September, with the Wildcats' chances improving the longer things drag out. UK is making a move on the versatile two-way wing.
Speaking of wings, will Kentucky ramp things up with newly-uncommitted Mookie Cook? It's complicated — and it may not matter. The G League and Arizona have emerged as early options, sources tell KSR, with a re-commitment to Oregon also on the table. Edwards is UK's top and immediate priority — they've made up too much ground in recent months to kill that momentum now — but the school would be interested if things fell through there. Kentucky has shown they're not afraid to go after someone who turned them down before, Rob Dillingham being the prime example. The early speculation, though, is that Cook will stay out West in some form or fashion.
To round out the five-star forwards, Kentucky joins Arkansas and the G-League as top contenders for Duncanville (TX) native Ron Holland, with UCLA and Texas rounding out finalists. No clear leader has emerged, but the Razorbacks and G-League continue to pick up the majority of buzz behind the scenes. He previously said a decision would come in September, but has since backtracked and made it clear he was in no rush as he sorts through his options.
To round out top names of interest, Kentucky won't go down without a fight — an all-out war, for that matter — when it comes to five-star guard DJ Wagner. Adding Aaron Bradshaw in the near future would only add to the program's pitch, one that already includes Wagner's brother Kareem Watkins and former high school teammate Lance Ware in Lexington, along with Dajuan Wagner Sr.'s decades-long relationship with John Calipari.
Louisville has worn its confidence on its sleeve from the time Kenny Payne's coaching staff was finalized, part of the reason buzz with Wagner has been so strong in recent months. The Cardinals, though, have just one commitment in 2023 in four-star wing Kaleb Glenn — a Louisville native — and continue to swing and miss elsewhere on the recruiting trail and in the transfer portal. A commitment to Kentucky from Bradshaw would be yet another hit for the program still looking for its first statement win. The program's inability to close with recruits and transfers thus far have national sources skeptical about just how long the honeymoon period lasts before the restlessness begins. Competing schools have noticed the overselling and underdelivering, certainly something to keep in mind with Wagner.
Louisville remains in a strong position for the five-star guard — grandpa is grandpa — but Kentucky's confidence has never waned. Wagner has been around the program since he was a kid and John Calipari has been fighting for his commitment from the second he emerged as a high-profile basketball prospect. That confidence will only grow as high-profile 2023 prospects continue to turn down the Cardinals and head elsewhere.
Wagner won't go to Louisville alone.