Plenty of football recruits attending Kentucky-Missouri on Saturday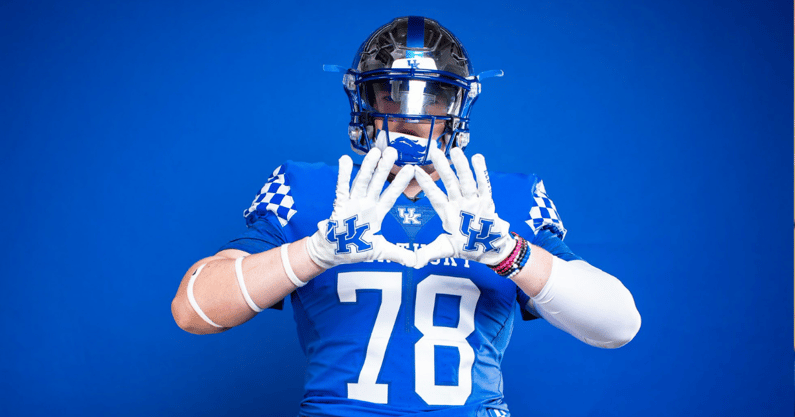 Last Saturday against Lousiana-Monroe was just the warm-up. When Kentucky hosts the Missouri Tigers on Saturday, Kroger Field is going to be filled to the brim with some of the most talented high school players in the state and across the country.
Only a handful of recruits came to see the 'Cats smack ULM 45-10 last weekend, but the list of names was important: Dane Key, Aamil Wagner, Kiyaunta Goodwin, Grant Bingham, and Ty Bryant were all in town. This coming Saturday, in a potentially season-defining matchup with Mizzou, the Kentucky coaching staff is bringing recruits to Lexington in droves.
Here's who will be at Kroger Field on Saturday that we know of.
Class of 2022 recruits
Kiyaunta Goodwin – 5-star OT (COMMITTED)
The gem of Kentucky's 2022 recruiting class, Kiyaunta Goodwin is coming back to Lexington after making the trip for the season-opener. Every indication is that he remains rock solid with Kentucky and back-to-back game visits sure do help reinforce that.
Barion Brown – 5-star WR
KSR learned late Thursday that five-star wide receiver Barion Brown will be in Lexington to see what Liam Coen has in store. Brown is ranked as the No. 14 overall player in On3's class of 2022 rankings and is being heavily recruited by Nick Saban and Alabama. He's still a longshot at this point, but getting him on campus for what will be an unofficial visit is huge.
Tomiwa Durojaiye – 3-star DL (COMMITTED)
The most recent class of 2022 commitment for the Kentucky coaching staff, Tomiwa Durojaiye will take an official visit and spend the weekend in Lexington. It'll be his first time seeing Liam Coen's offense in person and his second visit to see Kentucky since the end of July.
Brandon White – 3-star WR
Once expected to make his decision on Aug. 27, Brandon White postponed his decision a little over a week before the big day. It might have been the best thing that could have happened for Kentucky though, as KSR can confirm that the Moeller High School product will be in Lexington on Saturday for an official visit. In the days running up to his decision, White was trending towards picking West Virginia.
DeCarlos Nicholson – 3-star CB
One of the best overall players in the JUCO class, DeCarlos Nicholson decommitted from Mississippi State back in the middle of August and Kentucky has been on him ever since. The staff actually offered him a month prior to leaving MSU and now he'll take a visit to check out UK's campus this weekend. Nicholson's trip will also be an official visit.
Class of 2023 recruits
William Spencer 4-star DL
The top-ranked player in the state of Kentucky from the class of 2023, William Spencer is already considered a Kentucky lean. That could obviously change, but getting him on campus tomorrow should only help the 'Cats chances.
Dakota Patterson – 4-star WR
Teammates with class of 2022 Kentucky commit Treyveon Longmire, Dakota Patterson might be even better than his fellow Corbin High School pass-catcher. Patterson is a three-sport athlete with plenty of Power 5 offers and a top 250 national ranking among his class.
Cristian Conyer 4-star ATH
Continuing on the theme of four-star visitors, Christian Conyer picked up quite a few offers over the summer while making visits to Kentucky and Tennessee. But the 'Cats, led by associate head coach Vince Marrow, were on Conyer from the very beginning and will have another opportunity to improve the relationship.
Ty Bryant – 3-star DB (COMMITTED)
This will be the second consecutive game at Kroger Field for Ty Bryant, who committed to the 'Cats just a few weeks ago. Considering he's a Lexington native and plays at Frederick Douglass High School, it's an easy drive for him and he expects to be at more games this season.
Joe Crocker 3-star OT
Standing at 6-foot-6, 315-pounds, Joe Crocker is going to be an important recruit moving forward and a potentially "big" piece for the future of the Big Blue Wall. He's already achieved three-star status and holds offers from Georgia, Michigan, Mississippi State, Ole Miss, and TCU, among others. He's going to be a popular recruit.
Lance Williams – 3-star OL
Also on the offensive line, Lance Williams isn't as highly ranked as Crocker right now, but he's one with plenty of potential in the eyes of the Kentucky coaching staff. In addition to UK, he holds offers from the likes of Georgia Tech, South Carolina, and West Virginia.
Allen Mitchell – 3-star RB
After picking up an offer back in April from Kentucky, Allen Mitchell will make his first trip to Lexington this weekend. He's one of the best players from the state of Missouri and holds offers from Illinois, Kansas, Michigan State, Minnesota, and Kansas State.
Micah Carter – 3-star DL
One of the multiple Louisville-based players coming to Lexington, Micah Carter was offered by Kentucky last October. The hometown Cardinals offered before Kentucky, but Carter has been trending toward the 'Cats in recent months.
Kaden Moorman – 3-star ATH
The star running back for Franklin County, Kaden Moorman holds offers from Kentucky and Wisconsin and is off to a blazing hot start to the 2021 season. He's a prospect that the UK coaching staff is monitoring very closely.
Class of 2024/25 future prospects
Braden Graham (2024) QB
He's not in the national rankings quite yet, but with offers from Georgia and Kentucky in hand, Braden Graham is going to be a quarterback prospect to keep an eye on down the road. He's already visited Lexington multiple times and will be in for his first game atmosphere on Saturday.
Chauncey Gooden (2025) OG
Another very young prospect, Chauncey Gooden is actually teammates with Graham at Lipscomb Academy in Nashville, TN. He doesn't hold any Power 5 offers at the moment, but he's on Kentucky's radar.