Practice Report: How Coen, Levis, Ali and Bates are preparing for Florida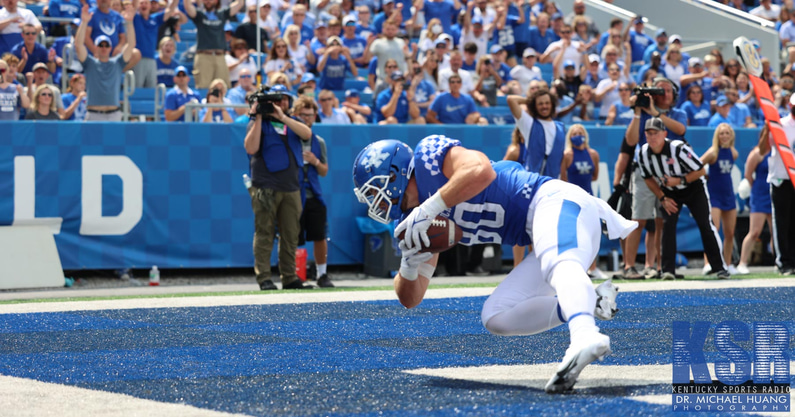 After Mark Stoops addressed the late-breaking off the field news, Liam Coen and other members of the Kentucky offense spoke with the media. The Wildcats are preparing for an aggressive defense and focused on taking care of the ball against the Florida Gators.
A Difference in Aggressive Defenses
Kentucky has already faced one aggressive defense this year. Against Steve Wilks' Missouri defense the Wildcats scored 35 points and racked up 511 yards of offense. Todd Grantham does things a little bit differently.
"Wilks it was more of that man, but they didn't move the front much (on the defensive line). Coach Grantham at Florida, they move almost like every play. They're trying to get to as many ways as they can to a jam front, which is a five-down, Bear front. They're trying to create confusion and just movement inside," Coen said.
"We're practicing line movements, stunts, twists, pressures. It's not a high, high pressure team, but when they do, they're moving pretty good. They can rush the quarterback and get after it a little bit. It's something we have to be prepared for."
Coen has counted between 15 and 20 different one-time looks (a.k.a plays) from the Florida defense on third downs this season.
Ready for a Sell Out
The news of a Kroger Field sell out was music to the Kentucky football team's ears.
"It's very exciting," said wide receiver Josh Ali. "That BBN crowd gets really loud on Saturday nights. I'm excited to see how many people come out and hopefully we feed off that energy."
These are the kind of games Will Levis signed up to play in when he transferred from Penn State.
"It's an awesome opportunity. Obviously, they're a really good team. We haven't played our best football yet and we know that we're going to have to play our best football to beat a team like this," said the UK quarterback.
"We know we have it in us. We just have to prepare each day this week to bring that out of us on Saturday. I definitely was looking forward to playing games like this in this environment. I saw yesterday that it's going to be a sell out crowd. That's awesome. I'm looking forward to the energy the fans bring and we're just going to go out there and play our game. It's going to be fun. We've got a good game plan. I'm just excited to play."
Animated Bates
We don't hear from Brendan Bates often. The Kentucky tight end is about as charismatic as they come. Enjoy five minutes of unfiltered Football Guy talk.