PREVIEW: Kentucky WBB celebrates Matthew Mitchell vs. DePaul at Rupp Arena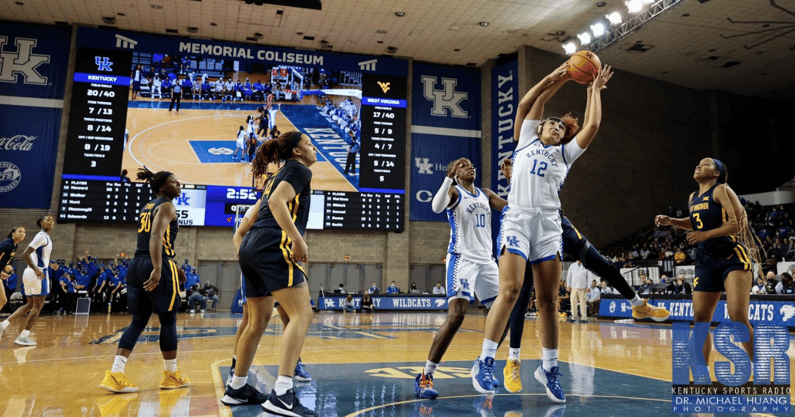 On Thursday, Kentucky Women's Basketball is playing for more than just another mark in the win column. The No. 14 Wildcats (6-1) will take on the DePaul Blue Demons (7-2) at 7 p.m. in Rupp Arena. Playing in a different setting isn't the only unusual thing about Thursday evening's contest.
For the first time since his retirement, Matthew Mitchell will be properly honored by fans and players, alike. As head coach of the 'Cats for 13 years, Mitchell won 303 games, making him the winningest Kentucky Women's Basketball coach of all time. Many former players are expected to be in the building to celebrate the special night.
Let's talk about the team standing in the way of Kentucky's picture-perfect evening.
Breaking down the Blue Demons
DePaul may be the most threatening foe the 'Cats have played in Lexington this season. With both of their losses coming to top 20 opponents in No. 6 Arizona and No. 18 Texas A&M, DePaul sits just outside of the AP Top 25. Nonetheless, the Blue Demons have all the makings of an elite squad.
DePaul is led by Doug Bruno. This season is Bruno's 36th as head coach of the Blue Demons. It's safe to assume it will take more than an eventful night at Rupp Arena to shake him.
Though Bruno may have history behind him, his team plays a new-age style of ball. The Blue Demons run-and-gun at an extremely fast pace, averaging the second-most points in the country with 88.2 points per game.
Similar to the 'Cats, DePaul's high scoring is powered through passing. The team averages 20.1 assists per contest, the fourth-most in the nation. Of course, at the end of every assist is a bucket. When you do the math, the Blue Demons have a scary amount of scorers.
Leading the way for DePaul is standout freshman Aneesah Morrow. The 6-foot-1 forward is a double-double machine, averaging 18.4 points and 11.3 points per game. To top it off, Morrow is a menace down-low, rejecting a total of 25 shots already this season.
Morrow is just the tip of the iceberg. 5-foot-10 senior Sonya Morris averages 16.2 points per contest. Going right along, Deja Church adds 14.7 points per game and Lexi Held contributes 13.3. Additionally, Held leads the team in assists with 5.1 per contest.
The Blue Demons are a hellish matchup for any opponent. Nonetheless, if anybody matches up well with them, it's Kentucky.
Keys for Kentucky WBB
If the Blue Demons are hoping their speed will scare the 'Cats, they're out of luck. Kentucky Women's Basketball is one of the few programs in the country that match DePaul's pace, if not surpass it.
Kentucky's offensive locomotion is conducted by second-year head coach Kyra Elzy. The 'Cats are matching DePaul's impressive offensive stats and then some. Kentucky Women's Basketball averages the eighth-most points per game in the country with 83.6. Comparing the teams further, Kentucky averages slightly more assists than the Blue Demons with 20.9 per contest.
Another similarity between the two squads is their scoring distribution. Both DePaul and Kentucky have four players averaging double-digit figures, with other potential explosive scorers sitting just out of reach. In many ways, the two teams reflect one another.
With all of this said, Kentucky has two options heading into this game: hope they're the better reflection or smash the mirror altogether. If Elzy chooses the first option, her 'Cats are confident heading into Rupp Arena.
"We always play good when we're in Rupp," Howard said after Kentucky's victory against Merrimack on Sunday. "Everyone's pretty excited."
The team's emotions aren't the only thing powering their trust in themselves. Although the 'Cats haven't played many great teams yet this season, they've learned something new every game. Senior guard Jazmine Massengill feels like things are starting to click for the 'Cats.
When asked what the team has improved upon, Massengill was ready.
"Just being on one page, playing our basketball, our game," Massengill said. "Chemistry is coming. Just slowing the offense down and taking what the defense is giving us."
There should be plenty of giving from the Blue Demons on Thursday. DePaul is allowing 74 points per game this season, compared to Kentucky, which only gives up an average of 58.9.
Looking toward the matchup
The stage is set for an excellent Thursday night of Kentucky Women's Basketball. Equally, the stage is set for disaster. With legendary 'Cats and an all-time great head coach in the stands of Rupp Arena, this year's Wildcats will get a taste of true pressure. There's only one question remaining: how will they handle it?
The contest is at 7 p.m. ET in Rupp Arena. The game will be broadcast live on SEC Network.