PREVIEW: Kentucky WBB returns home to face UNC Greensboro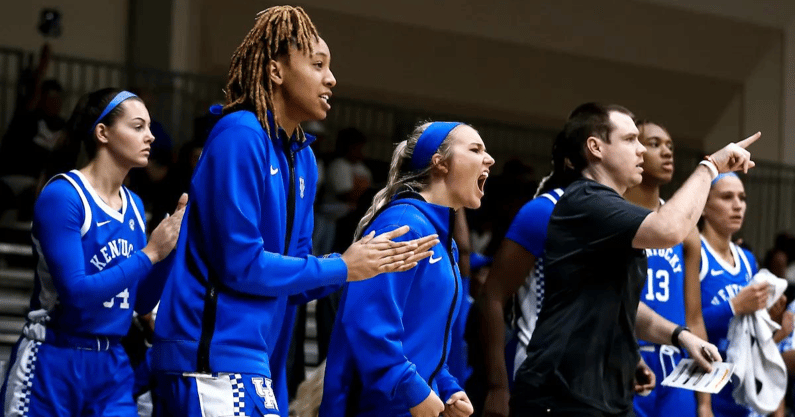 Christmas may not be here yet, but Kentucky Women's Basketball is the gift that keeps on giving.
On Sunday afternoon, the Wildcats (5-1) will take on the UNC Greensboro Spartans (4-3) in Memorial Coliseum. Kentucky is returning from a 10-day break after a two-game trip to the Bahamas. In the escapade, UK narrowly fell to No. 9 Virginia Tech but responded with a blowout win over Dayton.
The Spartans should be a step down in competition, but they sure don't see it that way. Let's break down Kentucky's first December opponent.
Unpacking UNC Greensboro
UNC Greensboro is hungry after a heartbreaking loss in their last contest. On Nov. 30, the Spartans dropped an overtime heartbreaker 67-54 to Presbyterian. While the loss is an ugly one, it doesn't tell the whole story.
The Spartans and Wildcats have one opponent in common this season: the Radford Highlanders. One of the teams bludgeoned the Highlanders 72-54. The other squad beat Radford by a mere four points. Do you know which is which?
If you guessed Kentucky was the team who easily handled the Highlanders, you were wrong. Clearly, UNC Greensboro isn't a team to overlook. The team's talented players are responsible for the Spartans' upset potential.
UNC Greensboro has three players regularly scoring double figures. Nasia Powell leads the charge, averaging 10.9 points per game. Kennedy Simpson and Faith Price average a combined 20.8 points, as well.
While this three-headed monster carries the offensive load, 6-foot-3 Khalis Cain anchors the paint. Cain is grabbing 10.1 rebounds per game while leading the team in blocks. Despite the Spartans' skill, they lack outside shooting.
UNC Greensboro is shooting just 28% from beyond the arc this year. To pile on, the Spartans choke away 15 possessions per outing. If the team doesn't clean up its issues, this trip to Lexington will be a long one.
Keys for Kentucky WBB
Kentucky lost a game in the Bahamas, but they found their identity. The 'Cats are a defensive powerhouse, causing 25.3 turnovers a night; 10th in the nation. Head coach Kyra Elzy believes defense is the foundation of her team's success.
"We have to rely on our defense. That's what this team is made of. That's what this program is built around; defensive intensity," Elzy said after Kentucky's last win.
Kentucky isn't satisfied when they steal the ball. They're satisfied when they score it on the other end. In the Bahamas, UK scored 34 more points off turnovers than their opponents. Moreover, Kentucky's starters weren't the only ones making an impact.
UK's bench had three times as many points as Virginia Tech's and twice as many points as Dayton's. Bench sparkplugs Ajae Petty, Amiya Jenkins and Eniya Russell are each averaging five or more points per game. Not to mention, occasional explosions from players such as Emma King or Adebola Adeyeye.
Elzy knows her bench is a difference-maker.
"I was so proud of this bench," Elzy said after Kentucky's victory over Dayton. "We challenge our bench. They are an X-factor."
While Kentucky is superior to the Spartans in many ways, they are equally unreliable from the perimeter. The 'Cats are shooting 23.5% from downtown this season, the worst percentage in recent memory. Sunday's contest will be the perfect opportunity to find their footing.
The 'Cats will take on the Spartans at 1 p.m. on Sunday in Memorial Coliseum. The first 1,000 fans in attendance will receive a free pair of Kentucky-themed socks to celebrate National Sock Day. The game will be broadcast on SEC Network+.