PREVIEW: Kentucky Women's Basketball prepares for La Salle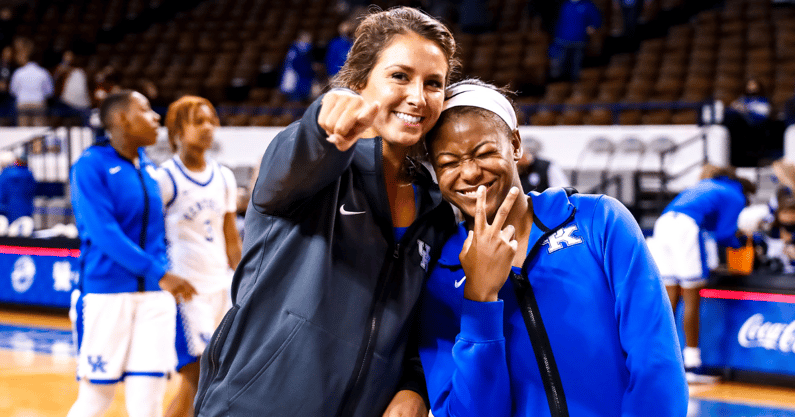 Kentucky Women's Basketball fans better have gotten in their Thanksgiving naps because they're in for a late-night of hoops. On Saturday, the No. 20 Wildcats (3-1) will take on the La Salle Explorers (3-2) at 8:30 p.m. inside of Memorial Coliseum. After a blowout win last weekend over Winthrop, the 'Cats are looking to start a winning streak.
The game will be streamed live on the SEC Network+.
This contest is the first meeting ever between the Wildcats and Explorers. Unfortunately for La Salle, the 'Cats aren't concerned with making a nice first impression. With No. 22 West Virginia just around the corner, Kentucky is focused on reinforcing any weak spots. Let's talk about the team that will be trying to spoil the Wildcats' night.
Learning about La Salle
The Explorers are on a two-game win streak heading into Lexington. Led by third-year head coach Mountain MacGillivray, La Salle is averaging 71.6 points per game while holding their opponents to just 65 points per contest. The team's harsh defense will undoubtedly clash with the 'Cats, who are averaging 84.5 points per game.
While La Salle is a solid defensive squad, they're vulnerable when the tables are turned. The Explorers are averaging 17.2 turnovers per contest; a dangerous weakness when facing Kentucky's pressure cooker of a defense.
Fortunately for La Salle, the team has some reliable offensive weapons. Combo guard Kayla Spruill leads the charge for the Explorers with 16.2 points and 11.2 rebounds per contest. The 6-foot senior is a sniper from deep, making 44% of her 3-point attempts this year.
Following in the veteran's footsteps, sophomore Jaye Haynes averages 13 points and five rebounds per game. Of course, every great scorer needs an equally excellent facilitator. Enter Molly Masciantonio. The senior guard leads the team in assists and averages the second-most minutes per game.
The Explorers have impressive height. With six players standing at 6-foot or taller, La Salle will present a new challenge to the 'Cats. Nonetheless, challenges are nothing new to Kentucky's squad. The only question is how will they deal with this one?
Keys for Kentucky WBB
The 'Cats have improved each game this season. There's no reason to expect Saturday night to be any different.
Although Kentucky's stunning loss to No. 4 Indiana was painful, there were a few silver linings. Perhaps the most obvious was the breakout performance by freshman Jada Walker. The spark-plug player lit up the Hoosiers for 16 points in her first big college game.
Kentucky may have lost the battle that night, but they acquired a piece to help them win the war. Second-year head coach Kyra Elzy raved this offseason about needing four double-digit scorers to be a great team. With Walker's sudden rise to stardom, the 'Cats are meeting Elzy's goal.
While the offense may be coming together, Elzy isn't satisfied on the other end of the court. Kentucky's defense has been tenacious this season, but it's also been sloppy. After the 'Cats win against Winthrop, Elzy emphasized a few defensive basics the team would work on before La Salle.
"Closeouts. One-on-one defense, being able to contain the dribble for one to two dribbles and keeping somebody in front of us," Elzy said. "I thought our help side was better today, but we still need to get the full rotation and finishing with a box out."
No matter what Kentucky does on the court, they'll struggle to reach their full potential with only eight healthy scholarship players on roster. Fortunately for the 'Cats, sophomore Nyah Leveretter is seemingly close to recovery. The athletic forward was spotted at Kentucky Women's Basketball's last contest and Elzy told the media she is day-to-day.
Final thoughts on upcoming game
With everything starting to culminate for the 'Cats, things are looking bright. If the team can plug their problematic holes and get healthy, Kentucky Women's Basketball should head home happy on Saturday evening.
The contest will be in Memorial Coliseum at 8:30 p.m. ET. The game will be broadcast on SEC Network+.