Princeton knocks Kentucky WBB out of NCAA Tournament first-round 69-62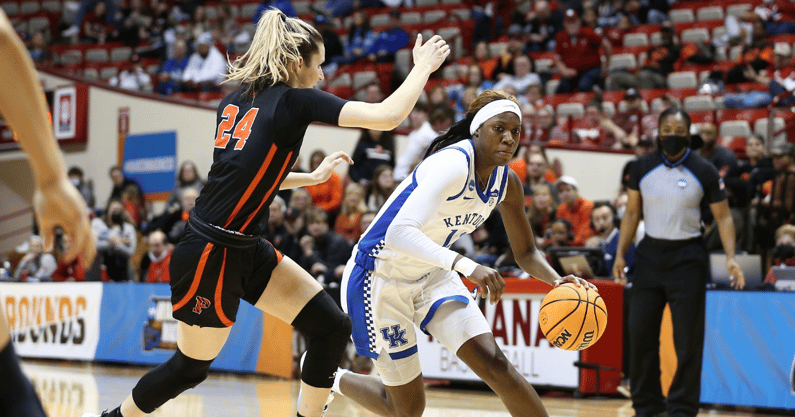 Kentucky's magical 10-game winning streak came to a disappointing end in the 2022 NCAA Tournament first-round, ending the college career of three-time All-American Rhyne Howard. The Wildcats came in as the 6-seed after a surprise run that saw them win the SEC Tournament less than two weeks ago, but they were ultimately downed by the Ivy league's top competitor.
The 11-seeded Princeton Tigers knocked off Kentucky Women's Basketball by a final score of 69-62 in the opening round on Saturday afternoon in Bloomington, IN. Howard finishes her run as a Wildcat with 17 points and eight rebounds on 4-14 shooting. Redshirt junior forward Dre'Una Edwards was second in scoring with 16 points to go along with her 12 rebounds. Freshman point guard Jada Walker tacked on 11 points, three assists, and six steals.
As a team, the 'Cats shot just 36 percent from the floor and 4-15 from beyond the arc. Kentucky scored 10 more points off of Princeton's 19 turnovers, but was outrebounded by seven and trailed for all but two minutes of game time.
Princeton's Abby Meyers lit up the 'Cats for a game-high 29 points on 9-21 shooting, including a 9-11 mark from the free-throw line. Kaitlyn Chen added 17 points on 8-14 shooting for the Tigers.
Kentucky took the early lead out of the gate and throughout most of the first quarter before Princeton struck back. A jumper at the buzzer from Chen pushed Princeton in front 12-11 after the first period. That lead would hold until the half, eventually ballooning to a nine-point advantage with under 90 seconds until the break.
However, a timely 3-pointer from Howard — her only bucket of the first half — put Kentucky down just six heading into the locker room at 32-26. Princeton was red-hot, particularly from mid-range, converting on 15-25 (60 percent) shooting over the opening 20 minutes of play. UK, on the other hand, was limited to a 37 percent mark.
The Tigers continued to keep Kentucky at bay in the third quarter, extending the lead to eight out of the halftime break. UK was able to get within two just once before Princeton jumped back out to a 48-44 lead as the third frame came to a close. Howard was beginning to find her scoring touch too, adding eight points in the period.
But Princeton never once let up. The Tigers hit plenty of free throws to keep adding onto the lead as Kentucky began to go cold at an inopportune time. UK went the final 4:04 of the fourth quarter without a made field goal.
As a result, Princeton extends its winning streak to a Division I-best 18 in a row. The Tigers will move on to the Round of 32 where the host team, three-seeded Indiana, stands in the way of a Sweet 16 appearance. That contest is scheduled for Monday on ESPN inside of Assembly Hall.