Quade Green acquired by Oklahoma City Blue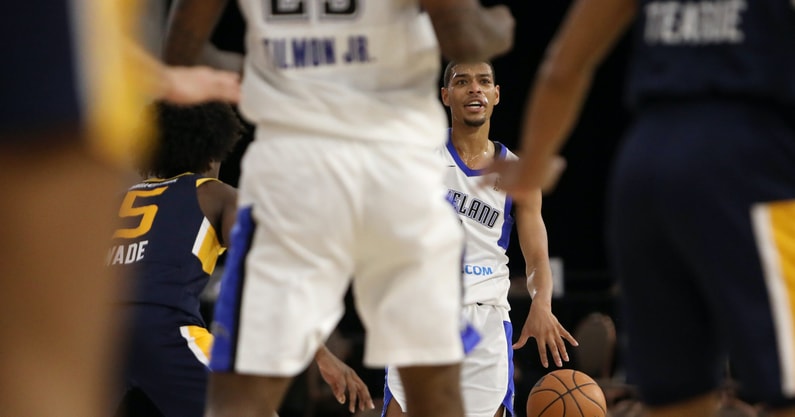 Remember Quade Green? Yes, the former five-star recruit who started his career at Kentucky before transferring to Washington his sophomore season?
He's teaming up with Shai Gilgeous-Alexander again in Oklahoma City — well, sort of.
Green, who actually started over Gilgeous-Alexander to open their debut seasons in Lexington, has been acquired by the Thunder's G League affiliate, the Oklahoma City Blue. The team announced the roster move Friday morning.
The 6-foot guard out of Philadelphia started 13 games for the Wildcats before Gilgeous-Alexander emerged as the team's go-to point guard in 2017-18. He would go on to average 9.3 points, 2.7 assists and 1.8 rebounds in 25.6 minutes per contest across 34 total games as a freshman.
Green returned for his sophomore year at Kentucky and played nine games to open the 2018-19 season before entering the transfer portal and making the move to Washington for his final two years of eligibility. He averaged 11.6 points and 5.3 assists for the Huskies as a junior before starring as a senior in 2020-21, putting up a career-high 15.4 points per contest to go with 3.6 assists, 3.0 rebounds and 1.1 steals.
After going undrafted in 2021, the former Wildcat made G League stops with the Maine Celtics, Lakeland Magic and Grand Rapids Gold before Friday's acquisition by Oklahoma City.
As for Gilgeous-Alexander, the 6-foot-6 guard was a lottery pick and went on to earn NBA All-Rookie Second Team honors in his debut season with the Los Angeles Clippers. Included in a blockbuster deal for All-Star wing Paul George, the former Wildcat was traded to the Thunder, where he has emerged as the franchise's cornerstone piece in the backcourt. Signing a five-year max extension worth as much as $207 million back in August of 2021, Gilgeous-Alexander is now a top-three scorer in the NBA, averaging 31.1 points per contest through 17 games in the 2022-23 season to go with 6.3 assists, 4.8 rebounds and 1.8 steals per outing.
Now, the two are (sort of) reunited in Oklahoma City.