Quick Hitters from Tonight's UK Hoops Win
[caption id="" align="alignnone" width="1200"]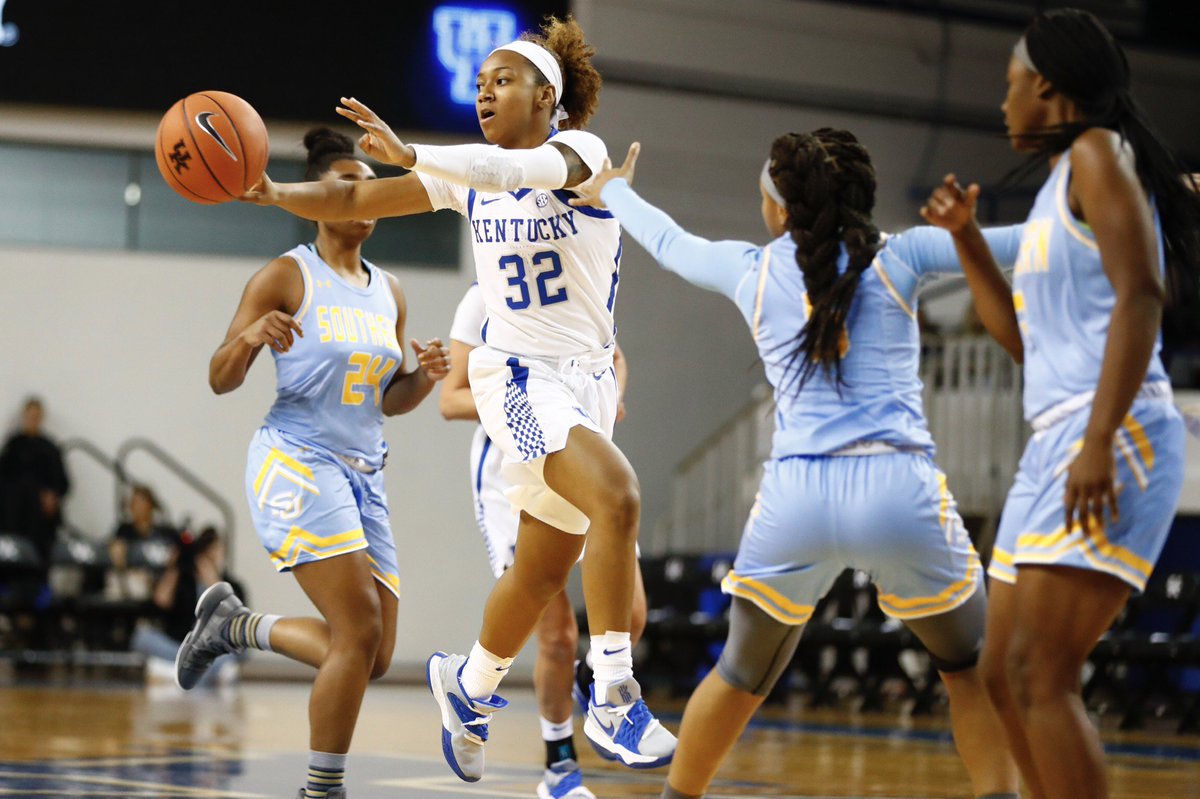 Via @KentuckyWBB Twitter[/caption] Good Sunday night friends! Are we all still sad about yesterday? Yes? Cool, me too. How about reading about a winning game? After a thrilling 52 point victory against Alabama State Wednesday, UK Hoops' journey continued tonight with a 91-41 50 point victory over Southern University. Since I couldn't be at the game due to some lovely winter sickness, I became an armchair reporter and watched the game from home to write tonight (I'm devoted, I know). Here are a few quick observations via my couch about tonight's game:
This is the Program's 800th Win
Took care of business tonight to make 800 wins in program history! ???#poWEr pic.twitter.com/8YThghAUuF

— Kentucky WBB (@KentuckyWBB) November 12, 2018
Now, let's get 801, 802, 803.....
Rhyne Howard is a shooter
The freshman from Tennesee may be one of Mitchell's best players, and it's only her second game. In the first half, Howard was hot on the 3, making four of six and scoring 16 of the Cats 50 points in the first half. At one point she had as many points as the Southern team. Howard finished with 29 points, four rebounds and four assists.
Seven 3s by @howard_rhyne ties the lead for 3s in a game in program history, previously done by Sara Potts in 2004 and 2005. https://t.co/g65AcN4l46

— Kentucky WBB (@KentuckyWBB) November 12, 2018
She good y'all, she real good.
We force the turnovers...and it works for us.
Like on Wednesday, we really forced Southern to turn the ball over. 29 times to be exact. Out of those 29, we scored 41 points on them...the total amount of points they scored. Ouch. That's gotta sting. On Wednesday in the post-game press conference, Taylor Murray said she thought the defense was "sluggish" at first, tonight that was not the case. You can tell Mitchell worked on defense this week in practice and it paid off. Overall, we stacked up really well on the boards. See for yourselves:
This team is fun
You can see it on the court and on Matthew Mitchell's face. This team is having FUN together. It's only been two games but it already feels different than last year, I'd say we're in for a good season. KeKe McKinney tweeted this out earlier today, you know it's a good team when this happens.
Game day??? pic.twitter.com/jb8oP34xP9

— Blessed? (@ke_baby05) November 11, 2018
As someone who covered and sat through the brutality of last season, I for one am LOVING the start to this season. Seriously, now is the time to get on this train!   UK Hoops takes on the University of Virginia on Thursday at 8:30 in Memorial. At the game, Coach Mitchell plans on paying one student's spring tuition, so students: GET IN THERE. Come on out and support this team! Go Cats!