Raiders hire former Kentucky WR Champ Kelly as assistant GM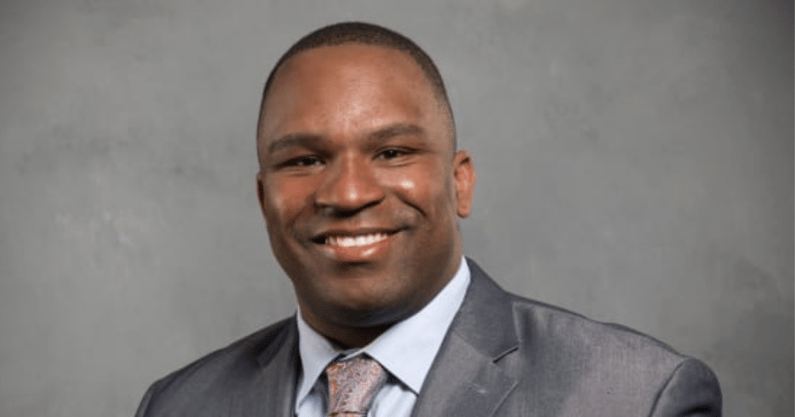 The Las Vegas Raiders are adding some Bluegrass flavor to its front office. On Wednesday afternoon, the Raiders announced that former Kentucky wide receiver Anthony "Champ" Kelly has been named the franchise's assistant general manager.
After spending the last seven seasons with the Chicago Bears, Kelly will now work under general manager Dave Ziegler with the Raiders, who was hired earlier this week. Kelly, a 41-year old native of Florida, played at UK from 1998-2001, beginning his college career as a defensive back before moving to WR as a junior, when he played in 11 games including two starts.
You might remember him catching passes from Jared Lorenzen back in the day…
Kelly later spent four seasons with the now-defunct indoor football team, the Lexington Horsemen (2003-06), and then another year on staff as the team's wide receivers coach (2007). Most notably, he was also the Horsemen's general manager in that 2007 season, as well.
His time in Lexington officially came to an end in 2007 when he accepted a position as a college scout for the Denver Broncos. Over the next several years, he would work his way up to the franchise's assistant director of pro personnel before taking a position with the Bears in 2015, where he had been ever since.
While in Chicago, Kelly started as the team's director of pro scouting before moving up to assistant director of player personnel in 2017 and now assistant GM with the Raiders in 2022. His name has previously surfaced in connection to open general manager jobs, such as the Jets, Falcons, Broncos, and even the Raiders, but ultimately landed as an assistant GM with Las Vegas.
Prior to beginning his professional career, Kelly graduated from UK with a bachelor's degree in Computer Science before earning a master's degree in Business Administration in 2003. He would work for IBM in Lexington from 2002-05 before stepping back into football.