Kentucky's culture, Ramon Jefferson's confidence could be great match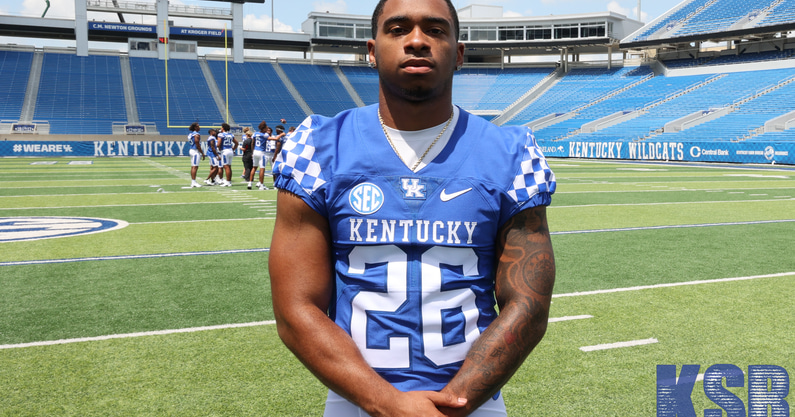 Kentucky left spring football with five scholarship tailbacks on the roster and a position room that second-year running backs coach John Settle could feel good about. But things can change quickly in college football.
In May, All-SEC tailback Chris Rodriguez Jr. appeared to land in some hot water. There are some eligibility concerns for the redshirt senior who could set the Kentucky record for career rushing yards this fall. His availability was not directly addressed in Atlanta at SEC Media Days or in Lexington on Wednesday at Kentucky's Media Day.
Over the summer, however, Kentucky did not stand pat at tailback. FCS All-American Ramon Jefferson (5-10, 215) entered the transfer portal on Jan. 14 and pledged to Colorado on Jan. 31. The super senior would back off that verbal commitment on May 20. Kentucky got the tailback on campus for a visit in June and secured a recruiting win two weeks later.
The Wildcats have added some high-level insurance if Rodriguez has to miss time. Jefferson is facing some steep competition as fall camp begins in Lexington. After stops in the FCS and junior college, the veteran is ready to prove himself in the SEC.
There is also a clear culture fit and familiarity with some of the personnel at Kentucky. Former offensive coordinator Liam Coen coached the tailback at Maine in 2017 during Jefferson's redshirt year.
Even with Rich Scangarello taking over the offensive operation, the fit is obvious.
"It's most similar to Maine," Jefferson told KSR regarding Kentucky's pro-style scheme. "That's how I started off in college so it's getting back to that mindset being under center."
Coen left Maine after two seasons to take a position with the Los Angeles Rams, but the Black Bears used a similar offensive approach in 2018. Under head coach Joe Harasymiak — now the defensive coordinator at Rutgers — Maine finished that season 10-4 with a conference title and an appearance in the FCS semifinals. Jefferson emerged as a go-to player rushing for 1,096 yards on 15.2 attempts per game while averaging 5.7 yards per rush.
That production followed the tailback throughout his career as he posted big numbers in junior college (994 yards, 13 touchdowns) and for two years at Sam Houston State (1,907 yards, 20 touchdowns). As a redshirt senior last fall, the tailback rushed for 1,155 yards and 13 touchdowns on 6.7 yards per rush on his way to All-American honors. The running back played and produced for winning programs highlighted by winning a national championship with Sam Houston in 2020.
Jefferson is joining another winning program at Kentucky, and the culture established by head coach Mark Stoops stuck out in the recruiting process.
"Just the culture," Jefferson told KSR about what brought him to Kentucky. "Obviously, the current success definitely attracted me, and once I got on campus just meeting the players, talking to the staff, and just seeing how down to earth and how good everybody was."
Iowa transfer Deuce Hogan made similar comments when he spoke with the media back in January. The redshirt sophomore is now emerging as the potential QB2 for Scangarello following the departure of Beau Allen.
Now all that is left is to play ball. Jefferson believes he can succeed at this level and will show the coaches that over the next couple of weeks. The veteran enters the year with 3,997 career rushing yards in a variety of schemes and has shown durability with 46 career games played. For an offense that could have open volume available if Rodriguez has to miss time, Jefferson could be an excellent secondary option.
"I think at the end of the day it's all about doing your assignments, right? I've got great people on the offensive line, great coaches. So at the end of the day, it's all about me just doing my job, and I feel like I can get it done," Ramon Jefferson said.
There will be a heated competition as Jefferson will have to battle Mike Drennen II, Kavosiey Smoke, and La'Vell Wright for snaps. But this is a player with proven production who is betting on himself in his final year.
That could lead to an unexpected great running back option to eventually team with Rodriguez whenever he returns to the lineup. All of a sudden, Kentucky could have one of the deepest tailback rooms in college football while bringing over one of the best playbooks from the NFL to go along with a first-round prospect at quarterback.
Kentucky has a chance to be special on offense in 2022, and Ramon Jefferson could play a key role. Culture and confidence could go a long way.