Film Room: Ramon Jefferson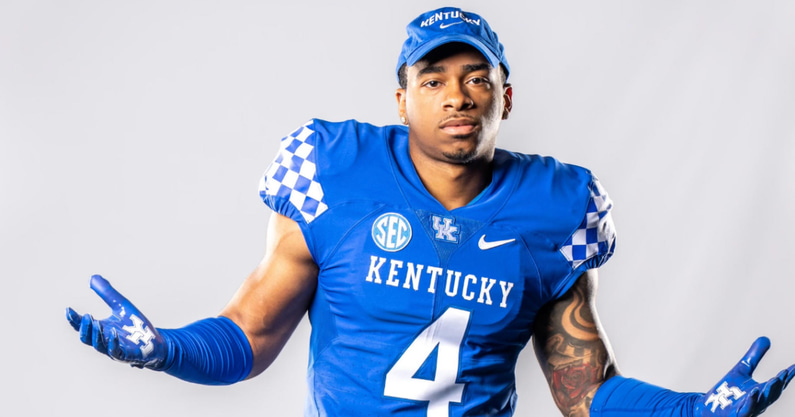 The newest transfer commitment on Tuesday evening gave many in the Big Blue Nation a surprise. After being linked to Kentucky nearly three weeks ago, former Colorado commit Ramon Jefferson found the fourth school in his six-year college football journey when the transfer pledged to Kentucky.
The class of 2017 graduate out of Bronx (N.Y.) Truman has been around the game for a long period of time. Jefferson spent his first two seasons at FCS Maine rushing for 1,096 yards as a redshirt freshman in 2018 as his team reached the FCS semifinals. There he worked with former Kentucky offensive coordinator Liam Coen in 2017.
The production followed as the tailback moved to junior college and then to FCS Sam Houston State.
2017 (Maine) — Redshirt
2018 (Maine) — 1,096 rushing yards, 8 touchdowns, 5.7 yards per rush
2019 (Garden City, JUCO) — 994 rushing yards, 13 touchdowns, 6.3 yards per rush
2020 (Sam Houston State, 10 games) — 752 rushing yards, 7 touchdowns, 6.0 yards per rush
2021 (Sam Houston State) — 1,155 rushing yards, 13 touchdowns, 6.7 yards per rush
In his four years playing college football, Jefferson has been extremely durable (45 games) with 3,997 career rushing yards and 41 touchdowns on 6.3 yards per rush. As an FCS All-American in 2021, Jefferson received an elite 91.4 grade in 424 snaps from PFF. Now the super senior will see if he can do it on the big stage.
Ramon Jefferson (5-10, 215) is joining a loaded Kentucky position room with five other scholarship tailbacks. Chris Rodriguez Jr. was a first-team All-SEC selection who could break the career rushing yards record in Lexington this fall. However, there are availability concerns. That could create an avenue for playing time for this newest addition.
What will the FCS transfer bring to Rich Scangarello's offense? Ramon Jefferson is a clear scheme fit that could bring dependability to an already deep position room. Let's step into the KSR Film Room and roll the tape.
The new addition has played a lot of football in a variety of schemes. That versatility will be valuable for Kentucky. As the Wildcats transition to a wide zone attack with the new coaches on staff, good eyes will be important. Ramon Jefferson consistently flashes good vision.
On the outside run design, Jefferson does a very good job of staying patient and not forcing the issue. The tailback allows his blockers to complete their assignments and then makes his move once everything is set. Seeing his right guard complete a great drive block on a linebacker creates a huge opening. Jefferson takes advantage and shows some burst through the opening for the explosive play touchdown.
Last season, Kentucky had some transition issues as Liam Coen tried to install a new running scheme. For the most part, the Wildcats had to bail on that movement to focus on concepts the team could excel at running the ball with efficiency. However, all systems are a go for the transition in 2022. Kentucky is adding a tailback that comes from an outside zone offense that should be a good fit for running backs coach John Settle.
By no means is this a highlight play, but Ramon Jefferson reads his blocks correctly and hits the run north/south when the running lane appears for a boring seven-yard gain. Kentucky will need more of that moving forward.
In many ways, Ramon Jefferson is a no-thrills runner. There aren't many jaw dropping runs on his tape with crazy feats of athleticism, but there are many assignment sound reps where the tailback gets north/south with good timing and finishes runs correctly.
As Sam Houston is attempting to ice a win in the FCS semifinals in the fourth quarter, Jefferson runs through a defensive end and then finishes a run with power to move the chains in the red zone. The tailback is not flashy but does a good job of executing his assignment.
There is a lot to like about Kentucky's newest addition at tailback. Ramon Jefferson has played a lot of football and had an active role in games with stakes for Sam Houston. The super senior is a clear scheme fit for what the Wildcats want to do on offense and has graded out very well on a play-by-play basis even when the ball is not in his hands.
However, this is a player who is likely very close to his ceiling as a prospect, and the step up in competition to the SEC will be a big one. Jefferson will have to earn his snaps in a deep room at Kentucky, but there is a ton to like here.
The durability, scheme fit, and well-rounded nature should get Ramon Jefferson in the Kentucky rotation in 2022 despite joining the team just two months before the season begins.