Randall Cobb, First Team ESPN All-American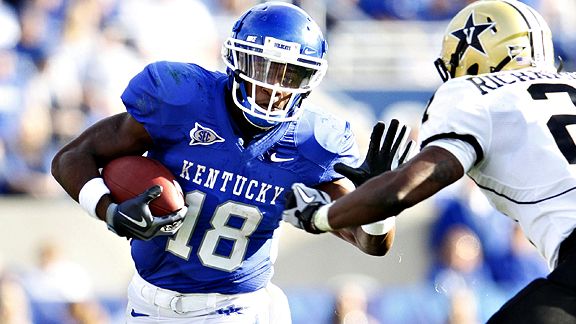 The Legend of Cobb has already been named to nearly every All-American team in the country and now we can add ESPN's to that list.  
ESPN has named Randall Cobb First Team All-American
as an all-purpose player.  Here's what the worldwide leader had to say about our hero...
Randall Cobb All-Purpose | Kentucky About the only thing Randall Cobb didn't do for Kentucky's offense this season was snap the football to the quarterback. The junior all-purpose wonder is the only player in the country to rank first or second on his team in rushing, receiving and passing. He scored eight different ways this season: rushing, receiving and passing for touchdowns; returning a punt for a touchdown; throwing for a touchdown on a fake field goal; and scoring two-point conversions by rushing, passing and receiving. Cobb ranked No. 2 nationally with 182.7 all-purpose yards per game and tied for the SEC lead with 79 catches.
One more year.
#Cobb2011
Cobb2011.com