Ray Davis Shares Social Media Message After Light Workload
The Kentucky offense swung and missed on multiple scoring opportunities. Devin Leary threw an interception in the end zone and Dane Key fumbled the football around the 35-yard line. The one big hit they had came from Ray Davis, yet the Wildcats' star running back is clearly not happy with how he was used in the 17-14 loss to South Carolina.
Davis carried the ball just 12 times for 61 yards. His biggest play of the day was the highlight of the night. He hit a seam through the middle of the South Carolina defense, then smashed the circle button to spin away for a 31-yard touchdown that gave the Wildcats a 14-10 lead.
As great as that play was, the Super Senior was upset after the game. He shared on Twitter, in a post that's since been deleted, "Thought I was the bell cow."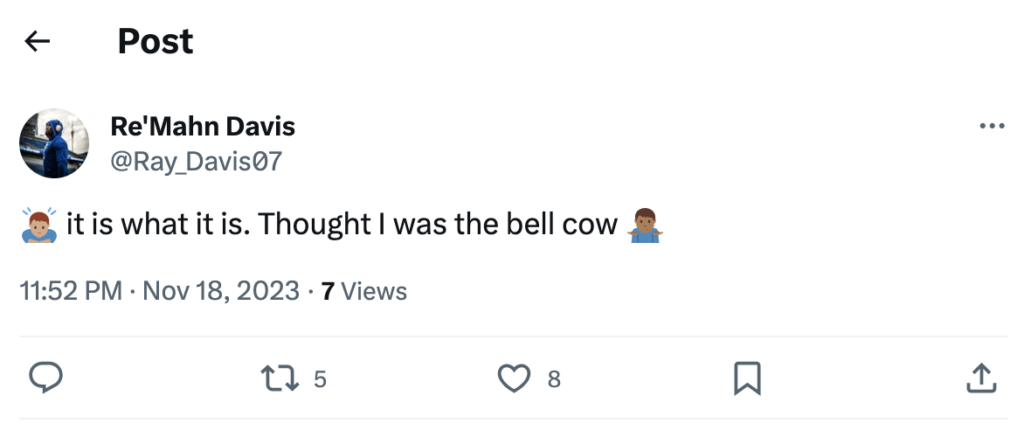 Got thoughts? Continue the conversation on KSBoard, the KSR Message Board. New members can try 1 month for $1.
There was speculation that Davis was injured or battling an illness that forced him to the sideline. Mark Stoops said after the game that was not the case.
"We were just trying to get something going," Stoops said. "He's a very good player. He's not perfect. He maybe missed a couple and maybe we need to get him going. It's not all on him. Some other guys got some good reps too."
Ramon Jefferson parlayed a 74-yard gain against Alabama in garbage time into six carries for 50 yards at South Carolina. Two of those carries were for 15+ yards.
Stoops is correct, Davis did miss some running lanes. On his 11 other attempts he gained less than 3.0 yards per carry. It's been the case over the last month. He was the SEC's leading rusher after tallying 128 yards against Missouri. He has not surpassed the 100-yard threshold since, averaging 52.25 yards and 15.25 carries during the four-game stretch.
Ray Davis wasn't injured, but other Kentucky Wildcats were
A couple of key contributors missed significant snaps at South Carolina. Kenneth Horsey only played one series before an injury sent him to the sideline for the rest of the game. Josh Kattus went to the locker room for about two quarters of action before returning to the game. Kattus wasn't the only banged up Kentucky tight end. Izayah Cummings stepped up and caught three passes for 43 yards, two of which moved the chains on third down.
More postgame coverage is on the way on the KSR YouTube Channel. Subscribe today to see press conferences, interviews, Rapid Reaction, and more.
Discuss This Article
Comments have moved.
Join the conversation and talk about this article and all things Kentucky Sports in the new KSR Message Board.
KSBoard