National recruiting analysts break down Chris Livingston's game with KSR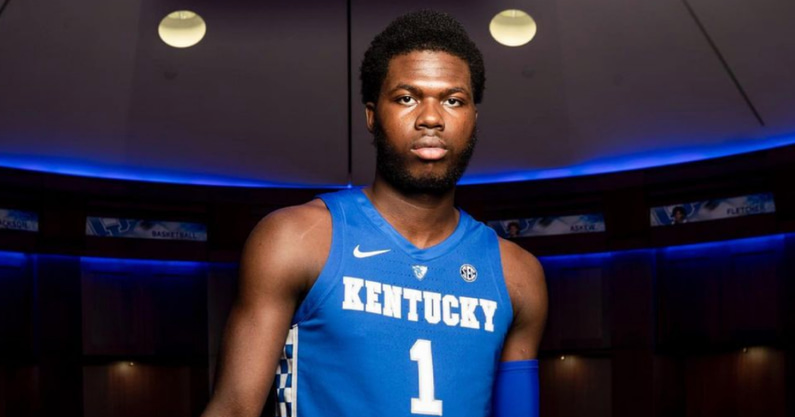 Chris Livingston has committed to Kentucky, choosing the Wildcats over Georgetown, Memphis, Tennessee State, and the G League, among other offers.
The addition gives UK its third commitment in the class, with Livingston joining consensus No. 1 overall prospect Shaedon Sharpe and five-star guard Skyy Clark. Kentucky is also in hot pursuit of top-ten prospect Cason Wallace to round out the perimeter pieces.
What does Livingston bring to the table as a player and how does he fit in alongside UK's other commitments and top targets? KSR spoke with national basketball analysts from On3 Sports, ESPN, 247Sports, and Rivals to give their thoughts on the newest Wildcat's game.
Gerry Hamilton – On3 Sports (Senior National Recruiting Analyst)
Livingston is blessed with an ideal physical build for a wing/small forward. Broad shoulders, strong hips and lower body, and good arm length. Can make threes in bunches, and has steadily improved in that area. A strong finisher in traffic. Can rip the ball off the glass, push and make a play with the pass. Attacks the rim with a physical mindset. Comfortable with the ball in space. Can continue to improve off the bounce against strong defenders. The ability to guard multiple positions makes him a worthy team defender.
Paul Biancardi – ESPN (National Recruiting Director)
Livingston scores best in the transition game attacking the rim and finishing plays. He comes at defenses in a downhill fashion. Will get plenty of second-chance points and paint points. He has demonstrated the motor to be an active rebounder and out-of-area rebounder on both ends. With explosive bounce, quick feet, speed and effort, he has all the tools to be a great versatile defender. Someone who can switch out top or switch an off-ball screen and not give up space. He can be a charge taker or shot blocker. 
Areas to work on: Outside shooting. Livingston has demonstrated touch from beyond the arc and from mid-range. He needs to have better shot quality to enhance his percentages. At this stage of his career, he is much better in feet set, catch-and-shoot scenarios. 
Bottom Line: Finding the balance between spending time inside the arc and behind the arc will be vital for his productivity. If he plays to his strengths with an already-strong motor, he is an elite prospect.
Travis Branham – 247Sports (National Basketball Analyst)
Chris Livingston is an athletic and powerful wing with plus size for the position, but only possesses average-at-best length. He excels at attacking the rim as a power driver who can rise up and finish with authority in traffic. While he is a high-level slasher in the half court and in transition, he has also really improved his jump shot over the last year and has shown impressive flashes as a passer and playmaker.
Livingston's athleticism and power attacking the rim, along with his ability to make shots off the catch will serve Kentucky well all the while having upside to tap into as a defender and rebounder and to continue tapping into his playmaking ability as a wing.
Jamie Shaw – Rivals (National Basketball Recruiting Analyst)
Toughness is the name of his game. He doesn't mind getting his nose dirty and doing the things many don't like in rebounding, defending, etc.
He is aggressive going downhill, comfortable going left, and has nice pace on the ball. (Weaknesses include) shooting, stiffness in hips, and I'd like to see him develop counter dribbles.
---
Pilgrim's Take
At 6-7, 220 pounds, Chris Livingston is a versatile wing threat capable of playing the two through four. A much-improved shooter over the last year, the Akron native thrives on catch-and-shoot opportunities, but is at his best when getting downhill, attacking the rim and finishing with force at the basket.
Boasting an NBA-ready body with elite athleticism and a quick first step, he's a mismatch nightmare at the collegiate level. He's too tall and strong for typical threes, but too quick, athletic and skilled for college fours. Add in his comfort in the mid-range on turnaround and step-back jumpers, and Livingston's versatility as an inside-out threat is clear.
He's got stiff hips with a high dribble and settles for bad shots at times, but his potential is through the roof. As an attacker, finisher and pure athlete, he's among the best in the senior class.