Recruiting update on Reed Sheppard following Big Blue Madness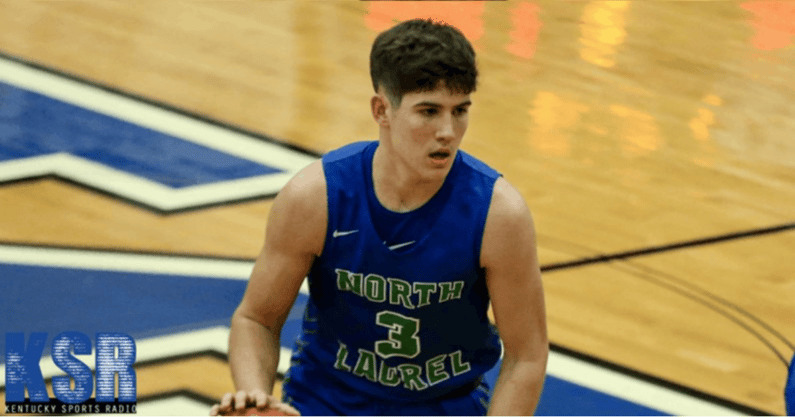 Reed Sheppard was one of a big handful of top high school recruits in Lexington over the weekend. Joining fellow junior five-stars such as Mackenzie Mgbako and DJ Wagner, Sheppard soaked in Friday night's Big Blue Madness experience at Rupp Arena.
"Reed had a positive experience," Jeff Sheppard, father of Reed, told KSR on Monday. "It was a lot of fun for him and he had a really good weekend."
Reed Sheppard got to spend a good chunk of time hanging out with Mgbako and Wagner, a pair of five-star juniors who play for the same AAU team, the NJ Scholars. Both were in Lexington for official visits and to experience the Big Blue Madness atmosphere. Since Sheppard plays in the Adidas circuit while Mgbako and Wagner are associated with Nike, they rarely get to spend time like this around each other, on or off the hardwood.
BBM was a chance for everyone to get acquainted.
"That was really good for all of them to see each other and spend a little time with each other and connect with each other," Jeff Sheppard added.
Status of Sheppard's recruitment
Reed Sheppard is no longer the best-kept secret in the country. He went from raising eyebrows for North Laurel as a sophomore, putting up 50-point games on a regular basis against local competition, to announcing himself to the world over the summer on much larger stages.
The 6-foot-3 combo guard shined on the AAU circuit for Midwest Basketball Club, climbing national rankings with ferocity. Sheppard is now a five-star prospect by 247Sports and Rivals and a high four-star by On3 and ESPN.
His performances against some of the best competition on the AAU circuit resulted in a slew of Divison I offers: Kentucky, Virginia, Clemson, Arizona State, Indiana, Louisville, and Ohio State, to name a few. Texas A&M and Iowa have also reached out.
The offer from UK head coach John Calipari was notable at the time, as Sheppard is one of just a few high school juniors with a Wildcat scholarship in hand. It was also the final signal that Reed Sheppard isn't just a name, but that he's one of the best high school hoopers in the nation.
However, Kentucky isn't the only school high on Sheppard's list. He's been taking visits and meeting with various college coaches over the last few months. Along with UK, four other schools have been reaching out more than others: Virginia, Louisville, Indiana, and Ohio State.
"The five schools that are talking to Reed the most are Kentucky and Virginia, Louisville, Indiana, and Ohio State," Jeff Sheppard said. "Those are the schools that he's actively talking to. Texas A&M, we were talking to them a little bit early on, and there were some other schools around the country as well that had made him offers.
"But really those have been the five schools here lately that he's spent the most amount of time with, the most amount of time going and checking out campus and practice and spending some time with those coaches. That's where things kind of are at this point."
Reed Sheppard was on his fall break from North Laurel High School this past weekend, and his family made sure to take advantage of the extra free time. He was in Lexington for Big Blue Madness, but also made trips to Louisville and Ohio State. The next step in his process, according to Jeff Sheppard, is going to watch live games instead of just practices.
There isn't any sense of a decision timeline for Sheppard, who appears content with taking his time, keeping a low profile, and enjoying the last two years of high school. Right now, he's had to deal with the outpouring of media coverage and hype that has surrounded him since the summer began. But his mindset hasn't changed, or at least his father won't let it change that easily.
"Not really," Jeff Sheppard said when asked if Reed has been getting a big head lately. "If Stacey (Reed's mother) and I do notice that, we'll try to knock him back down to the ground.
"There is so much attention around his story, it's an intriguing story and that's okay. I've said from the beginning that he's been our son his whole life. He'll continue to be our son and all of that is who he is and that's okay. Just enjoying the ride, keeping things in perspective, continuing to move forward, developing the things on the court, and enjoying the opportunities that are available off the court."
North Laurel's season doesn't begin until Nov. 29, a home matchup against Red Bird. Sheppard and his family will continue to travel before then as he gains as much knowledge as possible from the colleges he visits. At this stage, his recruitment is getting serious, and Kentucky is right there in the mix.