Reece's Wish received a big donation from Mark Stoops
[caption id="" align="alignnone" width="561"]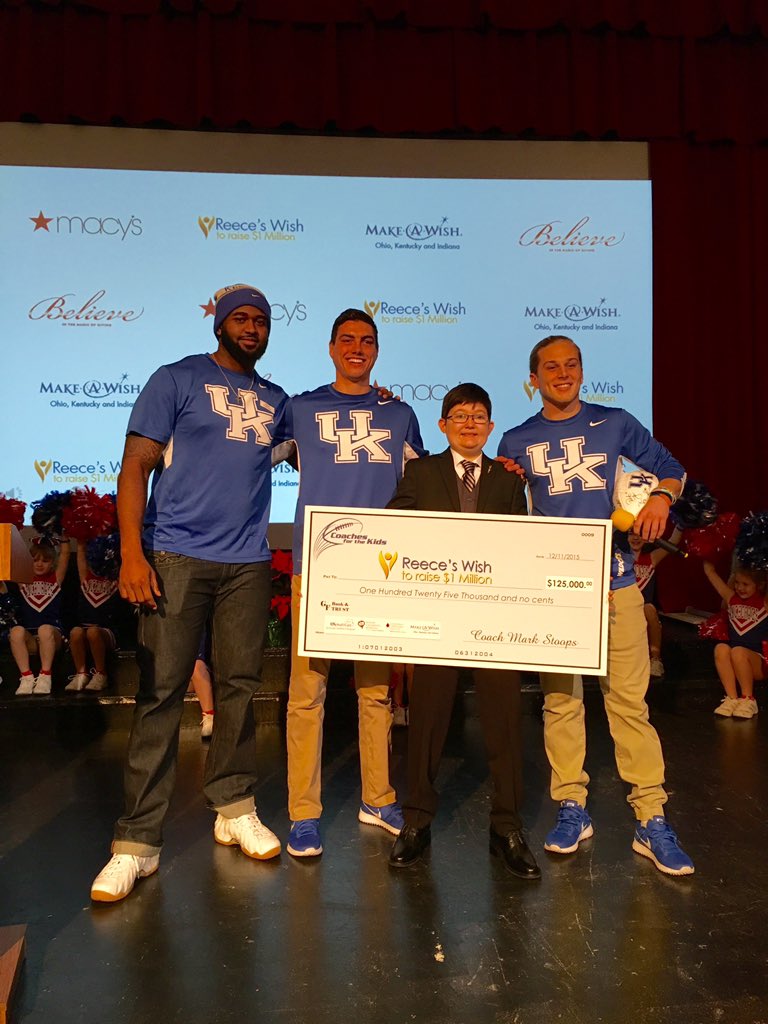 @makeawishohkyin
[/caption] Not long after Reece King was
diagnosed with leukemia in 2012
, the Make-A-Wish Foundation granted him one wish. He could've wished for anything, and the one thing he picked was to have his very own two-story treehouse built by Pete Nelson, the host of TV's 
Treehouse Masters.
Soon after making his request, Reece learned that three other kids had asked for the same thing, and only one would be selected. Reece decided that, though he really wanted it, one of the other kids might've needed it more. So Reece voluntarily pulled his name out of consideration for his dream treehouse. That selfless act of kindness led to another on a much greater scale. For his next wish,
Reece asked the Make-A-Wish Foundation to help him raise $1 million for children and families battling pediatric cancer around Kentucky
. He wanted funding for hospital upgrades, cancer research and the ability to grant more wishes for kids like him. And with that, the Reece's Wish campaign began. Today, Reece's Wish received a big bump from Mark Stoops and Kentucky football with a
 $125,000 donation.
 Reece's favorite UK players present him the check during a school assembly for National Believe Day. Being a big UK football fan, Reece has been around the program a lot over the last two years, but none of the experiences he has shared with the Cats will top today. So kudos to Mark Stoops for his donation and a much bigger kudos to Reece King for using his wish to make the world a better place.