Reed Sheppard is currently on an unofficial visit to Kentucky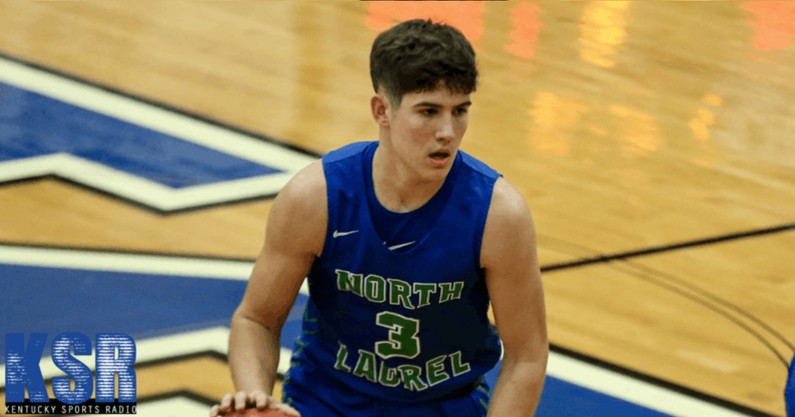 Just eight days after receiving a visit from John Calipari at his high school, 2023 five-star guard Reed Sheppard is returning the favor with an unofficial visit to Lexington.
North Laurel head coach Nate Valentine tells KSR's Zack Geoghegan the in-state standout is currently on Kentucky's campus for an unofficial visit. He is there to watch the team practice on Friday.
This is Sheppard's first trip to Lexington since receiving an offer from UK in July.
Travis Branham of 247Sports was the first to break the news.
The 6-foot-3 guard out of North Laurel High School has received offers from UK, Virginia, Arizona State, Clemson, Indiana, Iowa, Louisville, Ohio State, Texas A&M, and Wisconsin, among others.
Kentucky's offer came following a standout performance at the adidas 3SSB event in Birmingham to open the evaluation period in July. John Calipari was joined by Orlando Antigua, Jai Lucas and Chin Coleman to watch Sheppard in person.
"I don't think they were prepared for the entire staff to be there and then call in the next day and offer him," Valentine told KSR.
He was later named Underclassmen Player of the Year by The Circuit after averaging 17.5 points, 5.6 rebounds, 3.3 assists, and 2.4 steals per contest this summer.
As for his interest in UK, that's certainly mutual. His parents, Jeff and Stacey Sheppard, are both Kentucky basketball legends. The former was named Most Outstanding Player in the 1998 NCAA Tournament and is a two-time champion at UK. The latter is a top-10 scorer in Kentucky women's basketball history. The connections to the program are clear.
But the decision will be left up to Reed when it comes time to make one.
"If Kentucky wants him to come there and that's where he wants to go then that's where he'll be," Valentine told KSR. "But if both sides say it's not a good fit that's okay too. They're completely fine with that. … One day at a time and everything will work out."
Sheppard is ranked No. 21 overall by On3 and Rivals, No. 37 by ESPN, and No. 62 by 247Sports. He was recently bumped up to five-star status by Rivals.
Check out some of the UK target's recent highlights below:
Come on down.