Remember, it's always worse at Louisville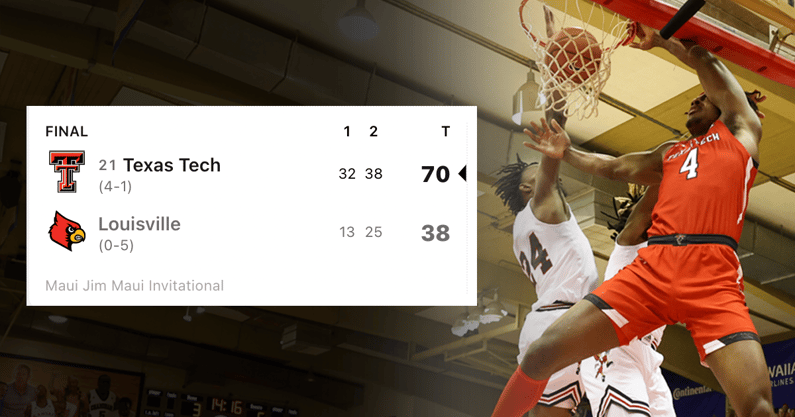 Things aren't exactly up to the gold standard around Kentucky Basketball right now. The AP's preseason fourth-ranked team lost the only two meaningful games of the season to date and John Calipari is already so far into his book of excuses that he placed a lot of the blame on Oscar Tshiebwe for the 16-point loss at Gonzaga earlier this week.
Before that, it was a week ago today when Kentucky blew a late lead to unranked Michigan State in the Champions Classic, the fifth loss for the Wildcats in the last six Champions Classic events. Then today, the AP dropped Kentucky 11 spots to No. 15 in its updated Top 25.
But hey, at least we're not Louisville! It's always worse at Louisville and this year the Cardinals are already at historic levels of suck.
Today, Louisville nearly got doubled up by Texas Tech, losing 70-38 out in the Maui Invitational. If you missed the one-sided action, these tweets paint a pretty good picture of how the game played out:
Today's 32-point loss to the Red Raiders follows yesterday's 26-point loss to Arkansas, fresh off the heels of three consecutive almost-had-its against Bellarmine, Wright State, and Appalachian State to open the season at home.
So at 0-5 with historic lows statistically, remember, it's always worse at Louisville.
How many games will the Cards win in 2022-23, if any at all?