Remembering Joe B. Hall, a Kentucky Basketball Legend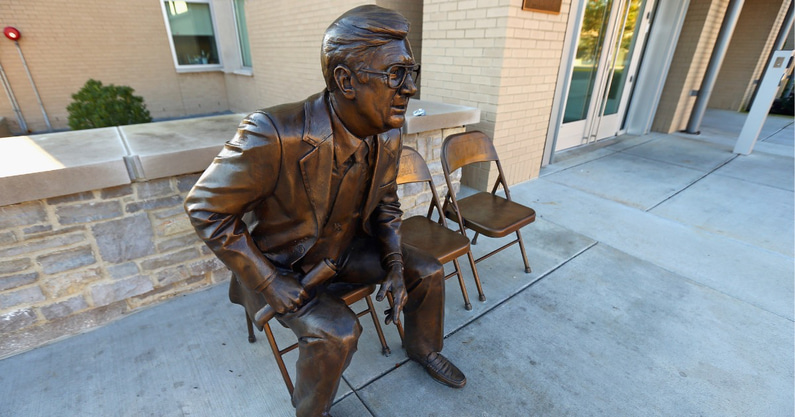 Joe B. Hall, a Hall of Fame college basketball coach at the University of Kentucky and a proud native of Cynthiana, Kentucky, passed away early Saturday morning. He was 93 years old.
John Calipari shared the news publicly, telling the Big Blue Nation, "Coach Joe B. Hall – my friend, my mentor, and an icon in our state and in our profession – passed away this morning. Coach Hall took over a program and carried on the winning tradition and legacy of excellence of Kentucky basketball. He made it the job it is today with his hard work, his ingenuity and his great basketball coaching."
A former UK player turned assistant who dared to follow legendary head coach Adolph Rupp on UK's sideline, Hall coached the Wildcats from 1972 through 1985, becoming a legend in his own right within the program's storied history. In 13 seasons he guided three different teams to the Final Four, and in 1978 his Wildcats won the NCAA Championship for only the fifth time in school history, the first without Rupp.
But the championship coaching career is only one chapter in Hall's Kentucky Basketball story. Hall's connection began as a young fan growing up a half-hour outside of Lexington in Cynthiana, where Hall is now commemorated with a mural in the middle of downtown.
It was in Cynthiana that Hall first fell in love with Kentucky Basketball, and his time at Cynthiana High School earned him a spot on UK's junior varsity squad during the 1948 "Fabulous Five" national championship season. Hall was a member of the varsity team in 1949, another championship-producing season, but transferred to the University of the South (now known as Sewanee) to play out the rest of his college eligibility. He continued his playing career with the Harlem Globetrotters on a European tour — yes, Joe B. Hall was a Harlem Globetrotter — before returning home to complete his degree at UK.
Hall got into college coaching in 1959 at Regis College, home of the Rangers, a Jesuit liberal arts school in Denver, Colorado, then coached at Central Missouri State for the 1964-65 season. He was building his own path outside of the Bluegrass until home came calling in 1965 and he accepted a job on Adolph Rupp's staff back in Lexington. It took more than Rupp initially offered, but Hall agreed once Rupp made him a floor assistant on his 1965-66 team, "Rupp's Runts" featuring Pat Riley and Louie Dampier. 
Hall remained a crucial part of Rupp's staff for another six seasons until Rupp's retirement in 1972 when Hall took on the daunting task of replacing not only his own coach and boss, but a coach with 879 wins and four rings in 41 seasons at one school.
"I will not attempt to replace Coach Adolph Rupp, as I feel he will be a part of Kentucky basketball forever," Hall said at the time.
In Hall's first season as head coach of his alma mater in 1972-73, the team had a very similar season to one year prior, Rupp's final season, with matching SEC records and exits from the Elite Eight. The Wildcats fell to .500 in Hall's second year, but his third team reached the 1975 NCAA Championship game, only to run into an immovable object in John Wooden's UCLA Bruins playing in their 10th title game in 12 years.
Hall's Kentucky Wildcats returned to the championship game in 1978 to find Duke waiting on the other side of the bracket, and this time Hall had Jack Givens. Givens, a senior from Lexington, scored 41 points on the Blue Devils to help Hall and Kentucky earn the school's first championship in 20 years.
Joe B. coached seven more seasons, returning to the Final Four one more time in 1984, a loss to eventual champion Georgetown in the semifinals. When he retired a year later at the 1985 NCAA Tournament's regional site in Denver, the city where his coaching career began, Hall had amassed 297 wins as the head coach at Kentucky, now the third most all-time behind Rupp and John Calipari. Hall's resume also includes eight SEC regular season championships, the three Final Fours, and one NCAA championship, four SEC Coach of the Year awards, one National Coach of the Year trophy, and numerous players who are proud to say they played for him.
Jack Givens, the NCAA's Most Outstanding Player in 1978, once said of his old coach, "When it comes to being overlooked, talent, Coach Hall is right at the top of the heap when it comes to a guy that was really, really good at what he did, being overlooked simply because he followed a legend. I think if you look at legendary coaches, you'll be hard-pressed to find one who was as successful following that legendary coach as Hall was."
One of Hall's old point guards, Roger Harden tweeted, "Nobody gave their heart & soul to (Kentucky Basketball) like Coach Hall. He loved the BBN and was a proud Kentuckian. An honor to play for him and will miss my life long friend. He was the only friend I ever needed. Thank you Coach & by profession in Christ rest til we meet again."
Just last month, Calipari spoke about Hall's unique legacy at Kentucky.
It's a sad day around the Bluegrass and beyond. Joe B. was Kentucky Basketball. May he rest in peace.